TRZIN, SLOVENIA (24 Nov. 2020)—UF PRO today announced it will offer special deals this Black Friday and slash the prices of selected tactical gear.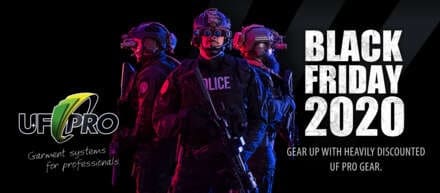 According to UF PRO, the maker of advanced-technology jackets, shirts, pants, hats, caps, and accessories for military and law-enforcement units in Europe and beyond will be offering the designated sale items at their lowest prices ever.
The super-discount prices begin at an as-yet unannounced time. The starting time will be disclosed by email and comes with specially designed UF PRO wallpapers for phones and smartwatches, available to anyone that signs up for advanced intel via their newsletter.
To sign up for email notification, download the free-of-charge wallpapers, or obtain information about the discount specials, go to www.ufpro.com/black-friday.