On 3 April 2021, I am setting out to break the men's 1 mile Bomb-Suit World Record! The current record has been held by Mark Gibbs of the UK at a blistering fast time of 7:24.21. He has held this record since 2017.
In 2019, I attempted to break this record; however, wasn't successful. Before the event, I "Planned my dive", but when the race gun went off, I took off in a sprint and completely forgot all about my plan that I have "dove" in my head a thousand times. "Plan your dive, dive your plan". My pace at the 1/2 mile was around 6 mins and my heart rate pegged and I was about to pass out, so I had to walk. Very humbling experience and also a HUGE lesson learned.
This year, I will have a pacer and training has been going extremely well. We are raising money for Get Head Strong and with proceeds from every purchase of the #TeamSean shirt will go directly to Get Head Strong.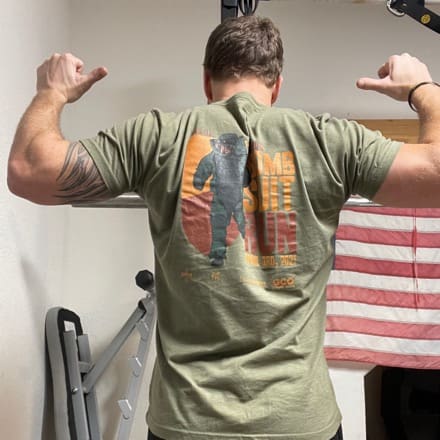 Show support by purchasing his shirt with the discount code "SEAN". www.militarymuscleinc.com/collections/military-families-program/products/military-families-program-team-sean-tee