The 2021 Black Friday / Cyber Monday Sales Master List is sponsored by out friends at Tactical Distributors.
TD Door Busters : Everyday new deep discounts until they are gone!
www.tacticaldistributors.com/collections/door-busters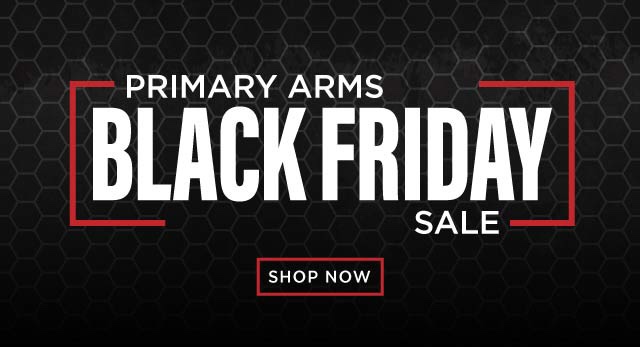 This year brings the biggest savings, biggest discounts, and lowest prices on top brands & categories in our Black Friday firearms sale! Primary Arms Black Friday Sale is here. So don't miss out on all the savings on hundreds of items that are sure to be at the top of everybody's wish list in this year's Black Friday firearms sale!
The offers is good through 11:59 pm CDT November 29,2021.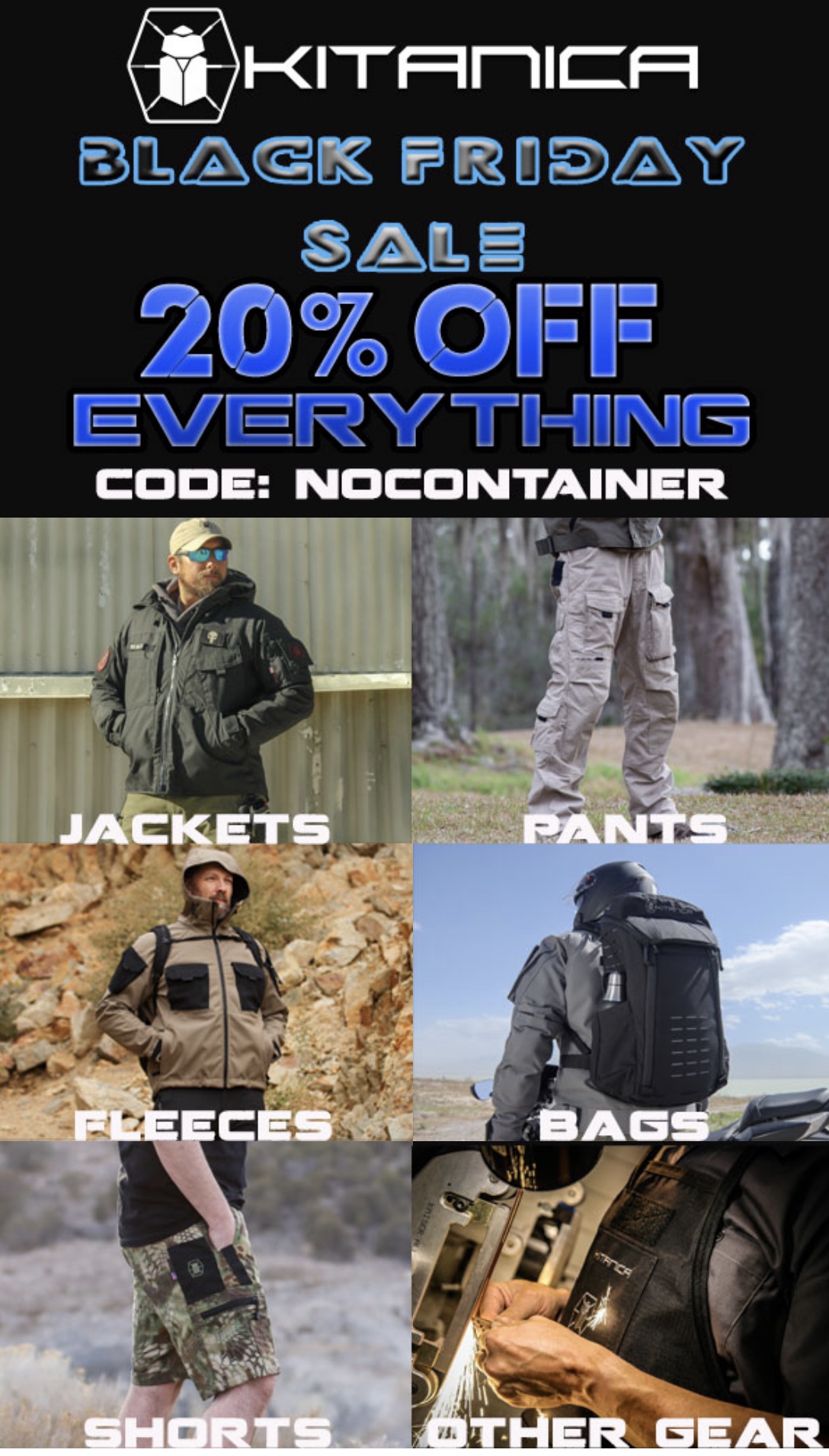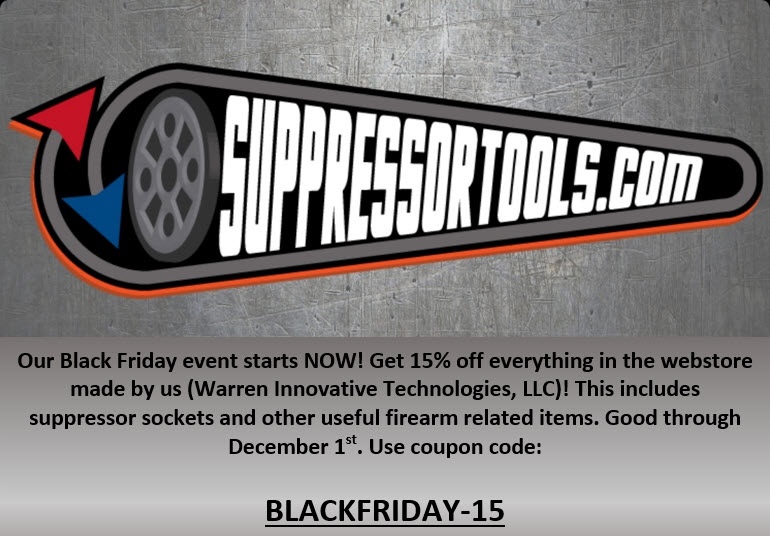 XGO Black Friday/Cyber Monday Sale! Biggest Sale Of The Year! Enjoy 50% Off Your Next Order Using Code "BFCM50" Sale Last Till 12/1/2021. Don't Miss Out On Some Great XGO Deals!
Bronson Manufacturing makes affordable reproduction vintage clothing pieces like Field and Flight Jackets.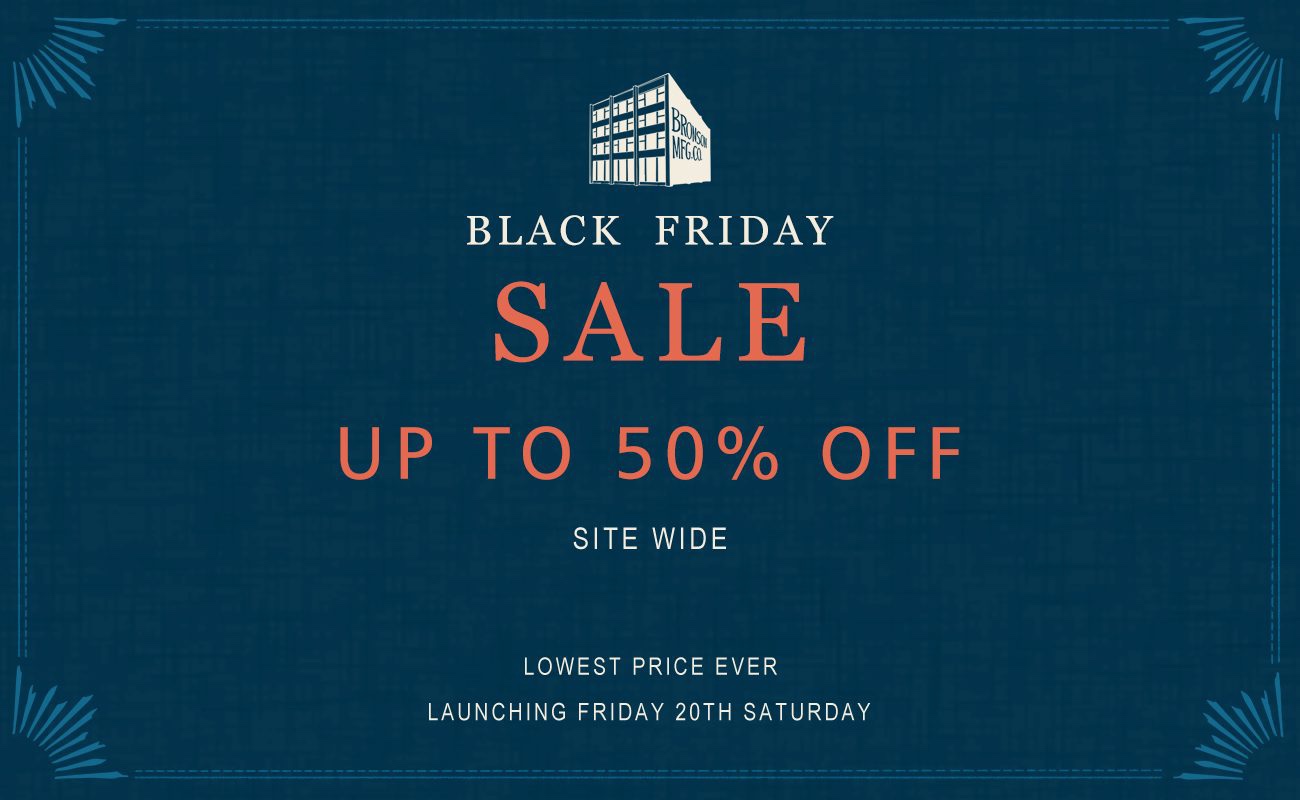 Our Black Friday promotions kick off on EST Saturday 20th November 2021 at 00:00AM with up to 50% off site-wide.
We're encouraging you to add any pieces you're waiting to buy to your cart, as we have very limited stock for many of our products, this ensures that you can settle your order as quickly as possible after the event begins.
SURPRISE!!! Black Friday came a little early this year!!!
Everything is 20% of site wide!!!! (Exclusions do apply)
Start your Christmas shopping or add some fresh gear to your own stash! We don't judge!
**Exclusions**
The Rogan, Steelhead, Battle Belt, Hydro Harness, Shelters, Stoves, Sleds, Yetis & supplements!
20% OFF SELECT GEAR
Explore the Viktos Black Friday Sale featuring gear uniquely suited for the 2A enthusiast on your gift list. Explore the Kade Tactical Backpack and Gunvent Hoodie Collection on sale now.
Sale items are not combinable with other discounts.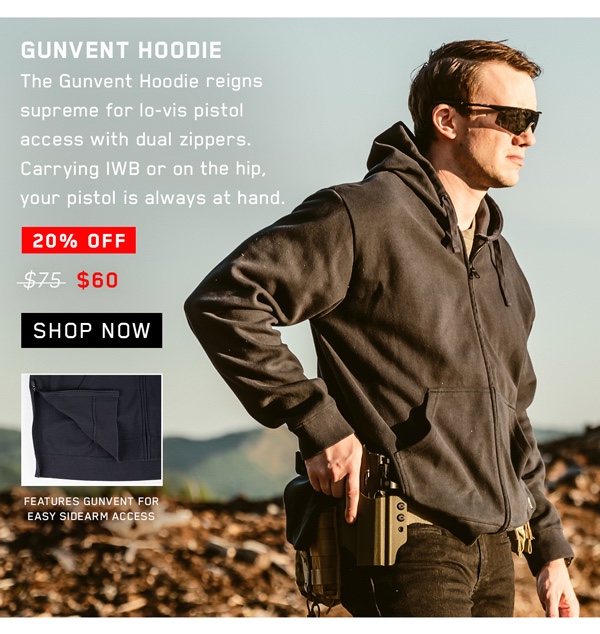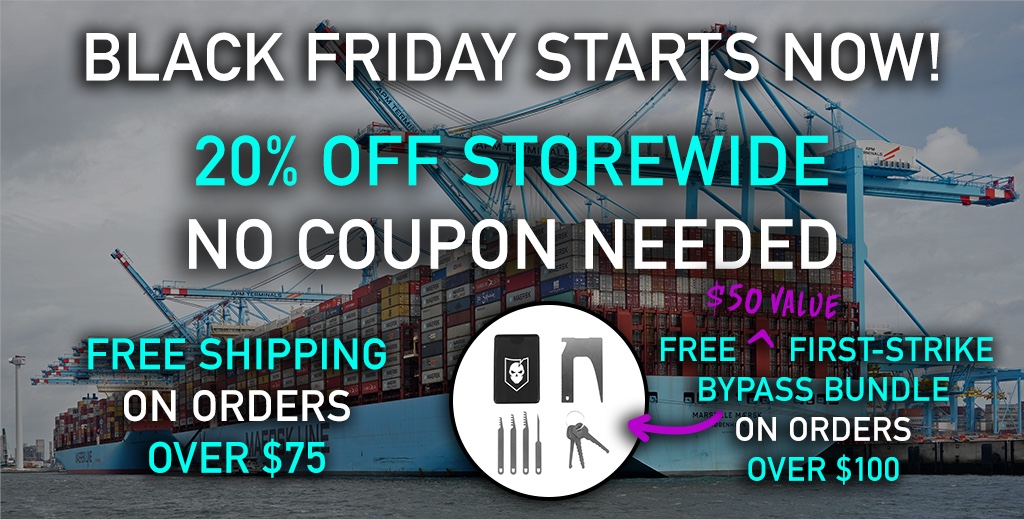 During our Black Friday Sale, you'll receive 20% OFF STOREWIDE with no coupons required! Additionally, every order over $75 will receive FREE Domestic Shipping and every order over $100 will receive a FREE First-Strike™ Bypass Bundle! Simply add $100 in items to your cart and you'll see the Bypass Bundle added automatically!
BLACK FRIDAY STARTS NOW! SAVE ON EVERYTHING at Maglite when you use promo code "BFCM12" at checkout! Click for savings on hundreds of flashlights (including our new Marvel®-themed flashlights), accessories, backpacks, barrel storage, Maglite® Bundles, hunting gear, hats, shirts, sweatshirts and more! Save on your entire order!
Take 40% off at Point6.com. Use code 40HOLIDAY at checkout.
* Sale items and multi-packs excluded. Not combinable or stackable with any other offer. Sale ends Monday 11/29 at midnight MST.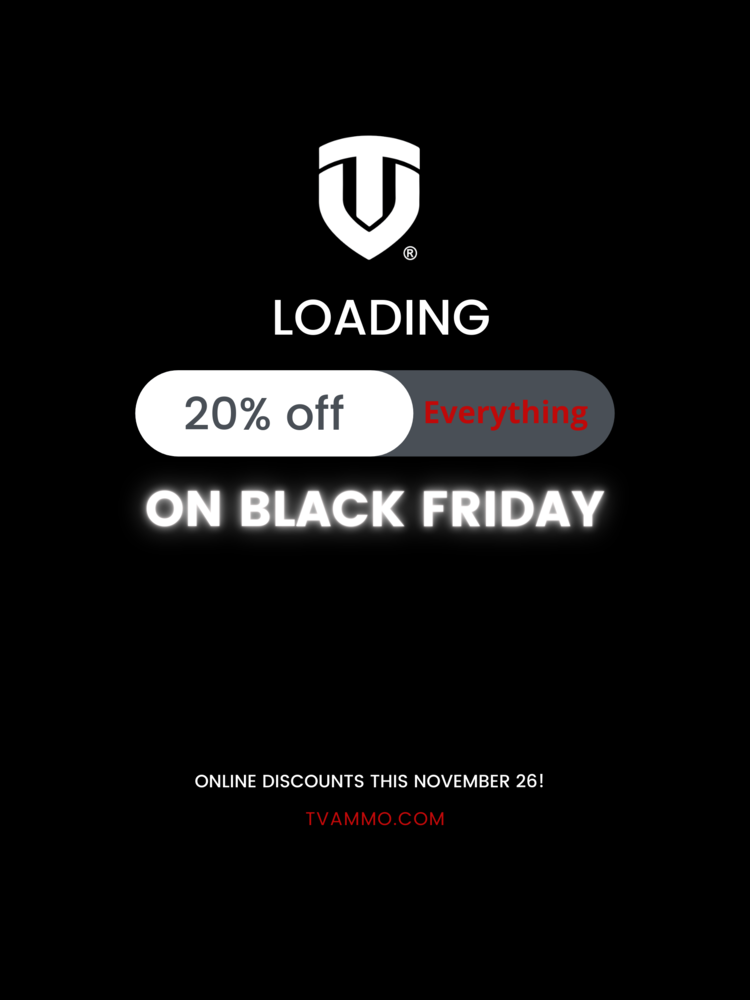 All In-Stock Wild Things Gear is 20% through Monday 29, November, 2021!
Use code blackfriday2021 at checkout to save 10% storewide with free shipping until midnight next Monday!
Use coupon code BF21 to get 10% off starting Friday, 12% off Saturday and Sunday, and 15% off on Cyber Monday site-wide! Additional deals including 20% off Sitka Apparel and 25% off Lowa Boots are going on right now, no coupon needed. Some exclusions apply, see website for details.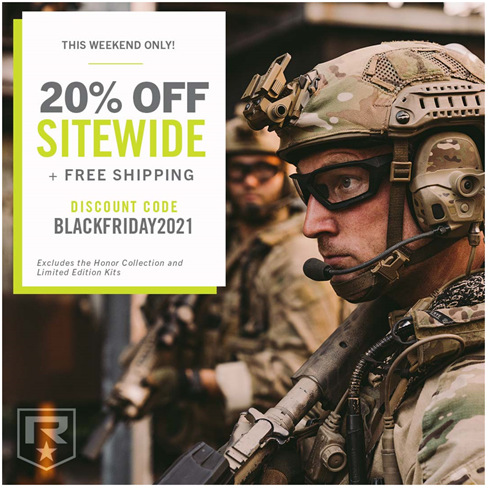 All Revision eyewear + accessories are 20% off sitewide with free U.S. ground shipping Friday, Nov 25 through Monday, Nov 29th.
Use code: BLACKFRIDAY2021
We are putting some amazing deals on our slightly blemished and discontinued handguards. Check out everything in our Sale category now for Black Friday!
Check out our Black Friday Sale — it's still going strong!
Don't miss out with this great opportunity! These Black Friday deals won't last much longer.
NO CODES needed, cash back GIFT CARD will be emailed to you, and FREE GIFTS will be included if your order qualifies.
As we count our blessings on this Thanksgiving Day, we count ourselves extremely lucky to have customers like you. Thank you for making this year a great success. We wish you a very happy Thanksgiving and joyful Christmas season. Please enjoy a discount on select product online!
TWENTY PERCENT OFF OVER 100 ITEMS
For the special person in your life, whether they're an outdoorsman, a first-responder, or a gearhead, there's a SOG for them. From 11/24 through 11/30, we're discounting over 100 items across our site. Whether it's knives, packs, or gear, you'll find that perfect gift for the holidays.
Friday only all in stock items will be discounted at DISCO32.com. Push to talks, Antennas, RF Adapters, Headsets, Relocation Cables, Stickers and more.
Available Now!
Gold Label Members Code: GLG-BFCM
Available on online sales channels
10% off Discount Eligible
For ALL GLG customers
One use per customer
Active from today
*Merch N/A • Sale Items N/A
Spiritus Systems is launching their Black Friday Sale after Thanksgiving Day with 15% off sitewide. This will be the only time of the year to get discounts on Spiritus Systems plate carriers, chest rigs, and more.
Pickett's Mill Armory 30% Off Sitewide Sale
Thank you for supporting a Veteran / LEO-owned small business.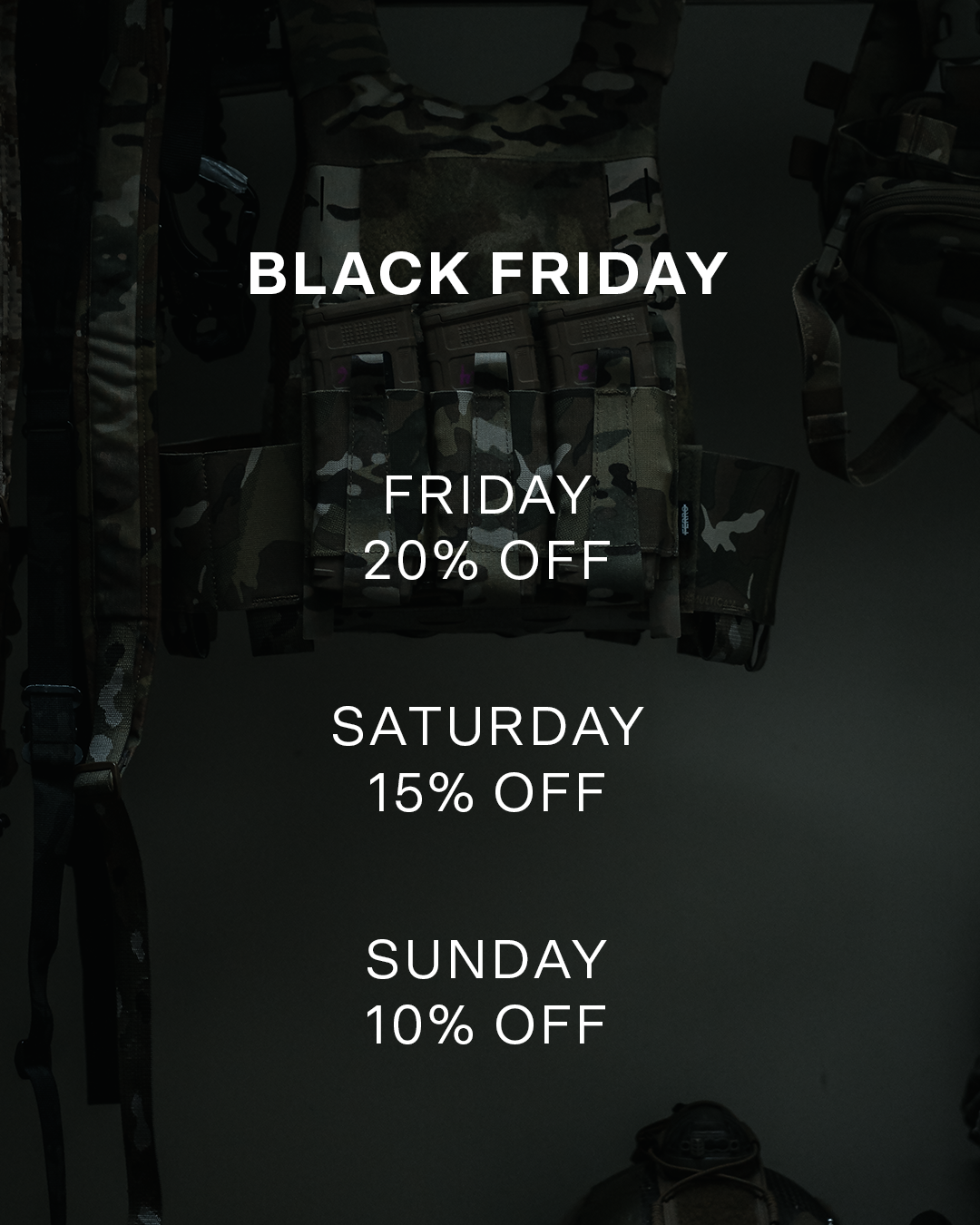 We bring you our biggest sale of the year and, at the same time, the most inventory we have had in years!
To ensure these orders get out the door to you as fast as possible, we are putting a few hard rules on this one:
The sale is AUTOMATIC on our website
NO EDITING ORDERS
NO COMBINING ORDERS
NO DISCOUNTS OUTSIDE OF THESE HOURS:
Friday 00:00-23:59 Mountain Time
Saturday 00:00-23:59 Mountain Time
Sunday 00:00-23:59 Mountain Time
WE CANNOT GUARANTEE SHIPPING TIMES
SHIPPING WILL BEGIN ON MONDAY
Tryptophan and Chill.
Go into a trance and get field-ready with
OTTE Gear's Black Friday Sale:
Wednesday November 24th beginning at 3:00 p.m. until Tuesday, November 30th at 6:00 a.m. EST
Milspec Retail Black Friday Sale is Live! 15% off sitewide, today through 12/2/2021.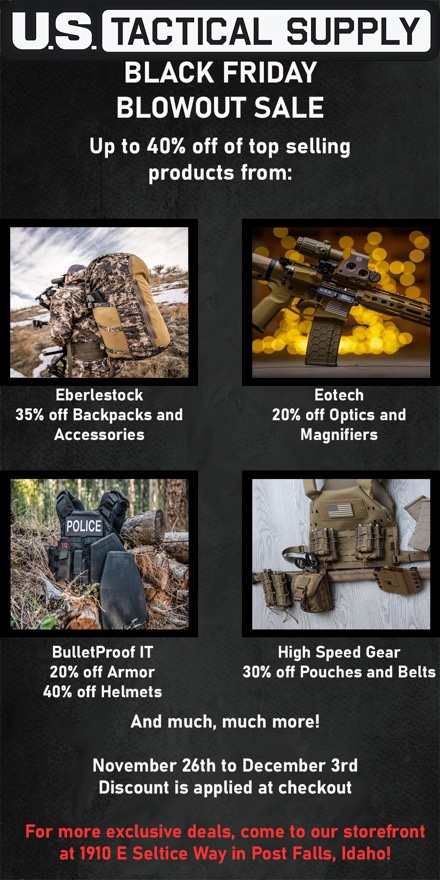 S.O.Tech Black Friday Sale! Starts 11/26
S.O.Tech Black Friday sale. Save big on the Original S.O.Tech V.I.P.E.R. Flat IFAK and newly launched Micro Packs. Discount applied automatically at checkout. No coupon code needed.
While supplies last, no backorders.

Agilite is having the biggest Sale in Company History with up to 65% OFF AND Daily Mega Deals See details and TODAY-ONLY MEGA DEALS below. Rush to www.AgiliteGear.com to grab a deal!
TRZIN, SLOVENIA (25 November 2021)—UF PRO beginning on Black Friday will reduce by 15 percent the price of every item sold at its online store, the maker of advanced-technology tactical gear for military and law enforcement personnel today announced.
The discount pricing goes into effect one minute past midnight Friday morning and continues through Monday, the company said.
According to officials of the firm, Black Friday bargain hunters will be able to choose from UF PRO's full inventory of widely sought-after jackets, shirts, pants, hats, caps, and accessories. The products can be viewed at the UF PRO website: ufpro.com.
Chase Tactical Black Friday Sale (Our Biggest Sale of the Year)
25% OFF
Coupon Code: BLACKOUT25
Sale Dates 11/25 – 11/28
Black Friday Sale 25% for all we have, use Code: BLACKFRIDAY
Valid till Monday midnight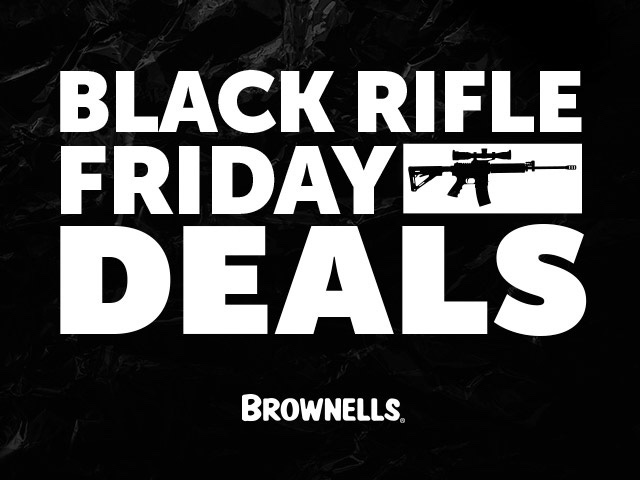 Starting Friday, November 26, customers will be able to see all the special deals on the Black Rifle Friday Event page.
Our Black Friday sale is LIVE. 15% off everything, now through 11/28. No codes needed, discount will appear in cart.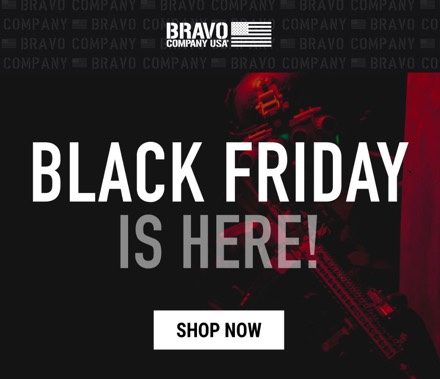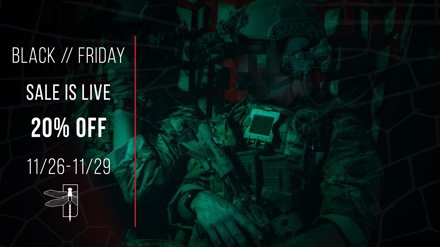 CELEBRATE SOME HOLIDAY CHEERS
WITH A HOLIDAY SPECIAL
25% OFF SITE WIDE
Special offer for previous customers only!*
OFFER ENDS DEC 31, 2021
USE CODE: CHEERS2021
Take advantage of this incredible offer and GIFT yourself one of our newest product, the I.C.E. Retro Fit Kit by Body Armor Vent. No more air inflation bulb. I.C.E. panels are filled with our proprietary foam and combined with our patent pending EVAP Technology, the I.C.E. Retro Fit Kits are the coolest and lightest venting kits we've created yet! Even better, they help you in the Winter too by keeping your drier, warmer and helping to distribute the load on your vest more evenly against your body and help avoid uncomfortable and distracting pressure points.
BE COOL… EVERYBODY WINS!
The TWI-02 from HARDCORE HARDWARE AUSTRALIA is FREE when you spend $150 or more on any KNIFE, TOOL or EDC product.
FREE SHIPPING applies for the duration of the BLACK FRIDAY SALE.
Our BLACK FRIDAY SALE offer is valid from 12.00am on 26th November 2021 to 11.59pm on 29th November 2021 only.
Limited quantities available. Don't miss out!
We had an insane number of BLKFRIDAY orders yesterday. Clearly a lot of people have had their eye on some kit. We are going to keep the sale going through the weekend so everyone gets what they need.
25% off promo codes:
BLKFRIDAY
CYBERMONDAY
Our Black Friday Sale is still going strong and we'd hate for you to miss out on some great savings during our best sale of the year!
To show our appreciation for everyone ordering from us during our Black Friday Sale! We are doing some cool things this year. Every order over $250 will automatically ship with free bonus item(s) combining to half the order total paid!
Discount Code: "blackgunsmatter"
The discount from Friday and Saturday continue!
This code and discount is good for online shopping today and through Monday!