Lonoke, Arkansas – January 14, 2022 – Remington Ammunition has announced a diverse line of new products coming in 2022. Big Green is offering exciting all-new products, like Core-Lokt Tipped and Peters Paper, as well as expanding load options in classic favorites like new Premier STS Low Recoil. The iconic company's expanding product line drives home the growth and momentum that continues to compound for Remington.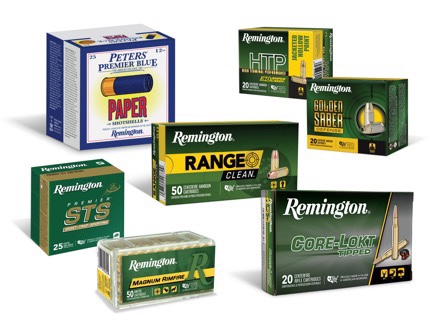 "The launch of our new products for 2022 will help usher Remington into a new era," said Joel Hodgdon, Director of Marketing for Remington Ammunition. "We are innovating to give hunters and shooters even better ammo choices. Our team in Lonoke, Arkansas is working 24/7 to produce both old favorites and new offerings. We're Big Green. We can do it all."
Remington Ammunition's new products feature advancements in manufacturing and technology that meet the needs of every hunter and shooter. Products being released include:
Rifle
• Core-Lokt Tipped
• Core-Lokt: 350 Legend, 450 Bushmaster
• UMC Rifle: 450 Bushmaster, 300 Blackout, 224 Valkyrie
• Premier Match: 224 Valkyrie, 6mm Creedmoor, 6.5 PRC, 6.5 Creedmoor, 6.5 Grendel, 260 Remington
• Premier AccuTip-V: 224 Valkyrie
Rimfire
• Remington Magnum Rimfire: 17 HMR
Shotshell
• Peters Paper
• Premier TSS
• Premier STS Low Recoil
• Gun Club Low Recoil
• Premier Magnum Turkey High Velocity: 20 Gauge
• Premier Nitro Sporting Clays: 20 Gauge, 28 Gauge
Handgun
• Golder Saber Defense
• Remington Range Clean
• High Terminal Performance (HTP): 30 Super Carry
• UMC Handgun: 30 Super Carry, 327 Federal Magnum
• High Terminal Performance (HTP) 20 Packs: 41 Remington Mag, 44 Remington Mag, 45 Colt
More information about these new products and Big Green ammunition can be found at www.remington.com or on Remington's e-newsletter and social media accounts.
Visit Remington's new booth at SHOT Show, booth #11838.