Ridgeline Defense just released its new HOGleash rifle sling. It's a 2-point adaptive rifle sling with three key features designed for the needs of the precision rifleman.
The adaptable sling is a collaboration with Edger Sherman Designs and includes an integrated snap-shackle and a custom-made, carbon fiber inline rifle support.
"When I was going through the USMC SOTG Urban Sniper Course, we were using our old issued cuff slings for the M40s," says Ridgeline Defense's Alex Hartmann. "We would attach the cuff to our belt, but it wouldn't adjust very well. So, one weekend, I worked with a rigger to modify an OG Viking tactics V-Tac sling to work better. When I went back to class the next week, I was performing better."
Over time and deployments, Hartmann kept modifying that sling until it was what he wanted. Then, as lead instructor at Ridgeline Shooting, he wanted to make a finished, production version that the company could provide to students who ask what the training cadre uses and why they use it.
The snap shackle is used to apply tension to a supported rifle when attached to your beltline. With the rifle on a tripod or other support, and the sling attached to the front of the rifle, snap the shackle to any available loop on your beltline to apply tension and stabilize your shooting position. The snap shackle offers one-handed operation that's faster and easier to use than a carabiner for quick set up and breakdown of bulit shooting positions. When not in use, the snap shackle is captured by an accessory loop, so it stays out of the way.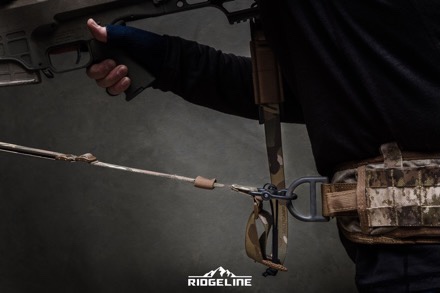 The inline rear support is made of a carbon fiber-composite material and displaces the weight and bulk of a rear bag, providing rifle stability that's always with you. It's also a great place to tape a DOPE card.
Once installed and adjusted properly, a gliding adjuster allows the sling to adapt to any shooting position and cinches down to secure the rifle to your body for fast-roping, climbing, rappelling, and dynamic movement.
The HOGleash has no free ends to trip you up, is made from 1-inch nylon webbing and features high-quality ITW Nexus findings and is compatible with any sling attachment hardware, including QD attachments, HK hooks, and sling loops.
The HOGleash is Berry Act compliant, available in black, green, tan, MultiCam, is proudly made in New Hampshire, costs $120, carries a lifetime warranty, and is available now from Ridgeline.
For more information about Ridgeline Training and Ridgeline Defense products, head over to ridgelineshooting.com.