ZeroTech Optics expands its Binocular offering to include HD options built with a primary purpose; to deliver best-in-class performance, reliability and value for outdoor enthusiasts around the world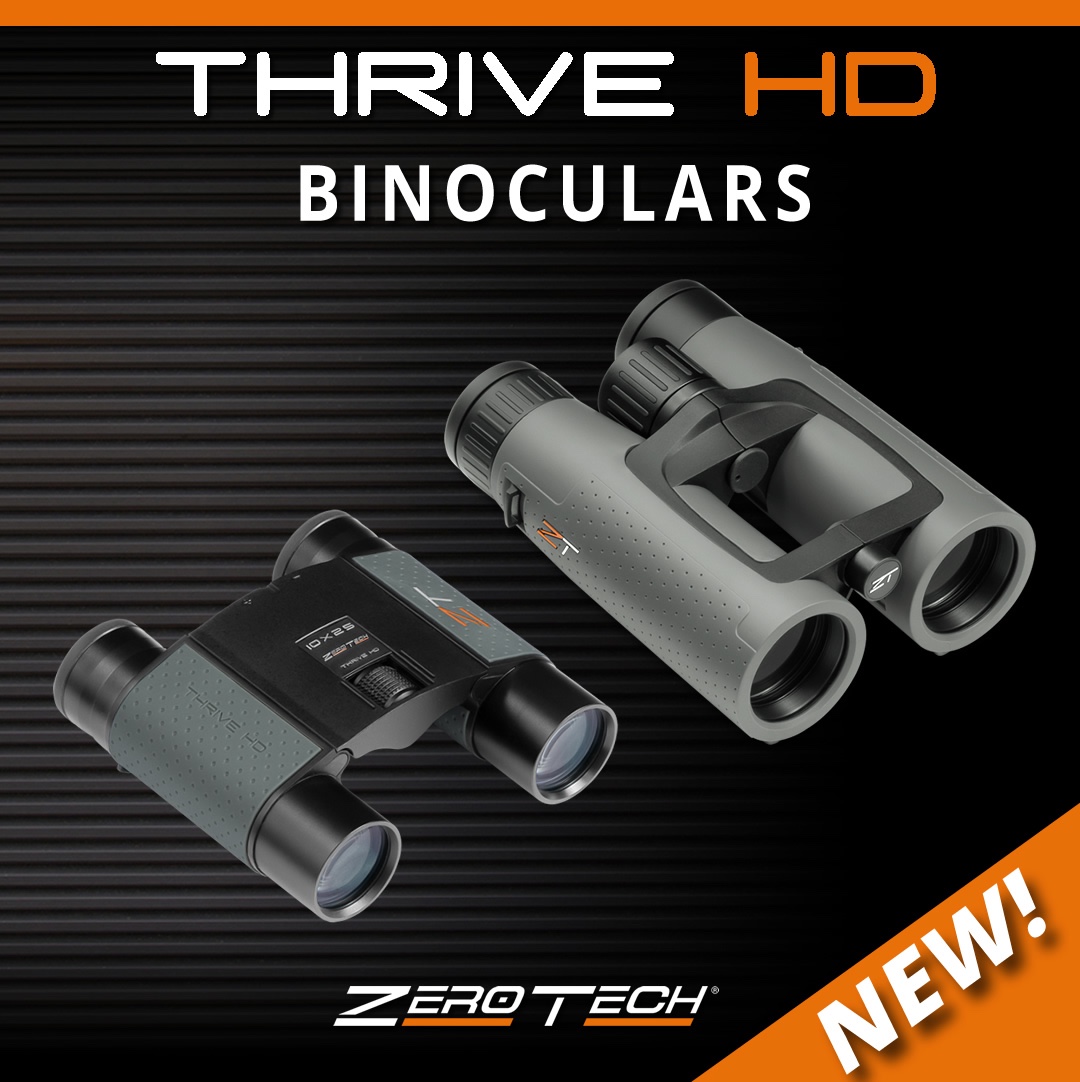 Nashville, TN, Sept 13, 2022 – In July this year ZeroTech Optics hit the market with four new mid class binocular offerings to cater for the hunter, birder and outdoors enthusiast. Today We are excited to unveil our Thrive HD binocular series featuring industry leading ED glass boasting both durability and optical performance in all weather conditions.
THRIVE HD Optics are continuing to set new industry standards in performance, made to compete against the top performing binoculars at a fraction of the cost. We took the Thrive series core elements and introduced new, industry leading features such as the latest generation ED (Low Dispersion) glass with generous depth of field, superior low Light performance thanks to the Dielectrically Coated Bak 4 Prisms.
The addition of these features results in brilliant image quality and unparalleled user experience, we added a smoother fast focus wheel and attractive textured grip panels covering the strong however light full magnesium alloy construction provide excellent control in all conditions whilst the integrated rubber lens covers* ensure the optics remain protected from dust and debris. New to the Thrive HD series is the included flip top bino caddy harness system is the ultimate outdoor companion and makes for hands free carry and storage of basic essentials while hunting, birding or hiking.
* 10×42 and 8×42 models only
The THRIVE HD series binoculars comes in four optical configurations:
• 8x25mm (compact)
• 10x25mm (compact)
• 8x42mm
• 10x42mm
Thrive HD Optics were designed in Australia to withstand the harsh and rapidly changing environments that the country is known for, Thrive HD optics have been tested from the tropical north, through the harsh deserts to the brutal southern highlands by some of the worlds most accomplished hunters and outdoors enthusiasts. Thrive HD Optics are built to weather all conditions and be the ideal companion for your next adventure.
Backed by our Triple A lifetime warranty ZeroTech products are engineered to provide our customers with the best possible experience.
Additional features in all models include:
• ED Glass – Excellent Clarity, Field of View (FOV) and Light Transmission
• Ergonomic rubber armour
• Waterproof
• Fully Multi Coated (FBMC) lenses
• Unconditional Lifetime Warranty
• High quality flip top caddy with integrated harness and auxiliary shoulder strap included
Pricing and Availability
All up to date information can be found on our website – www.zerotechoptics.com
Dealers
ZeroTech Optics is expanding its US dealer network, contact us for dealer enquiries.
More Information
Contact us: [email protected]
You can visit the company website at: www.zerotechoptics.com
Socials: www.instagram.com/zerotechoptics