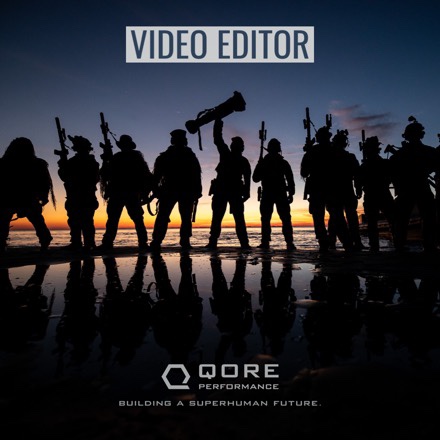 Do you love movies and cinematography? Do you love to edit video? Are you talented with Motion Graphics? Are you looking for a full time, in-house Video Editing job with significant career advancement opportunities that is salaried, eligible for Profit Sharing Bonuses, and comes with excellent benefits, top of the line equipment, and a brand-new studio you will get to help design from the ground up? Do you love working on and being part of a creative team? If so, we want to hear from you!
Video Editor is a mission-critical position that is part of the Marketing and Design elements at Qore Performance. The Video Editor reports to the Director of Marketing and also works closely with the CEO, Videographer, and the Design Team to bring our many storylines to life in ways that inspire our wide variety of audiences.
We are looking for a hard-working, talented, ambitious, and highly motivated Video Editor to join us as we grow our in-house digital media and content creation teams. Successful candidates have a nearly unlimited ceiling for personal growth and professional advancement. This position could be tracked to promote to Digital Media Manager and top candidates could be tracked to Director of Marketing eventually.
This role is more important than ever as we are a vertically integrated company. We invent, design, engineer, manufacture, brand, market, sell, distribute, and fulfill every product we make, all in-house from US materials right here at our headquarters. We're looking for someone committed to seeing their work realized everyday in pursuit of supporting our customers across all branches of the US Military, Constitutional Law Enforcement, SPORT (Snow Physical fitness Outdoor Recreation Travel) and America's finest enterprises to improve and save lives. If this sounds too good to be true to you, then we want to hear from you.
Primary Video Editor Responsibilities
? Edits videos to communicate ideas concisely
? Designs and animates motion graphics
? Color grades and corrects footage
? Sources 3rd party assets when needed (SFX, music, etc.)
? Assists with video production when needed
? Helps plan and organize shoot days (location, extras, props, etc.)
? Maintains content and brand standards
? Helps maintain Media Studio to clean, professional "on-brand" standards
Requirements
? 5+ years with Expert Level skills in any of the following: After Effects, Premiere Pro, Final Cut, DaVinci Resolve
? 5+ years experience with post-production
? 5+ years of advanced editing, motion design, and color correcting
Bonus skills
? Sound mixing
? Illustration
? Videography with the ability to run Sony or Canon cameras as Primary or Secondary Shooter when needed
? Operational/Professional field experience (not desk jobs): Military, Law Enforcement, First Responder, Emergency Medicine, utilities, pharmaceuticals, logistics, QSR (Quick Serve Restaurants), Manufacturing, General Aviation, Ski/Snow, Mountain Biking, Hiking/Backpacking
How we will measure success: YouTube Subscriber Growth, YouTube Engagement Rate, YouTube Referral Traffic Growth, Website Conversion Rate
Do you see things on this list that suck? Think you have a better way? We DEFINITELY want to hear from you.
Big advantage if you have a background in any of the following:
Military, Law Enforcement, Firefighter (Urban or wild land), First Responder/EMT, SAR/CSAR, Backpacking/Hiking, Mountaineering/Climbing, Outdoors, Travel, Food Service, Consumer Electronics, Crossfit, Running/Marathons, Combative/D-TAC
Click here to learn more about our recruiting process and working at Qore Performance® including culture, benefits, etc.
Compensation
? Base Salary (top 10% of field)
? Eligible for Profit Sharing Bonus
? Automatic raises based on performance milestones
? 100% health care coverage (base)
? Concierge Medicine (optional)
? Personally-issued fuel cards (for personal use, IRS-compliant)
? Unlimited PTO
Requirements
? All candidates must have the legal ability to work in the USA without sponsorship
? Ability to clearly communicate in a fast-paced work environment
? Ability to pass a background check
? Ability to perform physical tasks required of the job
Work location: Qore Performance® Headquarters (New HQ2 coming March 2023)
Please submit a condensed resume (click here for guidance) and an expression of interest for review. All candidates must have the legal ability to work in the United States without sponsorship.