On April 12, 2012, SSD shared TRADOC PAM 525-97 – "Soldier as a System". It seemed a great fit, considering it's a US Government document and it is the baseline for what this website is all about. We used www.Scribd.com. At the time it was a very effective way to embed .PDF documents. Earlier today, we received an email from Scribd (detailed below).
Dear solsys,

Scribd's automated copyright protection system identified a book in your Scribd account as a copy and a possible copyright infringement of a book distributed through Smashwords. As a result, Scribd has proactively disabled access to the copy of the book titled "Soldier as a System TRADOC PAM 525-97" (id: 90878210) in your account and will be replacing it with a version distributed through Smashwords.

Scribd has recently signed an agreement with Smashwords to offer many of their titles as part of our subscription reading service. As part of this agreement, we are removing all detected copies of the Smashwords books and replacing them with the Smashwords distributed version.

If you are the author of this book, you don't necessarily need to take any action: by default, your copy will simply be replaced by the Smashwords copy. If you would like to restore your version on Scribd, please forward this notification to [email protected] with a brief explanation of the situation. A member of our copyright team will review the matter, confirm your status as the author, and work with you to re-instate the content.

For more information about Scribd's relationship with Smashwords, please see this article: http://blog.smashwords.com/2013/12/smashwords-signs-distribution-agreement.html. For more information about Scribd.com's copyright policy in general, there are several articles available at http://www.scribd.com/copyright.

Best regards,

Scribd support team
As you can imagine, since the document in question is a US Government creation, I was a little ticked off. Who the heck claims copyright on a US Government document? I checked SSD's archives and sure enough, they took the TRADOC PAM down from their site and replaced it with a notice claiming that it violated copyright. I've since updated the article for those of you interested.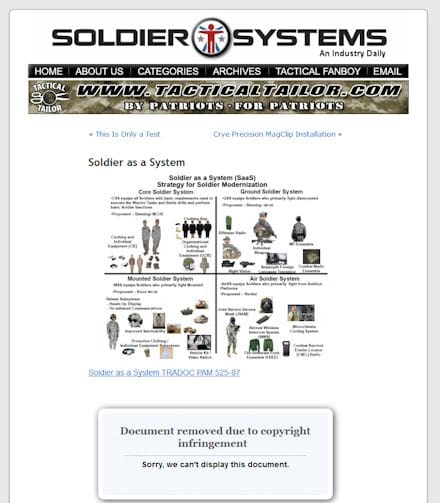 If you're like us and want to tell SCRIBD what you think of their promoting the illegal claims by Smashwords of copyright of US Government documents, feel free to drop them a line at [email protected].