Blue Force Gear has got a lot going on. Recently Stephen Hilliard came on board and brought with him his design expertise in nylon gear. Already available are two unique products; the Tourniquet NOW! Strap and the Ten-Speed Mag Pouch.

Designer Stephen Hilliard designed the Tourniquet NOW! Strap in order to replace the expedient rubber band system used to attach tourniquets to load carrying equipment. The strap is simple and folds the tourniquet at the ready. The Tourniquet NOW! Strap is available in Coyote Brown, Foliage Green, and Camo Green.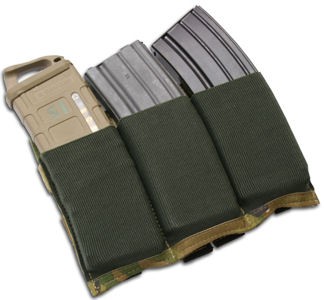 BFG developed the Ten-Speed Mag Pouch after owner Ashley Burnsed saw a bicyclist with his water bottle in an elastic carrier. Weighing in at three ounces, and most of that is BFG's new PALS-compatible attachment system, the pouch's open topped body is manufactured from elastic and designed to provide positive retention of magazines or other items such as flash bangs. It is truly a specialist item that closes flat when not in use. Current variants are available with a dark olive green body edged in Multicam.
In addition to those tactical nylon accessories, the gang at Blue Force Gear has several other products lined up for release over the next couple of months.
Finally, Blue Force Gear is expanding their relationship with Larry Vickers beyond just slings and introducing a line of 1911 parts called Vickers 1911 gear. Although not yet available for sale on the site, a Hammer, Sear, and Disconnector kit should be up by the end of the week in both standard and slotted styles.
For more information contact Blue Force Gear.
Photos from Blue force Gear.
Tags: Blue Force Gear, Vickers