This is the S.P.E.A.R. (Special Purpose Emergency Aid Rig) Trauma Kit from Dark Angel Medical.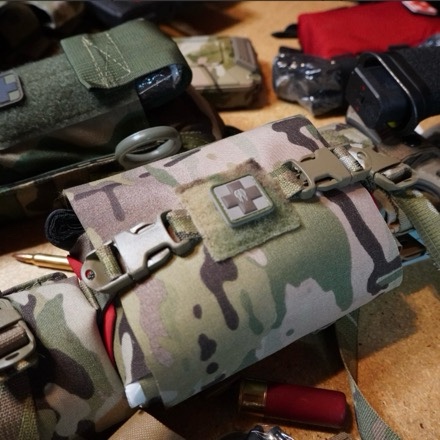 Manufactured by FirstSpear using laser cut Squadron Laminate material, the S.P.E.A.R. Trauma Kit is five years in the making.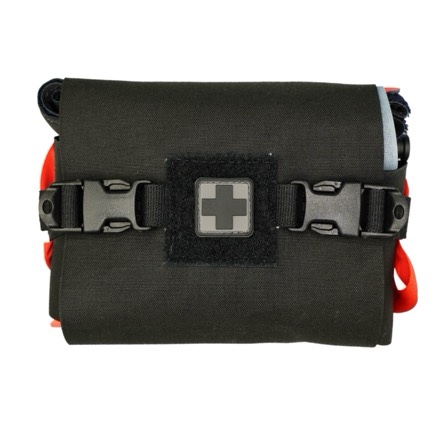 It is low-profile and is as "snag-proof" as we could possibly make it. It is designed for maximum retention via the Fastex buckles AND is rapidly deployable from either side.
Click the buckle and grab the red pull handle and it's deployed. Pull the center tab and the whole kit opens up easily to display the best trauma kit components available, ready to go.
The TQ band is designed to hold either the CAT Gen 7 or the SOF-T Gen 5 (substitute option) and unlike other low profile trauma kits currently available which allow the TQ to be exposed the elements, ours has a "Tourniquet Garage" (the outer cover), designed to protect, not only the kit components, but the tourniquet, as well.
The outer cover is laser cut to accept 4″ MALICE clips to enable the user to weave MOLLE webbing via the cuts OR a belt up to 2″ via the belt channel.
The kit comes standard with:
-12′ roll of hemostatic gauze (QuikClot Bleeding Control Dressing or ChitoGauze XR Pro)
-1 Pair Chest Seals
-1 Compression Bandage
-1 12′ roll of standard compressed gauze
-1 Pair Nitrile Gloves
-1 Mylar Blanket
-CAT Gen 7 tourniquet (SOF-T Gen 5 can be substituted)
-MALICE clips
darkangelmedical.com/dark-angel-medical-s-p-e-a-r-special-purpose-emergency-aid-rig-trauma-kit