COLORADO SPRINGS, Colo. – 10th Special Forces Group (Airborne) invited speakers from Warriors Heart to speak candidly about the effects of post-traumatic stress disorder and traumatic brain injury (TBI) at the Norris Penrose Event Center Dec. 9, 2021.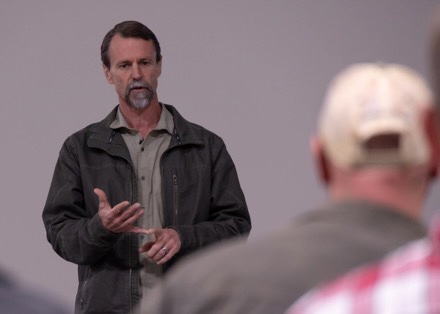 Warriors Heart is a treatment center in Bandera, Texas, which provides inpatient care to active-duty service members, veterans and first responders for chemical dependency, alcohol abuse and psychological disorders related to PTSD or mild TBI.
The event was put on by Trojan Legacy—a 10th SFG(A) program that promotes resiliency, recovery and respect within the unit—to help shed light on what undiagnosed PTSD and TBI can look like and lead afflicted Soldiers to medical treatment.
"I almost killed myself," said Tom Spooner, Warriors Heart co-founder and retired Delta Force Operator. "'How do I get this noise to stop?' I was getting lost all the time; I wouldn't know where I was when I was driving down the road. I just kept going…I had damage to the decision-making part of my brain that I didn't know of."
In 2006, Spooner experienced his third mass-casualty event and suffered a traumatic brain injury from an exploded mortar round while deployed which ultimately resulted in an incident where he used the military decision making process (MDMP) to plan his suicide.
"What's going to stop this noise?," he continued. "I started going through MDMP on utilizing my Glock and putting a bullet in my brain to stop the noise as a valid course of action. I was doing constraints, limitations, other courses of action, second and third order effects."
Throughout Spooner's 21 years of service, he volunteered for Airborne duty, Special Forces and Delta Force.
"Volunteers can't complain," he said. "The [Special Forces] selection process guarantees a lot of things. Up front, selection guarantees I will never quit…and I have never asked for help. The selection process guarantees I will not ask for help, and I only do it when I'm off the road."
Nevertheless, Spooner had a buddy whom he confided in about what was going on in his mind as he veered off course.
"He was my everything guy," Spooner said. "I would always tell him the truth. He stayed on me, stayed on me and stayed on me. He told me to get help. I had undiagnosed TBI, unprocessed trauma, PTSD and grief going on."
Spooner finally sought treatment and received cognitive, psychological and vestibular therapy in conjunction with medication. Through medical testing, Spooner found that he was operating at a processing speed of 50 percent and had verbal memory of 50 percent.
"How could I honor the guys who sacrificed their lives," he said. "Me wrecking my family and my military career is dishonoring them."
Along with a keen sense of honor, Spooner has a keen sense of regret which, in fact, prompted him to volunteer for Delta Force assessment and selection after serving with 7th Special Forces Group (Airborne) for six years.
"There are things in life worse than death, and that's regret," he said. "Not having those hard conversations with people I care about. I could've said something but I didn't because I thought it'd jam up my relationship. I don't know if it would've changed the circumstances…but it's one of my greatest regrets in life."
Spooner's own experiences acted as a looking glass as to how TBI and PTSD can manifest.
"If you have a buddy and you're seeing these same things going on, you can talk to them and refer them to treatment," said Sgt. Maj. Doug Lane, 10th SFG(A) Trojan Legacy senior enlisted adviser. "We want to create that peer-to-peer network and have candid conversations with our friends to ensure that if there are these issues, we steer them to the right resources."
Story by SSGAnthony Bryant, 10th Special Forces Group (Airborne)