Yes it's been done before, but I am digging this new knife from Quirky. A "modular utility device", the Switch features 18 different attachments that you can configure to your heart's desire. Swapping out accessories is as simple as choosing an inner axle of desired width, configuring the mix of tools, and then everything is tightened into place with the edge of a coin.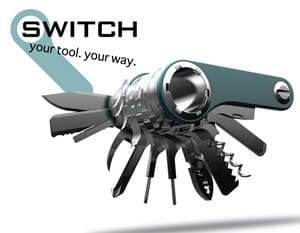 Each Switch set comes with two exterior body covers; two slotted caps to hold the tool together; three interior axle assemblies; small (2-6 tools), medium (4-10 tools), and large (7-13 tools); and 18 tool attachments: Standard Knife, Pliers, Scissors, Nail File, Tweezers, Thin Flathead Screwdriver, Phillips-Head Screwdriver, Eyeglass Phillips-Head Screwdriver, Eyeglass Flathead Screwdriver, Wood Saw, Serrated Blade, Corkscrew, Combination Bottle Opener/Flathead Screwdriver, Combination Can Opener/Wire Stripper, Pen, Magnifying Glass, LED Flashlight, 1GB USB Memory Stick.
There is a lot of potential here. Let's hope that they continue to develop the concept.
To pre-order visit www.quirky.com. Supplies are limited.