BAE Systems has developed a new equipment ensemble that sheds 35% of the weight burden carried by current Soldiers. ULW focuses on five key product areas including helmet, vest/soft body armor, armor plates, load carrying equipment, and an integrated power supply.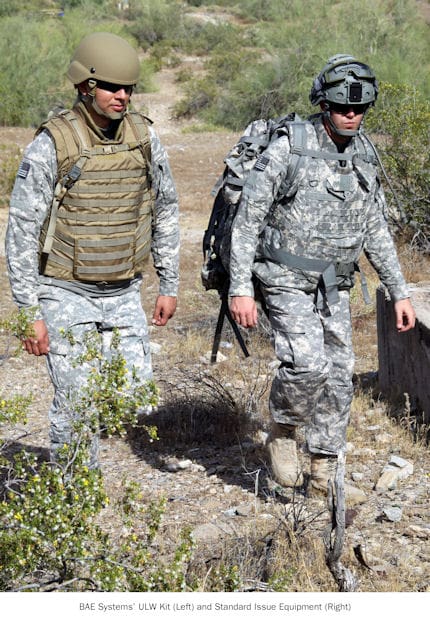 "What ULW provides to the armed forces is options," said Sean Martin, Business Development Director for BAE Systems' Personnel Protection Systems business. "ULW is a flexible, modular soldier equipment platform that can be modified a number of ways, and provides multiple mission-specific options. Its ergonomic design features new, lighter weight advanced materials, which provide greater comfort and needed mobility without sacrificing protection."
In addition to lightweight versions of the Advanced Combat Helmet and body armor systems, ULW offers something that current equipment does not; the "Integrated Power System", a wearable power supply that is conformal in shape to the armor plates. Additionally, the recharge system is compatible with both NATO standard 28 VDC slave cables as well as 110/120 VAC shore power.
The ULW system is on display at both Eurostatory and SOFIC. If you are in Tampa, be sure to drop by their booth #1515 to check out not only ULW but also BAE is unveiling the Sentinel off-road patrol vehicle.
Tags: BAE