This article is courtesy of the Mad Duo. Thanks guys!
When we traveled to SHOT this last March we spent a lot of time hanging around the Smith & Wesson booth…for a couple reasons. One was because our handlers were chillin' there. Another was because the lady in charge of S&W's rifle line seemed to have the hots for us. That's what it seemed like anyway. It was at SHOT that we first met Brian Montgomery, who has now retired as an active police officer and been named by WT Tactical as their Military/LE representative on the west coast. We're not terribly sure whether this means you have to actually be in a state bordering Pacific or if you have to reside on that side of the Mississippi, but after spending about 70 hours and working our way through numerous adult beverages with him at SHOT and a big training gig with Chicago PD, we are sure he's a good dude. We're certain he will be a great asset for WTT—not least of which because he spent so much time On The Job. (As you know, several of our handlers are LEOs, so we're biased.) Brian's going to be handling both the extensive WT Tactical military line and the upcoming M&P® By SMITH & WESSON® tactical apparel line WTT was licensed to build.
Brian was a municipal PD officer in Oregon (which he tells us is a state), was assigned to probation and parole and juvenile justice for a county agency and spent a lot of time working counter-narcotics and Tac. He's a firearms instructor, earned his agency's award for valor and prefers Guiness on tap. If you're out west want to talk WTT for your agency, unit, tac team or yourself, contact Brian. He may not be the sharpest knife in the drawer, but he's a stand up guy, he's good to go and he's Mad Duo Approved.
In closing, we'll leave you with this picture of us one night while still at SHOT.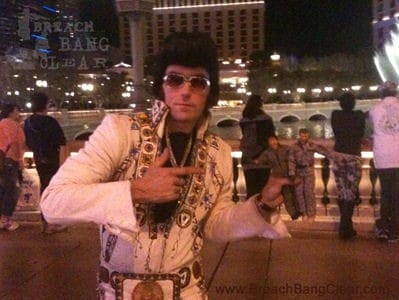 That's Elvis, by the way, not Brian. He's the one taking the picture.
Mad Duo Clear!
Brian, on the other hand, can be reached at [email protected].
Tags: Mad Duo, Wild Things Tactical