Black Diamond Advanced Technology recently introduced its Modular Tactical System (MTS), a lightweight, wearable and rugged computer system that is integrated into the user's uniform and equipment, and optimized for dismounted C4ISR. What's more, it's available now as a Commercial Off-The-Shelf (COTS) product.
On of the major issues with "tactical computers" is that they become attention hogs. It's kind of like texting while driving. You end up taking your head out of the fight in order to deal with the computer. Black Diamond recognized this and took steps to mitigate the effect. The equipment is integrated directly into your equipment. This means you don't have to take time to put a computer away and can instantly transition from learning of a threat to dealing with it. The system is well suited for Command and Control use by small unit leaders, targeting (JTACs, TACPs and Forward Observers), combat medics, explosive ordnance disposal as well as combat weather and military intelligence applications.
Additionally, this modular approach of deconstructing the computer and communications system to fully integrate it into the uniform and common equipment means it is lighter than other models. It can be integrated into most plate carriers with a new cummerbund for cable management. Additionally, the entire system can be integrated into a low profile pack or bag for a more self contained operational capability.
The heart of the MTS is the Tactical Mission Controller (TMC), a low-profile processing platform, peripheral controller and power manager which is carried on the rear of the plate carrier. Cables are routed through an interchangeable cummerbund that integrates with body armor. A flip-down front pocket opens quickly for access to the removable 6.5-inch, sunlight-viewable, night vision goggle (NVG)-compatible Universal Tactical Display (UTD). A Tactical HUB for interfacing with mission-specific peripherals like rangefinders is routed along the cummerbund to provide easy, non-intrusive access to I/O ports. Power is sourced from a wide range of existing military batteries already carried by the Soldier.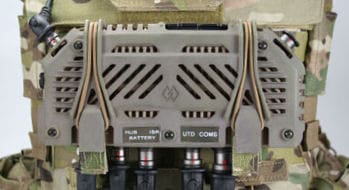 "Black Diamond's goal was to approach the wearable computer solution as a complete system, providing true on-the-move performance and situational awareness for a variety of applications," said Justin Dyster, Black Diamond's vice president of engineering. "By offering the MTS as a COTS system, we're eliminating the cost and developmental delay for applications that may be too small for a full-blown development program and are too complex to employ basic soldier system computers."
For those of you concerned about security, Black Diamond has thought about that as well. It features a Trusted Platform Module, can be zerorized and can detect tampering. Additionally, the UTD produces no detectable light beyond 10 meters when used in NVG mode.
Finally, if you have been using a battlefield computing device you will be at home with MTS. It is a Windows or Linux-based system and is available loaded with the applications you already use: FBCB2 JCR-V, TACP CASS, BAO Suite, StrikeLink, Falcon View, PSS-SOF as well as any other specialized applications pending verification of compatibility with the standard load. Additionally, MTS features a couple of software applications like LaunchPad that, when used with the UTD remind you of using a smart phone. You tap an icon and the application launches. No scrolling through a bunch of menus to find what you are looking for. When used in conjunction with AppConfig, your applications are launched, sized and placed exactly where you want them on the screen. There is also software on the system to control radios as well as the Coastal Defense MVR-IV from the UTD. Finally, Black Diamond has included a Built In Test every time the system powers up to verify integrity.
All in all, a lot of thought has been into the MTS and it is obvious Black Diamond has taken input from users and applied it. To learn more visit www.bdatech.com.