Thales Lithgow Arms has unveiled their new F90D which is also available for their Australian Combat Assault Rifle as the D Model. The D designation is for digital.
The heart of this new capability is a network sighting system which uses the Thales Squad Net radio for communications.
It uses a laser to designate an item of interest on the battlespace. Because the rifle knows where it is, and what direction the weapon is pointed, it triangulates the "target" and allows the user to characterize it as friendly, enemy, or target of interest. The system is Laser agnostic and will work with most on the market.
The information collected by the system is then shared with the squad (and others if desired). This includes friendly information so that if you sight on a target, you will know if it is friendly or not. The information is shown on the sight as you can see here. I've looked at it and it's clear to the eye.
The battery is contained in the buttstock. Here you can see the version for the ACAR.
Here you can see the hub used on the ACAR for power and data. It is Picatinny compatible.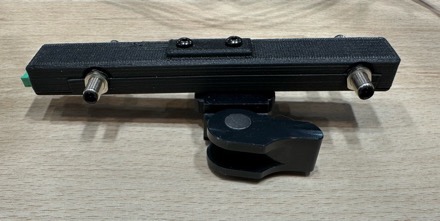 The team is continuing to work on integrating additional sensor inputs.