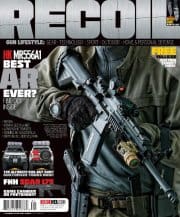 Recoil magazine's premier issue hit newsstands yesterday. Intended for the "gun lifestyle", Recoil is a fun read. If you don't believe there is a "gun lifestyle" just go to SHOT Show. You'll see it in full force. It's nice to see someone launching an actual printed publication in this day and age.
The photography is excellent. Two other things set it apart in my opinion. One is the format size and the other is the paper. It almost reminds me of the slew of Japanese "gun" rags (Combat, Strike, Guns, etc) with a touch of Wired and Maxim thrown in for good measure. But, it's assuredly American and definitely caters to those of us who are into the gear.
You can tell these guys are fans by the content but I hope they bring in some outside talent to change it up a little. Let's hope they can keep it going. If they can sustain their quality at this level they've got a dedicated reader in me.
I almost forgot…it comes with a free psycho clown target.
Tags: Recoil