Right about now, the vast majority of you are scratching your heads asking yourselves, "What's this "slangvel" you speak of? It is an Afrikaans word for "Snake Skin" and is used to describe the South African parachutist smock because the shoulders and elbows are reinforced with nylon webbing.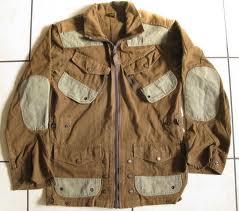 There's also Slangvel, the manufacturer of things camouflage and cool. He has manufactured some of my favorite hats and while he has made Smocks in the past, he is working on getting a new Slangvel off the ground.
Here you see a South African brown (nutria) Slangvel next to a Badlands Slangvel to show how close he has kept the detail. He is in final sourcing for the proper snaps which is a major design detail on a Slangvel as they are exposed.
Although the sample is in PenCott Badlands he also plans on offering them in MultiCam and other patterns and solids as well. These will be initially offered in medium and large size. We'll let you know when they are ready for order.
Tags: Slangvel