Every two weeks SSD showcases a different MultiCam print fabric from Duro Textiles LLC. This week, we are covering Beaver. MultiCam is a single camouflage pattern designed to help the wearer hide in varied environments, seasons, elevations, and light conditions. After a great deal of commercial success and adoption by elements of US Special Operations Forces, in 2010 MultiCam was selected for use by the US Army as its Operation Enduring Freedom Camouflage Pattern (OCP).
Duro prints on genuine Cordura fabric from Invista. A mid-weight fabric, 500D Cordura is rapidly becoming the industry standard for load carrying items that need to be light and durable. This material is coated on the back side for water resistance and features a face side finished with a durable water repellent.
Specs:
Finished Width – 60 inches cuttable
Finished Weight – 7.1 oz/yd² approximately
Fiber Content – 100% Nylon
Construction – 46/35 (warp/fill)
Breaking Strength – 453/348 (warp/fill) (lbs, minimum)
DOWNLOAD Test Report here.
Manufactured from 500D Cordura for its great balance of weight and durability, the new High Ground Plate Carrier incorporates several interesting features.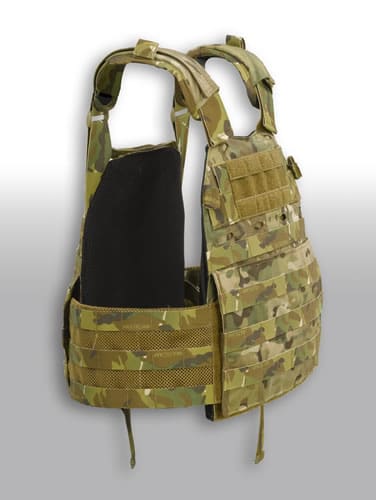 First off is the Mix-&-Match cummerbund with internal as well as external cummerbund PALS webbing. Additionally, the bungee system allows you to change out whole cummerbunds rather than reconfigure MOLLE pouches. The HGPC also incorporates a cable routing system to eliminate cable clutter. You can also ditch your plates one at a time without dropping the whole carrier kind of like in the first gen of BALCS carriers. Finally, it incorporates an internal pocket for flat items (or your hands) that is accessible from either armpit as well as internal breathable spacer cloth to assist with air flow.
Overall, the HGPC weighs only 2.5 lbs due in no small part to fabric selection. Please note, it is only available in MultiCam and Coyote.
Duro offers progressive pricing based on the number of yards ordered. For more information on this or any of the full line of MultiCam fabrics visit www.multicamfabric.com or email [email protected].
Tags: Cordura, Duro Textiles LLC, High Ground, Invista