Dark Angel Medical, LLC's website is back up and with it comes the Gen II D.A.R.K. (Direct Action Response Kit) featuring a new pouch manufactured by FirstSpear. The pouch was changed slightly from the original model. Now, the pouch is a single color with no red in order to be a "non-identifier" and a non-snag design based on feedback from deployed end-users. Not only is it a new design but it's also a lower price than the original.
The Gen II D.A.R.K still features the same vacuum packed insert as the original.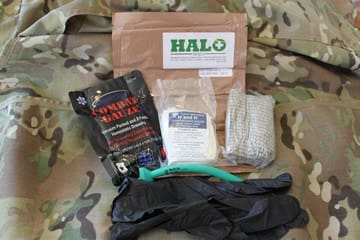 Kit includes:
– 1x 1 pair Nitrile Gloves, size L
– 1x 1pair HALO Seals
– 1x NPA, 28 Fr
– 1x Israeli Emergency Bandage
– 1x QuikClot Combat Gauze LE
– 1x H&H PriMed Compressed Gauze
– 1x CAT-T Tourniquet
Dark Angel makes a good point, "Magazines go in magazine pouches and med kits go in med kit pouches! Confusing the two during a life-threatening situation would be less than ideal." Simply under stress is their mantra.
Multicam, Coyote Brown, Ranger Green and Black. Each pouch also comes with a 1″ PVC Medic Square Patch with a subdued cross/medical pouch identifier.
Tags: Dark Angel Medical, FirstSpear