Developed at the request of an Allied SOF unit, the Cold Weather Smock is the first of a series of items under TYR's new Huron Tactical Equipment and Clothing line. Over the next few weeks we are going to take a look at several additional new clothing items and packs from this line.
Before we go any further, I want to talk about presentation. This is the first thing you are going to see when you get a Smock; a zippered carrying case with the item's nomenclature displayed in the front, proudly emblazoned with the Huron logo. Unzip it and you'll find a piece of craftsmanship. It is a simple thing, but it resonated with me.
Why Develop A Smock?
I've been following the development of this Smock for the past several months, getting my initial glimpse during the TYR Tactical open house in Southern Pines. They are now a full year into it, on their 14th iteration of development, and ready to release.
The point here is that, although TYR Tactical founder Jason Beck is a longtime fan of the smock, he did it for the customer. TYR isn't looking for a big commercial market to validate the investment in time and energy although they've already sold 60 before the Smock even hits the market.
"If I sell 200 of this item, I'll be happy. This is specialized clothing based on customer feedback."
-Jason Beck
President
TYR Tactical
This softshell garment is manufactured from 4-way stretch fabric, treated with Marathon H100 which repels water, dirt, and oil while still giving the textile breathability and elasticity. Additionally, CSM reinforced rubberized elbows offer protection and grip in rough terrain. Those elbow sections will also accept D3O impact pads, available through TYR Tactical. I can tell you that while those elbows might look like overkill, they make a big difference while in the prone in rocky terrain.
These features combine to make the Huron Smock an excellent 3-season garment. Truth be told, I don't see you wearing this in temperatures above 70 Deg F, but it will be the heat, when it's cold outside.
In addition to the obvious pit zips, three other features help with wear in warmer conditions including heavy exertion. First, the hood is removable (leaving behind a stand up collar) and second, the antimicrobial treated mesh lining is moisture wicking to increase comfort and hold down stink from prolonged wear in the field. Finally, the back of the Smock is single layer fabric which is critical for those wearing a pack, external armor carrier, or other load bearing system in order to help avoid overheating.
The Base Design
This is a pretty complicated design with 184 individually cut pieces. That makes for a lot of sewing machine time. They started working with the shoulders because the Smock has to carry up to 25 lbs of kit. A single-piece load bearing yoke was a necessity, and you'll notice that there is double material across the internal yoke and down the front in order to support the weight of a fully loaded Smock.
Maneuverability and range of motion were also key factors so they added material in the shoulder area to accommodate the deltoids. They also incorporated gussetted pit zips for venting during heavy exertion.
The Smock features simple, Velcro cuff closures. Interestingly, the length of the flap and Velcro adjustment has been modified a couple of times over the course of the Smock's development as customer feedback dialed the final design in.
Additionally, there are internal drawstrings at the waist and hem for adjustment of load and to keep wind and snow out of the Smock. The barrel locks are sewn in place for one-hand adjustment. They've also incorporated 500D Cordura behind the main zipper. This gives it a little more support and won't bind the zipper like a lighter wight fabric might.
Pockets, Pockets, Pockets
Did you say, "pockets?" Well, believe me, this thing has got them. In fact, the chest area alone has external flapped patch pockets right on top of zippered inset Napoleon pockets, while inside the Smock offers zippered chest pockets. Remember, it was designed to carry 25 lbs of equipment and you can compartment it well, including mesh pockets along the internal skirt of the Smock that will accommodate rations.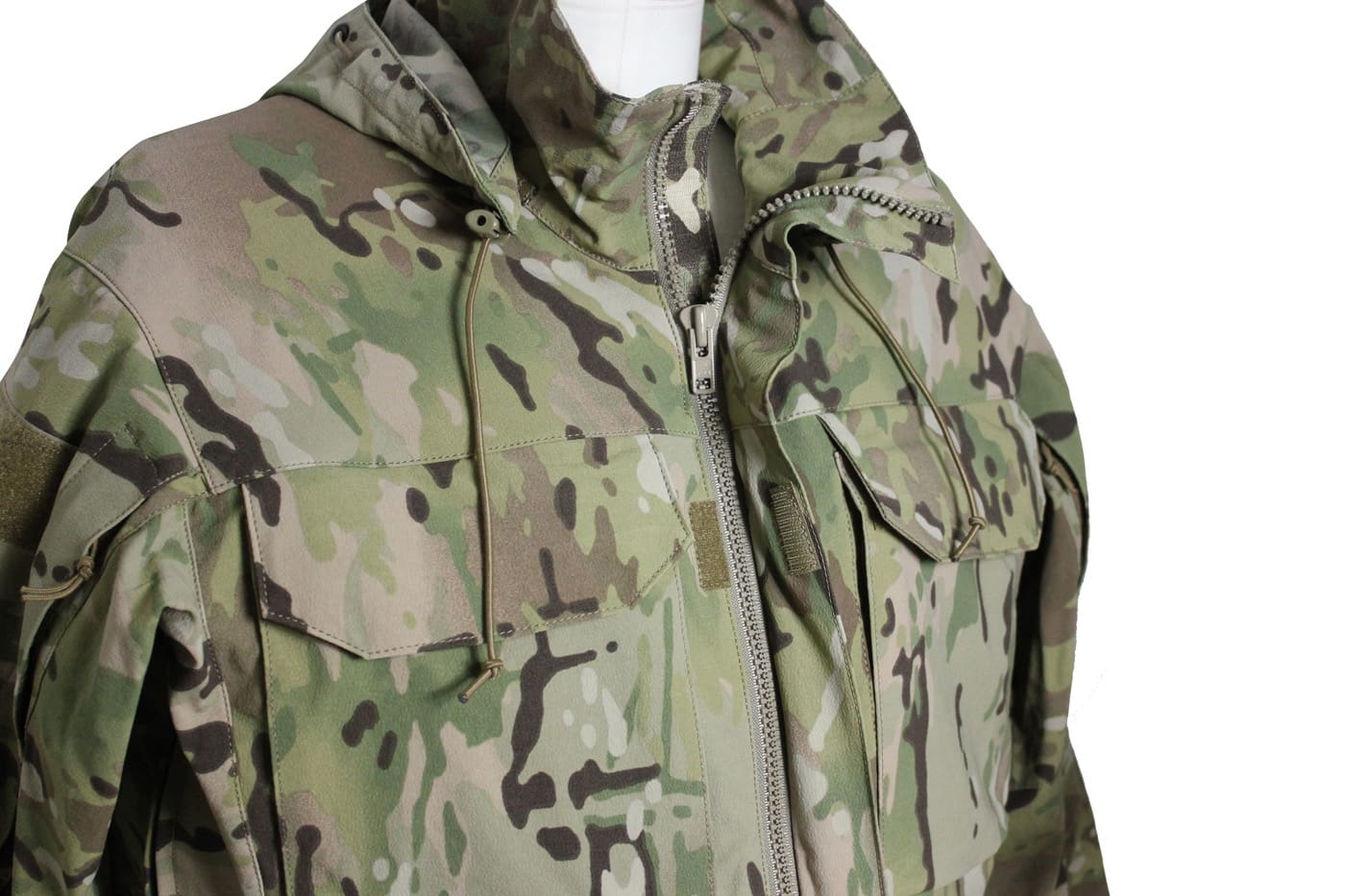 Summary of Pockets:
4 Front Pockets
– 2 Top Patch Pockets – Velcro Closure
– 2 Bottom Patch Pockets w/Flap – Button Closure
2 External Napoleon Chest Pockets
– Zipper Closure
2 Internal Napoleon Chest Pockets
– Zipper Closure
5 Internal Base Mesh Pockets Along Skirt of Smock
– Button Closure
2 Side Radio Pockets
– 1 w/Flap and Bungee Retention
– 1 Bungee Retention
2 Rear Poacher Pockets
– Bottom Pockets w/Flap – Button Closure
2 Sleeve Pockets
– Zipper Closure
Depending on the application, TYR uses slotted buttons, Velcro, zippers or a combination of more than one as closures for the pockets.
Internal Magazine Pockets
Inside several of the larger pockets found on the Huron Smock are internal magazine slots that will accommodate 30 rd 5.56 magazines. There are a total of six of these slots. The photo below was taken last Spring of a prototype variant.
Radio Pockets
Interestingly, the two side hip mounted pockets were designed to accept the PRC-148/152 and incorporate cable routing slots so that the cables won't be exposed.
Developments
As I stated earlier, the hood is removable via button attachment and the version that comes with the Smock is made from the same 4-way stretch softshell material as the rest of the smock. However, TYR is already experimenting with other, optional hoods like this fleece lined one which they whipped up while I was there last week.
I'd also keep my eyes out for a lightweight Smock, made from a different fabric, for hot weather ops in the future.
Colors and Sizing
This is a very specialized piece of kit, currently offered in MultiCam, with other colors to follow. Sizes are Small – 3XLarge. It is very generously cut and unless you plan on wearing a puffy jacket underneath, I'd suggest you go down a size.
I am impressed with the work that has gone into the new Huron Cold Weather Smock. While it may be a bit pricey for many, it is definitely worth considering of you require something along these lines.
LE and military organizations/personnel, contact TYR Tactical for special pricing.
Tags: Huron, Tyr Tactical