Last week, the internet was aflame with conspiracy theories regarding Exercise Jade Helm 15, a multi-week Unconventional Warfare exercise involving about 1200 SOF personnel, set to take place across the southern half of the United States starting this July. Apparently, someone released a slide deck with an overview of the exercise, to the blogosphere. The next thing you know, the conspiracy industry had some new material to twist into a Martial Law narrative that got the moonbat crowd all worked up.
Declare martial law with 1200 troops (including support guys)? Really?
Off course, it's another case of 1 + 1 = C. First off, we've got an official statememt. Here's the gist:
When asked by the press about Exercise Jade Helm 15, USASOC spokesman LTC Mark Lastoria answered, "It's a training exercise. Just a regular training exercise."
Next, we can look at the slides themselves. The cover slide is straight forward and it was obviously presented to a local government to explain what is going on in an effort get permission to train in their area.

They aren't exactly hiding the nature of the exercise or where it will take place.

The slides are very up front about the nature of the training as it concerns local citizens.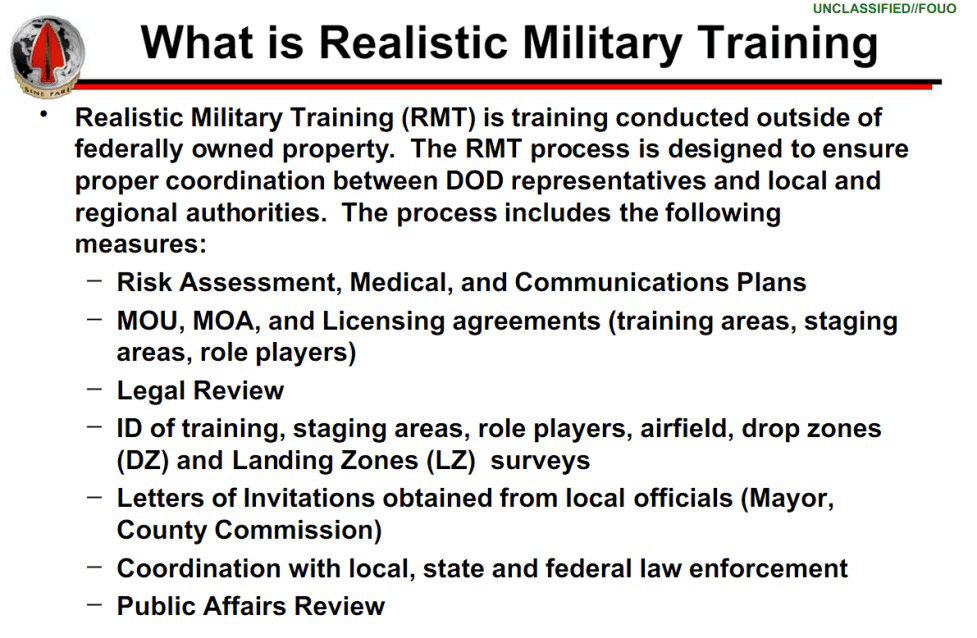 Next, the slides detail the types of units involved. Not something you'd run around telling folks if you had a secret plan afoot.
As you can see, it's a rather large training area but there's a simple explanantion. It allows the units participating to actually deal with the tyranny of distance which effects transportation and communications as well as command and control. Even SOF portions of Combat Training Center rotations involve long distances between elements and target areas and those are conducted regularly.
As an aside, I really dig the logo which depicts crossed arrows and dagger (synonymous with Special Forces) set behind a French wooden shoe called a sabot. That wooden clog is where the term "sabotage" comes from. During the French revolution, workers were said to throw these shoes into the works of looms in order to break them. Unconventional Warfare and sabotage go together like peas and carrots.
The truth of the matter is that these exercises are nothing new and have been occuring for well over 50 years. Over the course of my 21 year long career, I participated in numerous large-scale, multi-week, joint SOF exercises with training areas that spanned multiple states. They were (and remain) excellent opportunities to practice the conduct of successful operations and such frequent exercises are what honed SOF capabilities, so ably demonstrated in the opening weeks of Operation Enduring Freedom, some 14 years ago.
If you still don't believe me, I'll once again share the period documentary, "Guerilla: USA" which depicts an early 1960s Unconventional Warfare exercise conducted by Special Forces in West Virginia. Equipment and TTPs may change but the underlying mission of working with the locals remains an inherent tenet of UW.
None of this is nefarious, and the activities in the documentary are more intricate than will take place in Jade Helm 15. Jade Helm isn't a threat to liberty, but rather part of a larger mechanism deigned to protect it. So sleep peacefully in your beds at night knowing that rough men stand ready to do violence on your behalf. And, drop that crack pipe.