The new Element Pant from Beyond is a component of their Element Suite which serves as their Maritime Uniform, consisting of this pant, a shirt, and a half zip pullover combat-style shirt.
Designed to be highly adaptable, The Element System features lightweight, hydrophobic fabrics that offer unparalleled moisture management and breathability. Mesh pocket openings through the system allow for fast and quiet pocket draining when working in or around water. The Element System is the most reliable option when facing dynamic environmental Conditions.

The A5 Element Pant is designed for active use in environments ranging from dry arid to wet temperate. Built from quick-drying Tweave Durastretch with DWR, this pant is durable, flexible, wind and water resistant. The Element pant is also equipped with XGP Superfabric reinforced kneepad pockets, mesh pocket vents that drain faster and quieter than traditional eyelet vents, and a DWR coating to shed water. The A5 Element pant is optimized for moving through changing environmental conditions. Its quick dry times and Water-Resistant construction make the A5 Element Pant ideal for navigating maritime environments.
DETAILS:
– 3-point suspender loops
– Zippered thigh vents
– Zippered front hand pockets
– Adjustable hook and loop center front waistband and side waist adjustments
– Front thigh pockets with vertical kneepad adjuster
– Reinforced universal knee pad pockets with back knee hook and loop adjustment
– Adjustable hem
– Mesh Pocket venting to allow for quiet draining.
MATERIALS:
– Tweave Durastretch with DWR
– XGP Superfabric on stretch Cordura
– Brushed Mesh Pockets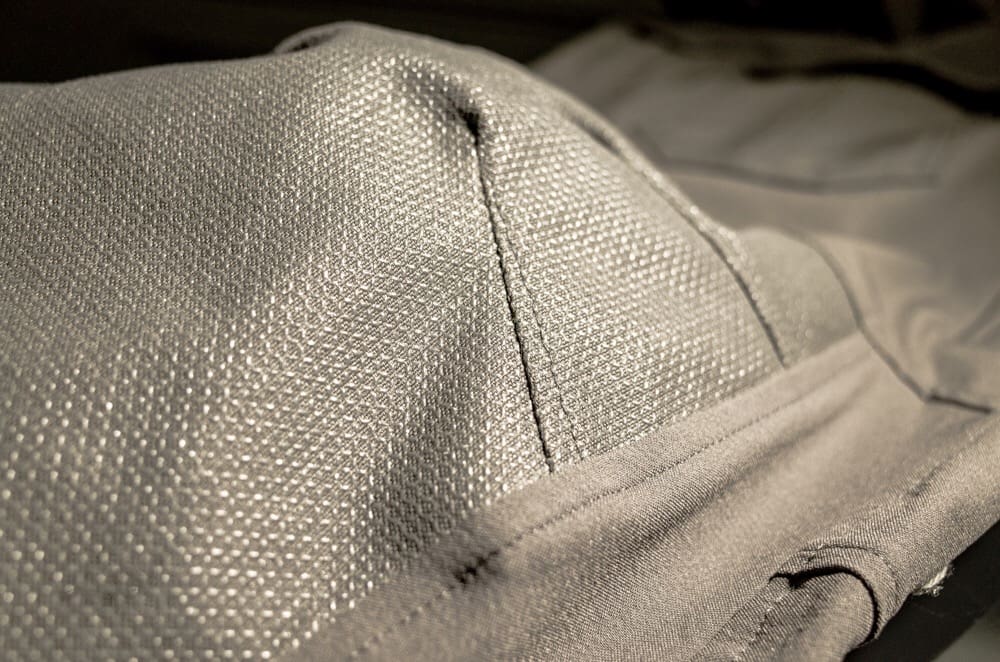 The Superfabric reinforced Kneepads were made by bonding XGP Superfabric to a 2-way stretch cordura which is much more flexible and breathable than standard Cordura. Due to the structure of Superfabric, high-abrasion plates affixed to any stretch or non-stretch fabrics in a dot-pattern work extremely well to protect the garment and the wearer from abrasion, yet the substrate material can still breathe and move in a normal way.
BENEFITS:
– Durable
– Water-Resistant
– Wind-Resistant
– Stretch Construction
– Quick Drying
WEIGHT (SIZE LARGE):
25 oz (709 g)
www.beyondclothing.com/a5-element-pant
Inventory on these is extremely limited. If interested, contact 206-767-0307, or [email protected]
Tags: Beyond