It's Black Friday week, and with that comes sales! We've collected these sales into a single megapost, making it easier for you, the reader, to check out the ongoing deals. This list will be updated as more sales come in, so be sure to check it on the regular.
Tactical Distributors
25% off site wide and free next day shipping for all orders over $99. Use promo code BLACKFRIDAY25 at checkout. Sale starts Thanksgiving Day, November 26th and lasts until Sunday, November 29th, at Midnight. Some brands excluded.
25% off site wide, with free next day shipping on all orders over $25. Use promo code CYBERMON25 at checkout. Discount does not apply to some brands, clearance items, and sale items.
Sparrows Lockpicks
TacticalGear.com
Now through November 29th, TacticalGear.com is offering 15% off sitewide and free shipping on order over $99 for Black Friday. Additionally, they're offering up to 25% off top brands. Use promo code SAVEBIG to apply the discounts.
Tactical Tailor
SKD Tactical
Starting Monday, 11/23, at 00:01 CST, they're featuring one premium plate carrier every day with discounts better than what you'll find anywhere else.
11/23 take 15% off of the Paraclete SOHPC – SKD Spec
11/24 take 15% off of the Mayflower APC
11/25 take 15% off of the First Spear STT
11/26 take 15% off of the PIG PC
Gemtech
TYR Tactical
www.tyrtactical.com/news/details/black-friday-2015
High Ground Gear
Starting Friday and running through Monday, November 30th, High Ground is offering 15% off site wide in honor of Black Friday. Use promo code BLACKFRIDAY to apply the discount.
Note: Discount does not apply to already discounted items as posted on sale.
G-Code
Kitanica
15% off EVERYTHING storewide Thursday through Monday 11/30.
ZEV Technologies
ZEV Technologies is holding a Black Friday Week sale – and it's only while supplies last! A full selection of Barrels, sights and more will be available at discount prices that simply won't be repeated.
The sale is limited to supplies on hand and is online on their website only.
Additionally, if you purchase any Barrel, Slide or Ultimate trigger kit you can use coupon code SHIRTRH1 to get a free "ZEV Technologies Shirt" with your order. (Just make sure you add the shirt to your shopping cart before using the coupon code!)
You can find their Black Friday Sale items all week long at:
www.zevtechnologies.com/promos
OSWAT
O P Tactical

O P Tactical has tons of deals for Black Friday! Below is the list of deals starting on Friday:
New Raven Concealment Systems Morrigan Holster will be available for $49.99!
Velocity Systems Scarab LT will be reduced to $274.99!
Mayflower APC will be reduced to $199.99!
All pouches will be 15% off!
All Surefire items will be 20% off!
All OPT Exclusive patches, stickers, and clothing will be 25% off!
All Combat Flip Flops items will be 25% off!
Uniforms items will be 20% off!
Sale starts Friday on and runs through Midnight EST on Monday. Some exclusions will apply.
Shellback Tactical

Thanksgiving through Cyber Monday while supplies last. Shellbacks New Level IV Armor Plate will be Buy one Get on at 50% OFF. No Code Required – The product will be on the site with the sale price.
Beyond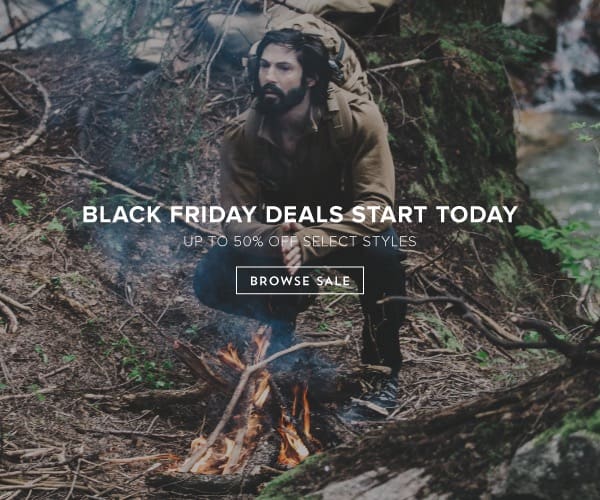 Black Friday pricing which will be available through Sunday, Nov 29th. This year, you can take up to 50% off select styles while supplies last.
TNVC
Merry Christmas from TNVC! Starting Black Friday and continuing through the end of the year, TNVC is offering $150 off TNV/PVS-14 night vision goggle kits (excluding blem units) and 10% off Steiner DBAL-A3 Eye Safe Lasers. Use discount code XMAS15 at checkout.
London Bridge Trading
LBT is holding a Black Friday and Cyber Monday sale. Staring November 26th at noon EST and running through November 30th at Midnight EST, take advantage of discounts on LBT gear, and get $25 off orders of $300 or more.
SKD Tactical
US Elite Gear
www.us-elitegear.com/promos/warehouse-wednesday
Save 50% on Arc'teryx LEAF Alpha Jacket Gen. 1 (Regular price: $699. Black Friday-Cyber Monday Price: $350)
Save 30% on Arc'teryx LEAF US Elite Limited Edition Naga Hoody (Regular price: $220. Blac Friday-Cyber Monday Price: $150).
www.us-elitegear.com/brands/arc-teryx
Chase Tactical
Platatac
Agilite Gear
RE Factor Tactical
Our Black Friday sales will continue all weekend with 25% off on Friday, 20% off on Saturday and Sunday and 15% off on Monday. Use code FIREFOREFFECT at checkout.
refactortactical.com
Persec Systems LLC
Tnarmsco
Fight and Flight Tactical
"Black Friday", a day of big sales, human stampedes, and beating people senseless for a cheap flatscreen. As Austin Powers would say, "it's not my bag, baby." We all took the day off to rest, recuperate, and spend time with friends and family. In my case, set up the Christmas tree with my wife and kids, while gorging ourselves with Thanksgiving leftovers.
Instead, we prefer to observe Small Business Saturday and Cyber Monday. I do most of my Christmas shopping online anyway, with the exception of a trip to my favorite gun store for my wife's annual present that goes "pew" (that's doesn't mean you're getting a firearm again this year, honey… Or does it? Maybe it'll be those concealed carry yoga pants you showed me…).
So, from midnight tonight, through midnight on Monday, November 30th, we'll be having our annual sale, with 10% off everything. Abso-freaking-lutely everything. We'll still have free APO shipping, as always.
VF Gunrunners Black Friday, Cyber Monday.
Click on any of the links below. No discount codes needed.
Magpul MBUS PRO $128.95 FREE Shipping
vfgunrunners.com/magpul-mbus-pro-sight-set
Bravo Company USA MIL-Spec Stock Hardware Mounting Kit $51.00
vfgunrunners.com/rifle-parts/ar-15/lower-parts/lower-parts-kits/braco-company-usa-stock-hardware-mounting-kit-mil-spec
Flat Dark Earth Magpod 3 pack – FREE shipping
vfgunrunners.com/magpod/magpod
CMMG Lower Parts Kit without Grip and Fire-control $37.20
vfgunrunners.com/rifle-parts/ar-15/lower-parts/lower-parts-kits/cmmg-lower-parts-kit-without-grip-and-fire-control-223-5-56
Magpul Armorers wrench and BEV BLOCK TOOL SET $114.95 FREE shipping
vfgunrunners.com/tools/magpul-armorer-s-wrench-and-bev-block-tool-set
Haley Strategic
From now until November 30th, take advantage of 20-50% off select items on the Haley Strategic Partners webstore.
ITS Black Friday Sale
We appreciate a good deal as much as the next guy, but why worry about standing in line on Friday? The ITS Store is open 24/7 and we've got a big sale starting at Midnight Central Time on Friday, November 27th and running through Monday, November 30th at 11:59 p.m. Central Time. You can even take advantage of the sale without leaving your bed. We won't judge you.
We're offering 10% off nearly everything in the ITS Store and as a special bonus, our members (Plank Owners, Crew Leaders and Life Members) will save an additional 5% off your order by using the same membership discount code already in use for the store.
To take advantage of the 10% off discount, just use coupon code TACTICALTURKEY at checkout from Midnight Friday thru Monday. Remember members, you'll automatically see the increase in your existing coupon code found in your Membership Dashboard during these same times, so there's no separate coupon code to enter. This means Plank Owners and Crew Leaders save 20% and Life Members save 25% all weekend long.
Not only are we offering great savings in the ITS Store, but we're also including free gifts for orders over $25, $50 and $100 while supplies last. To go along with Black Friday, our gifts are all "Blacked Out" ITS products!
Orders over $25 before shipping will receive a free ITS Rite-in-the-Rain Memo Book. Orders over $50 before shipping will receive the Rite-in-the-Rain Memo Book as well as a limited edition, never released, Murdered Out Morale Patch. Finally, orders over $100 will receive the Rite-in-the-Rain Memo Book, limited edition Murdered Out Morale Patch and a Black ITS Crew Cover.
**Please Note: Black Friday/Cyber Monday discounts are our lowest prices and cannot be combined with existing offers. Discounts are not valid on the purchase of a new membership or existing sale items. Sale prices are limited to stock on hand, sorry no rainchecks. Free gifts with orders are while supplies last.
Double Tap Surplus
Now through Cyber Monday! Save 20% off most categories at www.doubletapsurplus.com with promo code THATGUY15. Veteran owned & operated tactical gear store in Virginia Beach.
Extreme Outfitters
Kryptek
http://www.kryptekstore.com/Overwhites-Set-Yeti
Daniel Defense
Tags: Black Friday