It was just a matter of time before it happened. Apparently, getting a full refund for the purchase price of a EOTech Holographic Weapon Sight, without having to show a receipt wasn't enough. Clay Pittman individually and on behalf of all others similarly situated, have filed a class action lawsuit against L3 Communications and their EOTech business unit.
This class action hopes to represent anyone who purchased an EOTech HWS from 2007 until now because, the suit claims "for nearly a decade, Defendants sold holographic weapons sights to consumers throughout the United States that Defendants knew were materially defective."
Pittman has not specified a monetary amount for the damages in his suit. Rather, he asks the court to:
-Issue an order finding in favor of Plaintiff and the Class on liability;
-Award damages, including compensatory, statutory, incidental, consequential, actual, and, as applicable, punitive and/or exemplary damages, and statutory penalties to Plaintiff and Class Members in an amount to be determined at trial;
-Grant injunctive and equitable relief to Plaintiff and Class Members including, but not limited to, disgorgement, restitution ;
-Award Plaintiff and Class Members their expenses and costs of the suit, pre-judgment interest, post-judgment interest, and reasonable attorneys' fees;
But, the most important petition to the court is to establish this case as the class action meaning any other cases would have to join this one.
Plaintiff Pittman is a Texan and is represented by The Miller Lawfirm PC of Rochester, Michigan. This is a different firm than Douglas, Haun & Heidemann PC which we wrote about in the past and uses the website EOTechlawsuit.com.
The plaintiff goes into a great deal of detail in the complaint so it's definitely worth a read.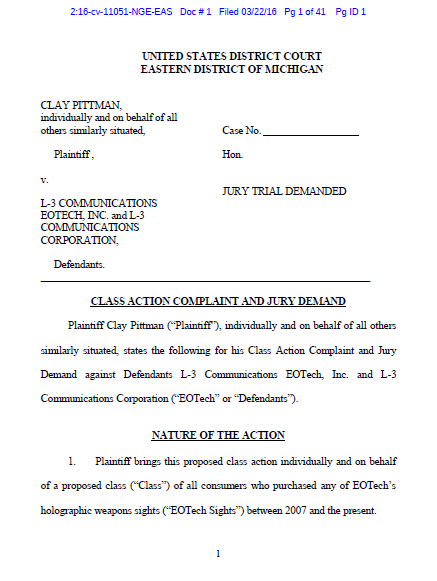 Click to view .pdf
Tags: EOTech, L3 Communications