The NRA's Annual Meeting kicks off tomorrow morning in Louisville, Kentucky, and along with it, H&K brings a semi-auto version of the iconic MP5K to the American Market.
Dubbed the SP5K, you'll notice a few changes from the original. For example, there's a button-style mag release which was used so that full auto trigger packs can't be easily installed. Also, the top incorprates a Picatinny rail and it has the old SP89-style handguard.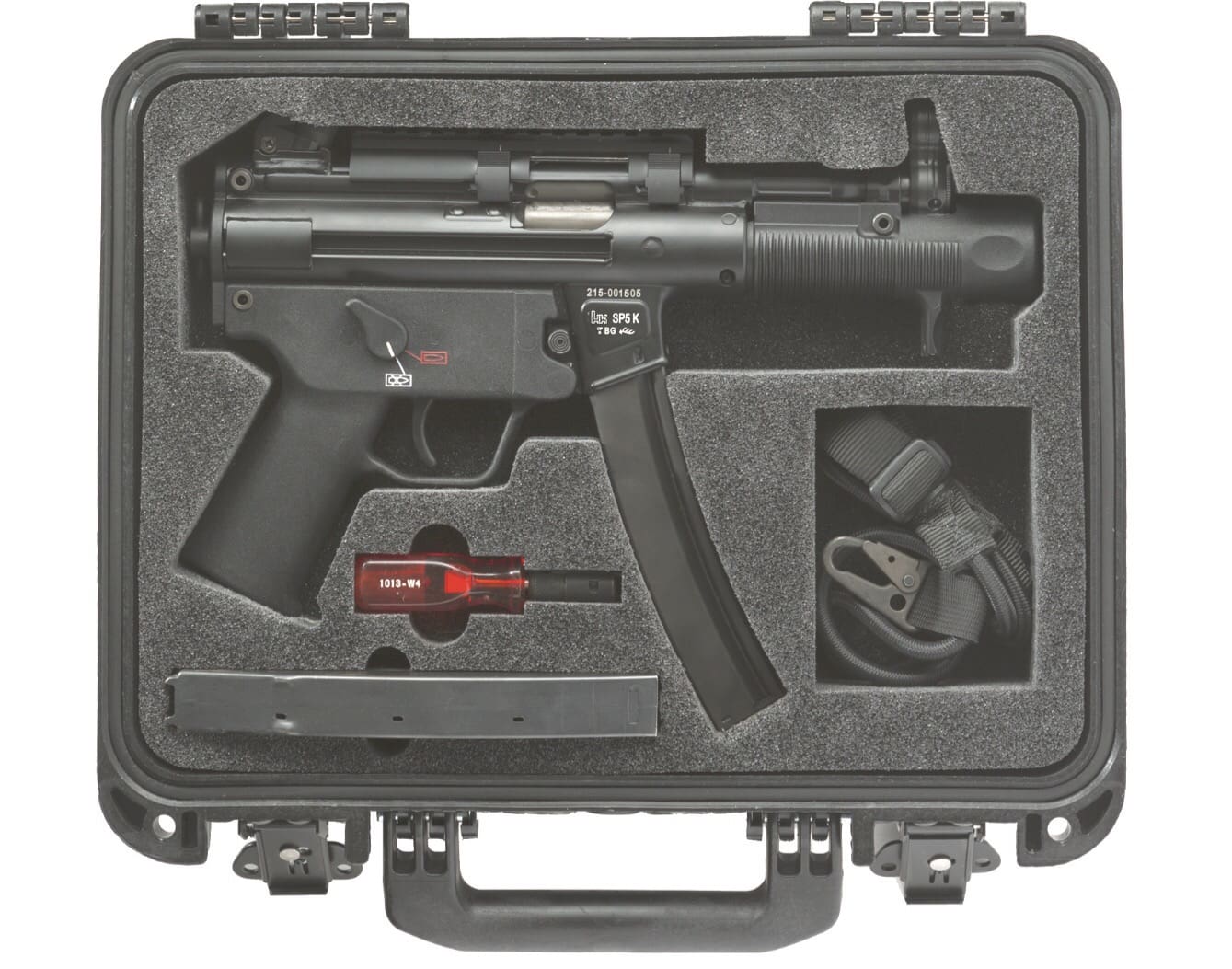 Here is their press release:
Heckler & Koch is introducing the new SP5K pistol at the 2016 NRA Annual Meeting and Exposition in Louisville, Kentucky. A semi-automatic pistol based on the MP5K, the all-new 9 mm SP5K was developed by Heckler & Koch as a sporting pistol that matches the look and feel of the famous submachine gun.
Designed and manufactured as a civilian pistol, the SP5K marks the return of the roller delayed blowback operating system to an HK commercial product. This system is well-known for its accuracy and reliability. Originally developed on the G3 rifle, it has been used on many of Heckler & Koch's most memorable firearms of the last 60 years.
"The SP5K is a unique and historic HK pistol that captures the essence of the legendary MP5K but as a semi-auto handgun,"said Michael Holley, HK-USA Vice President for Commercial Sales and Marketing. "It's equipped with a special ergonomic handguard that protects the shooter's supporting hand and enables a stable and comfortable grip. A bungee cord sling is also included and makes shooting an SP5K easy. It's a fun gun to shoot and goes a long way in recreating the experience of handling and firing a real MP5 subgun."
The SP5K duplicates the quality and fine details of the MP5, including its precision machined components. The same cold-hammer forged barrel used on the MP5K is found on the SP5K, ensuring a service life of tens of thousands of rounds. The SP5K is manufactured completely in Heckler & Koch's Oberndorf factory in southwest Germany.
As a large size handgun that uses the proven roller delayed blowback system, the SP5K's inherent accuracy makes it an excellent choice for target shooting and an ideal household security arm.
A wide variety of accessories can be added to increase its functionality. A Picatinny rail scope mount is attached to the upper receiver and allows optional sights to be easily mounted. The SP5K also comes "ready-for-action"in a custom-fitted, lockable, high-quality carrying case.
Covered by Heckler & Koch's limited lifetime warranty, the HK SP5K is a faithful rendering of the iconic MP5K as a semi-automatic pistol. Projected availability is July 2016 with a MSRP of $2699.
Be sure to visit booth #3215 to see the SP-5K along with the new Flat Dark Earth (FDE) VPs models in 9mm and .40 S&W.
Tags: Heckler and Koch