Where was the Speedbox when I was in? It's highly water resistant, lockable, stackable and can be pulled around by its wheels. This thing is amazing.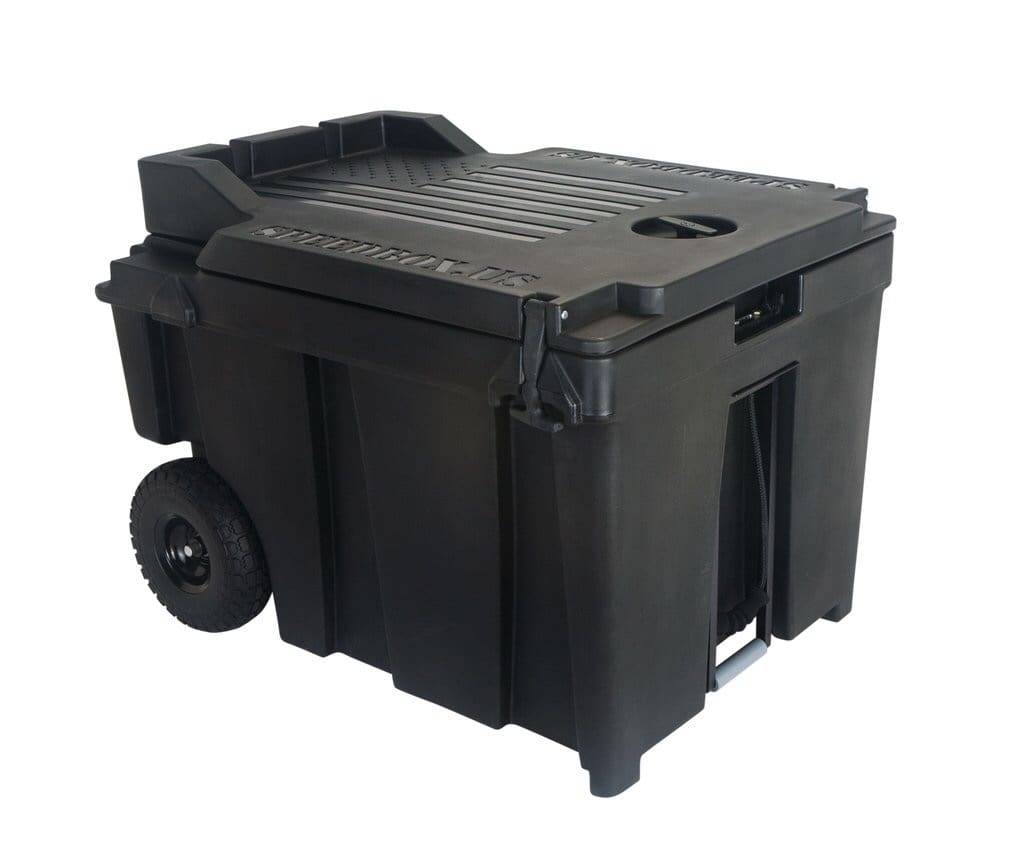 Strength hurts. Speed kills. Speedbox represents the next step in the evolution of military mobilization. It's a container system born out of frustration from using less durable, less thoughtful, and less integrated containers. At its core, Speedbox is a heavy-duty stackable, interlocking, wheeled, vented, drainable, buoyant, pull-able, rotationally molded container that maximizes the useable space on a 463-L pallet…it's kind of like combat luggage. Gone are the days of spending up to 3 hours to build a pallet. When used to its full potential, Speedbox is a system that allows its users to palletize a 463-L pallet in less than ten minutes. If efficiency is important to you or your unit, then this container system is a game changer.
Speedbox eliminates the shortcomings of other containers used by the military:
Durability
This has always been an issue with plastic containers. Speedbox solved this by implementing advanced engineering in the geometrical design of the container, using structural foam on the interior surfaces, and devoting an ample amount of raw compound in each 50 lb. unit. This is the most durable container on the market.
Mobility
A typical fully-loaded container ready for deployment can easily weigh 250 lbs. requiring a four-man carry. Speedbox addressed this issue by incorporating two simple machines, the lever and the wheel. The lever on the Speedbox is the retracting handle made from two ¾ inch aluminum rods. These rods are attached to a 2 lb. aluminum locking block which is secured by angle iron that reinforces the stress points. The wheels are 10 inch off-road, heavy-duty, no-flat tires. They will never go flat because there's no air in them. The combination of the lever and the wheel make it easy for a single person to quickly move heavy loads across uneven surfaces (like landing zones at FOBs).
Integrated
Most military oriented cases are not ideal for stacking given their smooth sides or irregular shapes. Unlike these traditional cases, Speedboxes fit together like Legos. The feet and wheels nest into each lid below. The side walls nest with adjacent Speedboxes, and the fronts and back interlock through the use of a built-in tether. When Speedbox is used as a system, it creates the most stable, easily loaded and transportable pallet solution to date.
Speedbox is a Service Disabled Veteran Owned Business proudly manufactured in the USA.
463-L SpeedBox Load-out Video on Vimeo.
More information can be found at www.speedbox.us
Tags: Speedbox