New EP 6.5 outerwear will be on display, including DAME Design Award nominated pieces
Bellingham, WA – Mustang Survival®, the North American manufacturer of innovative solutions for the most demanding marine environments, joins a prestigious list of brands exhibiting at this year's Marine Equipment Trade Show (METS) in Amsterdam (Canada Pavilion, booth 12.314). Alongside some of the world's largest marine brands, Mustang Survival will be displaying the EP Ocean Racing Series, launched this past summer and designed for the most serious ocean racers. Part of the collection are the EP 6.5 Ocean Racing Jacket and Salopette, both of which are DAME Design Award 2016 nominees.
"The show provides a wonderful opportunity for us to showcase the EP Ocean Racing Series to an international audience for the first time. To have received positive accolades on the line from crew members aboard Comanche and Rambler 88, and to have been part of Comanche's Sydney-Hobart, Newport-Bermuda and Trans-Atlantic records is both an honor and a testament to our game-changing innovation," explains Robbie Stevens, Sr. Director, Sales & Marketing at Mustang Survival. "These types of innovations don't come along every season and when they do, they often change the way that people interact with their equipment. Being nominated for a DAME Award is further validation that we are starting to drive that change."
Available now, the assortment brings to market Mustang Survival's all-new EP Ocean Racing Inflatable PFD, EP 6.5 Ocean Racing outerwear category, Bluewater and Greenwater Series Gear Haulers, Roll Top Dry Bags, Regulate Base Layers, and EP 3250 Racing Gloves. The new collection allows for seamless integration of the brand's thermal layers and outerwear with their flotation and protective equipment, providing a comprehensive range of solutions for offshore racers and demanding enthusiasts.
The EP 6.5 Ocean Racing outerwear category features military-grade Gore-Tex® fabric – a technology Mustang Survival has been using, and which has only been available for the military, coast guard and first responders for the past twenty years. The launch of the EP 6.5 Ocean Racing outerwear brings the proven technology to the sailing market for the very first time. Engineered for the most demanding nautical users, the military-grade Gore-Tex fabric offers a heavier denier for extended use and makes the fabric resistant to corrosive agents, such as gasoline and salt water.
EP 38 Ocean Racing Inflatable PFD – As the only race-compliant PFD (personal flotation device) available with U.S. Coast Guard and Transport Canada approvals, the EP 38 features Hammar® Hydrostatic Inflator Technology (HIT™) for reliable inflation in extreme conditions, and M.I.T. (Membrane Inflatable Technology™) materials inside, making the innovative construction of the EP 38 better-fitting, incredibly pliable and easier to repack. The low profile back-of-neck, vest-style design and improved weight balance, combine to remove pressure from the back of the neck.
EP 6.5 Ocean Racing Outerwear – The outerwear collection designed for elite ocean racing sailors uses military-grade Gore-Tex fabric for robust durability and resistance to delamination. The collection includes a dry suit, jacket, salopette, and spray smock with Gore-Tex Pro. The products leverage premium components, including AquaSeal® waterproof zippers, Cohaesive™ cinch adjusters and Closed Comfort System™ neck seals.
Regulate Base Layers – Crafted with a blend of Merino wool and synthetic yarns, the fabric of Mustang Survival's Regulate Base Layers touts the benefits of both fibers, designed for the unique demands of the nautical user. The Regulate Base Layer system is available in 175 weight and 230 weight tops and bottoms.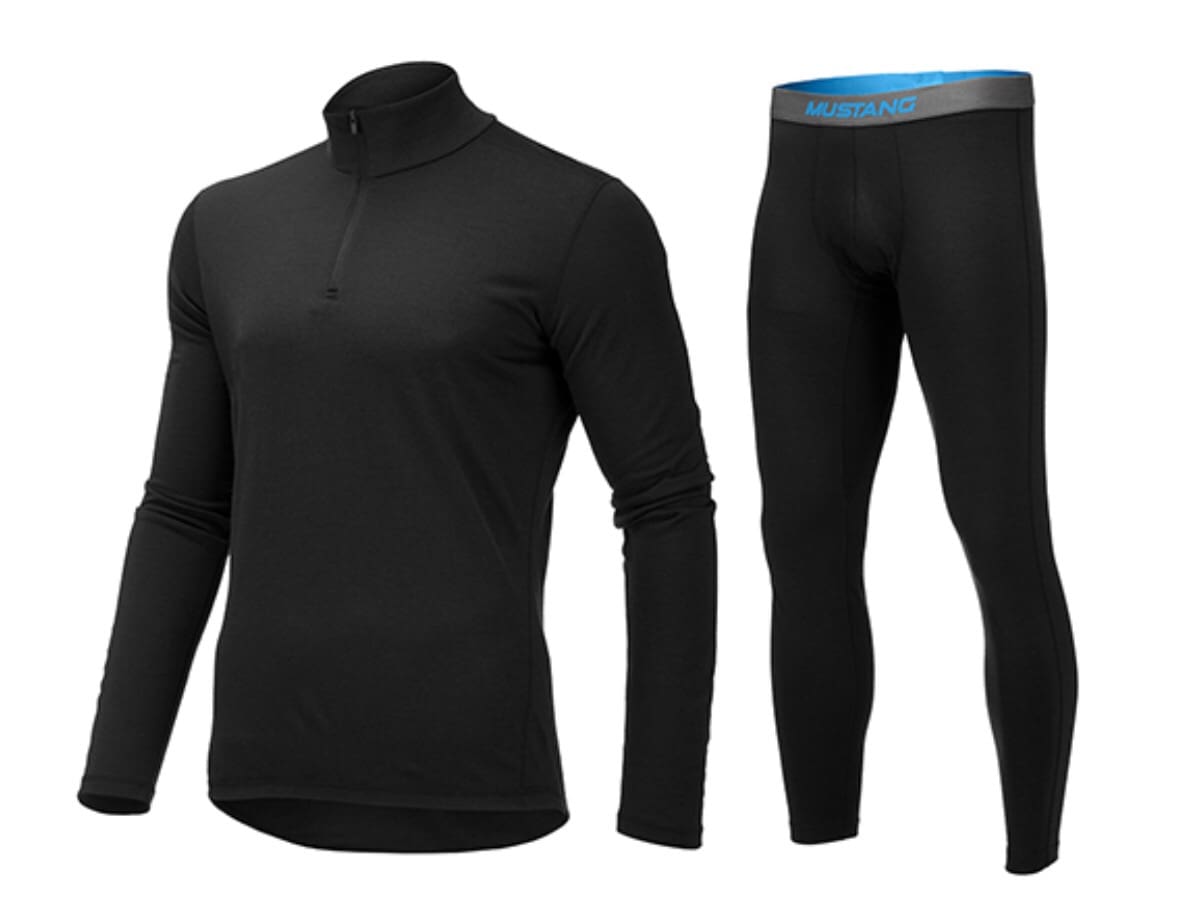 Bluewater Gear Haulers – Perfect for everyday trips or extended overnight excursions, the Bluewater Gear Haulers feature weatherproof construction with urethane-coated zippers and a 210-denier coated nylon shell. The Bluewater Gear Hauler series is offered in 55-, 30- and 15-liter volumes. All Bluewater Gear Haulers feature a Modular Lightweight Load-carrying Equipment (MOLLE) panel for custom gear configurations. The 55-liter Bluewater Gear Hauler uses water-resistant construction with separate compartments for wet and dry gear. The 30-liter version features a roll-top waterproof compartment and water-resistant construction with a laptop sleeve, while the 15-liter Gear Hauler is hydration compatible with water-resistant construction.
Greenwater Gear Haulers – Designed to be tied down and withstand the most violent conditions the ocean can bring, the Greenwater Gear Haulers are waterproof with Aquaseal waterproof zippers, and are available in 35- and 65-liter sizes.
Bluewater Roll Top Dry Bags – Available in 5-, 10-, 15-, 20- and 35-liter sizes, Mustang Survival's Roll Top Dry Bags are designed for easier packing in a unique rectangular shape, with a convenient ID window for labeling.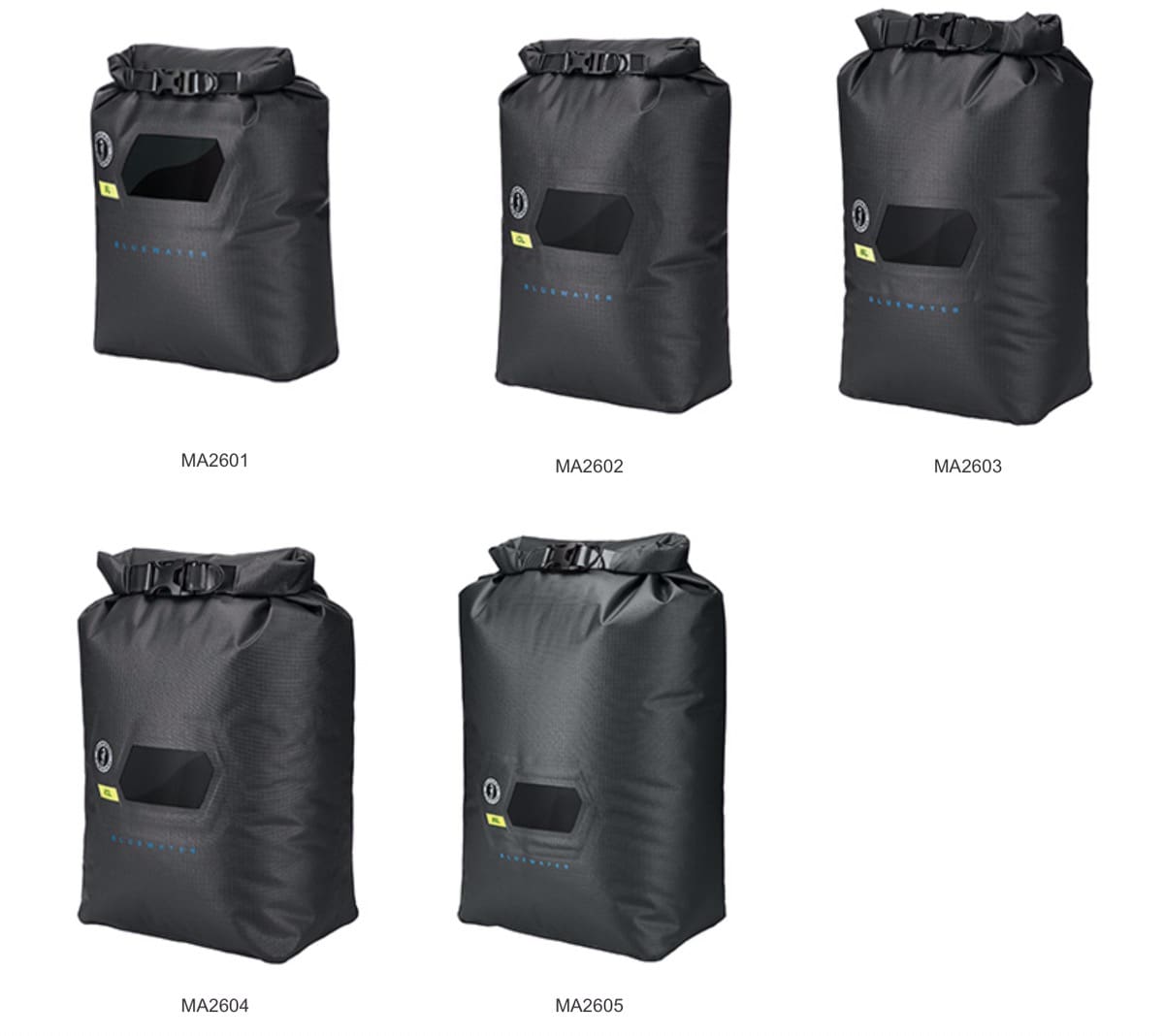 EP 3250 Racing Glove – Engineered for wet work with synthetic leather on the fingers and a silicon grip closure, the EP 3250 Racing Gloves offers extreme durability and performance. Available in full finger and open finger styles.
Available now, the EP Ocean Racing Collection can be found at specialty retailers. Visit www.mustangsurvival.com/epoceanracing for more information.
Tags: Mustang Survival