While many would look at the Assault LT series and call it a "Jungle" uniform, it's not specifically designed for use in jungle, or arid environs for that matter, but rather as a more generic Hot Weather Combat Uniform. The Katana fabric from WL Gore & Associates incorporates ePTFE fibers and is lightweight, breathable, fast drying and no melt/no drip. The Katana is combined with 520E Tweave and Cyberknit mesh.
Assault Shirt LT
Features:
-PPE compatible allowing the shirt to be functionally worn with body armour
-Low profile zip neck allowing collar to be worn either open or as a neck protector
-Arm cuff velcro closures allowing for fully enclosed sleeves
-Upper arm zip pockets allowing for convenient pocket accessibility when wearing PPE
-Upper arm IFF Velcro® 4×4.5" (w/V-Lite™ retention ring) enhancing the retention of electronic IFF devices
-Daisy chain hard points (in upper arm pockets) allowing for the tying off of mission essential equipment
-Mesh pocket bag liners (upper arm pocketing) allowing for enhanced ventilation and reducing overall apparel weight when the shirt is wet
Assault Pant LT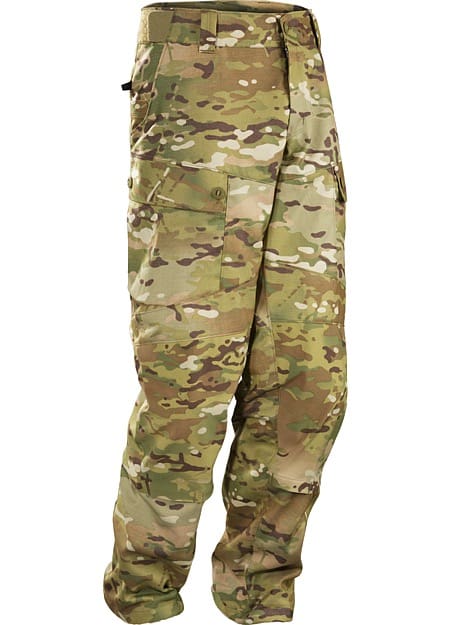 Features:
-Adjustable waist (c.2") allowing for waist sizing flexibility
-Enhanced belt loops allowing for the use of the LEAF Rigger's system
-Retention loops (sewn into waistline) allowing for the tying off of personal items
-Reinforced knees & gusseted crotch allowing for increased durability and enhancing end-user mobility
-Hand pockets (w/internal folding knife pocket) allowing for the secure carriage of a standard folding knife
-Seat pockets allowing for optional/extra storage
-Expandable cargo button pockets capable of providing dump pocket capability
-Draw cord ankle cuff closure (w/vertical retention tunnel for adjustment end) allowing for pants to be worn tightly with boots
-Mesh pocket bag/knee pad insert liners allowing for enhanced ventilation and reducing overall apparel weight when the pant is wet
-Soft knee pad insert capable allowing the end-user an option to insert soft knee pads
Recce Shirt LT
Although the subject of today's article is the Assault Shirt and Pant, there is a third, complimentary piece, the Recce Shirt LT. The Recce Shirt LT is made from the same Katana fabric as the other items and features a user removable zipper closure down the front and mesh breathability panels inside the dual chest pockets.
Development
As far as Arc'teryx LEAF products go, development of the Assault LT items was fast tracked. The initial T&E was conducted in the Summer of 2014 and they were announced publicly at SHOT Show, 2017. However, the plan to go to market came just last year, in February. Uniforms were evaluated by Coalition SOF during operational deployments so feedback was quickly incorporated into design refinements. For example, the Pants didn't originally incorporate kneepads or rear pockets. The user trials indicated they were needed. Additionally, Arc'teryx introduced a Tweave 520E gusset into the crotch to deal with pilling. Finally, the Velcro panels on the sleeves of the shirts is now 4.5″ tall to accommodate attachment of the V-Lite from S&S Precision.
Service Life
Considering its use, Arc'teryx designed this uniform as a consumable product. Interestingly, this gave several potential customers pause, so Arc'teryx collected data during their user evaluation and it turns out that they will easily handle six months of operational use.
Colors and Sizes
As this is such a specialized item, they are currently sticking with the MultiCam print and have no plans to offer additional colors. Sizes offered are from XS-XXL.
Tags: Arc'teryx LEAF