Last month, Chief of Staff of the Army, GRN Mark Milley gave testimony before the Senate Armed Services Committee regarding an unspecified, new 7.62 round which can defeat threat body armor. The Program Manager, Maneuver Ammunition Systems recently gave a presentation on the capabilities of the Army's current small arms ammunition at Ft Bragg. This target coupon was shown as an example of 5.56mm and 7.62mm rounds being shot at 3/8″ mild steel from a distance of 300m.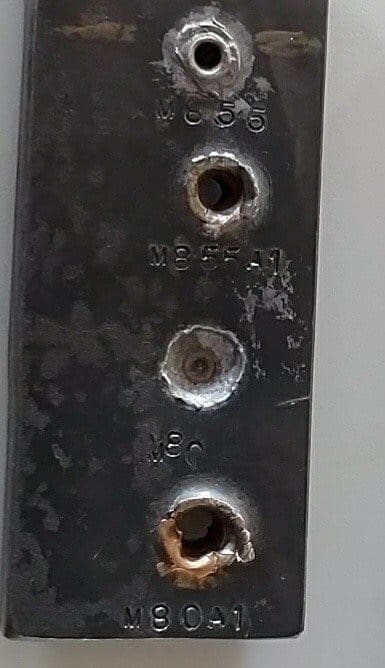 Long story short, the ammunition is better than ever. The 5.56mm ammunition is optimized to offer the desired effect on target. Its 7.62mm equivalent, M80A1, went through that steel like a hot knife through butter.
Even the 5.56mm M855A1 makes quick work of threats, as long as it hits the target. The Army has excellent ammunition; now it needs to work on improving its combat marksmanship.
Photos via 82nd Airborne Division Master Gunner page on Facebook.