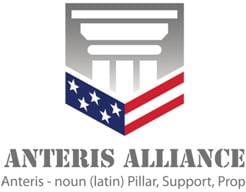 Anteris Alliance(2A): an organizational network of patriot manufacturers and service providers bonded by their dedication to support our Veterans and First Responders and their families through the manufacture and market insertion of top quality products and services!
Post Falls, ID. (June 29, 2017) – www.anterisalliance.com Anteris Alliance, LLC was founded in early 2017, after a small group of companies decided to work together to do more than they could accomplish by themselves from product demonstrations, customer events, and ultimately Veterans and First Responder support. Already, with over 47 brands and counting, the mission has taken hold at every level. Whether as a manufacturer or service provider, a buyer, or a patriot there is a way for everyone to be part of this great movement!
American Pouch Converters Inc is honored and humbled to be part of Anteris Alliance. We are a company fierce in American traditions and values and what better way to put our packaging expertise to work than in the alliance helping other Veterans, First Responders and their families. We understand that together we are stronger and bring more value to the marketplace and we live by the saying, "we have your back". The companies in the alliance are producing and marketing quality goods and those goods need a package that allows its brand to stand tall amongst other brands. We specialize in small to medium runs of custom and stock pouches and other packaging items that are an important part of any brand. Too many small to medium size businesses are told they have to order a large amount of custom pouches and that eats up valuable capital needed to grow their businesses. Our mission statement, which can be found on our website; https://www.americanpouchconverters.com/about-us and says it all. We are always available to assist our customers (family as we look at them) whether it be packaging or business strategies. Visit us at https://americanpouchconverters.com and learn more about us.
"As a fellow Disabled American Veteran and business owner, there is nothing more important to companies like ours than to know they have a valuable source who is there for them no matter the situation. We will go the extra mile and be a solid partner and not just another supplier. We are committed to hiring veterans whenever possible as they understand hard work, teamwork and commitment to the mission." – Jim Andrasic, Co-Founder/Chief Operating Officer, American Pouch Converters Inc
"American Pouch Converters brings a product and a service into the Alliance which is beneficial for our collective manufacturing companies, and is a further testament to the diversification of the Alliance into multiple channels due to the common bond of supporting our Veteran and First Responder brothers and sisters!" – stated Casey Betzold, CEO of Anteris Alliance. "We are so pleased to have yet another Veteran owned organization as part of the greater mission and family!"
PR and media questions can be directed to [email protected].
Interested Manufacturers, Dealers, and Individuals can visit www.anterisalliance.com for more details and follow Anteris Alliance on social media on all major platforms – Facebook, Instagram, Twitter!