McRae Terassault® T1 Hot Weather Performance Combat Boot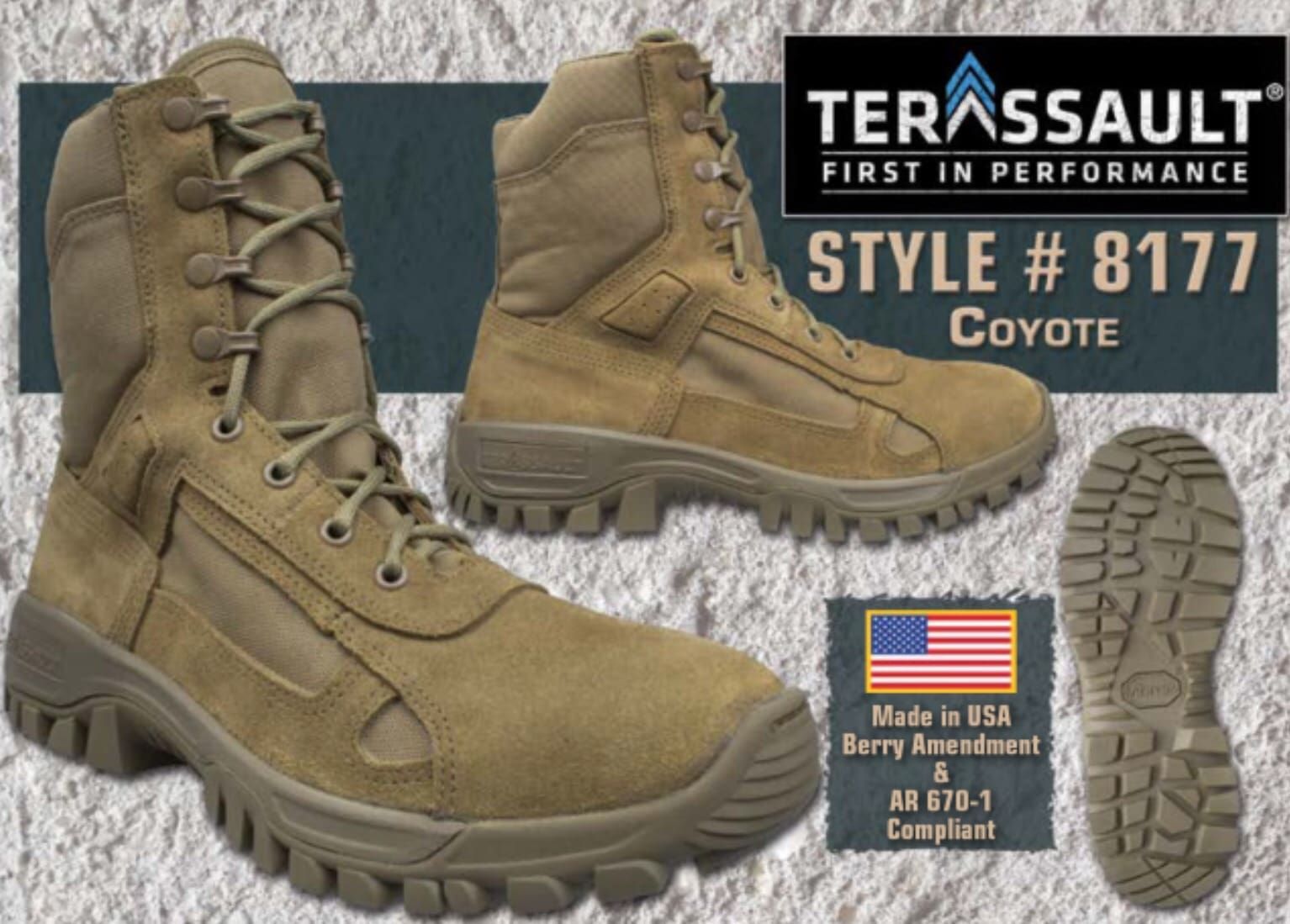 Quantico Tactical is proud to announce the availability of McRae Terassault® T1 Hot Weather Performance Combat Boots via our GSA Schedule, DLA TLS contract, in our stores and via our website.
McRae Industries introduced the Terassault® T1 in early 2016. The T1 is made in USA, Berry amendment and AR670-1 compliant. The T1 is the company's first entry into high performance boots developed and made in the USA. T1's progressive design is an evolution of the lessons learned from over 50 years of military boot manufacturing. The Terassault® T1 bottom platform has been developed to provide utmost traction and stability in almost any environment and improved shock attenuation over traditional mil-spec boots.
The McRae Terassault T1 Hot Weather Performance Combat Boot is the boot to fit your needs.
• McRae Terassault® T1 Hot Weather Performance Combat Boot (Coyote)
• 8" height
• Genuine cowhide suede and 1000 denier nylon upper.
• Breathable lining reduces risk of fungus and helps eliminate odor.
• Uniquely designed upper with forefoot seams facing back to reduce snagging and hanging in rough terrain/environments.
• Padded collar with tendon relief dip in back.
• Stitched toe and heel tabs to minimize risk of bottom separation. These are the areas of a boot most prone to begin to separate in hard wear.
• Cushion orthotic footbed — can be removed and washed.
• Sizes available: 5-12, 13 R&W
In hot, humid conditions much like what we are currently experiencing can be hell on soldiers' feet. McRae industries, only 20 miles from Ft. Bragg, NC understands this fully. This ultra light, yet durable boot has functional flex points in front and back that allow articulation of the upper for greater Freedom of ankle movement.
The Terassault T-1 has been tested to great success by multiple military organizations. Many long-time adherents to other brands have described the Terassault as the most comfortable boot they have worn. Users have described the break-in of the boot as the shortest among boot brands they have tried.
McRae Footwear received its first United States Department of Defense contract for combat boots in 1967 and has steadily provided footwear to our military forces since that time. Over the years, McRae Footwear has proudly manufactured millions of pairs of combat boots for the United States Military that meet the specifications they have required.
McRae Footwear is committed to manufacturing high quality footwear for the United States Armed Forces for many years to come.
For more information about Quantico Tactical or the Terassault® T1 go to www.quanticotactical.com.
Tags: McRae, Quantico Tactical