Tactical Distributors
Check in to TD everyday leading up to Black Friday! 3 new Door Buster items will be added each day at Rock Bottom Prices.
Limit 2 per person. While supplies last.
www.tacticaldistributors.com/collections/door-busters
ODS
10% off your entire order Black Friday (11/24) through Cyber Monday (11/27). Also, receive Free Shipping on all orders $150 or more.
*some exclusions apply
Sparrows
Bravo Company USA
Black Friday & Cyber Monday with Blue Force Gear
Blue Force Gear will be offering 20% off sitewide starting Friday, November 24 and ending at midnight on Monday, November 27. This offer will exclude the Custom Sling Builder, Micro Trauma Kit NOW! and clearance items.
Blue Force Gear will also be offering a special doorbuster deal for all of their email subscribers on Thursday, November 23. To get access to this special offer sign up for their email list here www.blueforcegear.com/newsletter-signup
Promo code is BLUE2017 and must be used to apply the 20% off discount.
www.blueforcegear.com/black-friday-sale
TIHK
Black Friday Pre-Sale Coupon Codes
Today through midnight 11/23!
"PreSale20" Get 20% off $25 and up "PreSale25" Get 25% off $50 and up
tihk.co/collections/urban-survival-gear
Radian Weapons
Radian is running a black Friday special on blemishes, closeout items, as well as complete rifles/uppers. The sale will be at www.radianweapons.com/blackfriday and will go live at 12:01am on Friday and run through 12:01am Tuesday.
Sneaky Bags
For 4 days ONLY, from Friday, November 24, 2017 through Monday, November 27, 2017,
our ENTIRE store will be discounted 25% – 50% off.
US Tactical Supply
U.S. Tactical Supply will be having 25 % off select New 5.11 Products Both Instore and Online!
• Flex Straight Jean
• Chameleon Softshell Jackets
• Rush LBD, Rush 12, Rush 24, and Flag Bearing Caps!
We will also be having a store wide sale on other items you can visit us at www.ustacticalsupply.com and look for the 2017 Black Friday Sale Tab.
Direct Action
From Black Friday to Cyber Monday you can get 20% off backpacks and bags and 10% off our tactical equipment. It's the last promotion this year. Don't miss it!
US Store: goo.gl/5Baqde
International Store: goo.gl/3T14gk
Vanquest
Thanksgiving is just around the corner, and the Vanquest Team would like to thank all of you for being such loyal supporters!
We dedicate this time of the year as the "Supporter Appreciation Season" featuring exciting giveaways on Facebook and Instagram throughout the holidays (…so remember to LIKE & SHARE!)
To kick off the 2017 "Supporter Appreciation Season", we begin with your favorite 96-HR* BLACK FRIDAY SALE. You will receive MAJOR discounts on Vanquest products! Make sure to visit www.VANQUEST.com between November 23-26!
The Vanquest Team wishes you a Happy Thanksgiving!
*Sale starts on WEDNESDAY 11/22/2017 09:01 P.M. PST, & ends on SUNDAY 11/26/2017 09:01 P.M. PST (East Coast: Sale starts on THURSDAY 11/23/2017 12:01 A.M. EST, & ends on MONDAY 11/27/2017 12:01 A.M. EST)
Kota Long Boards
One day only Friday, November 24, 2017. No other discounts or coupons apply. Coupon code applies only to KOTA Premium 44″ board designs. Use code "CAVU". Coupon does not apply to custom orders.
www.kotalongboards.com/kota-classics
gunfightersINC
GunfightersINC will be running a Thanksgiving Sale November 22nd – 28th. 20% off on all products. Discount Applied in cart.
Tactical Assault Gear
-15% Off Clearance Gear
Sale runs November 19th through November 27th
-30% Off select SUUNTO watches
Sale runs November 20th through December 3rd
-25% Off All TAG products (excluding clearance)
Sale runs November 24th through November 27th
-20% Off Arc'teryx
Sale runs November 24th through November 30th
S&S Precision
S&S Precision is doing a Black Friday through Cyber Monday sale 25% off LockOut and Pocket Shivs.
Chase Tactical
20% OFF
Coupon Code BLACK20
11/23 through 11/26
Lonestar Armory
G-Code
LWRC International
25% off uppers
Special 25% Plus off pricing on select uppers
20% Site wide
And they're going to run it Thanksgiving through Cyber Monday!
Prometheus Design Werx
Starts from Thanksgiving Day, ends midnight Cyber Monday.
Code will be live at 12:01am 23NOV17 Thanksgiving Day.
O P Tactical just picked up $25,000 in close-out UW Chest Rigs, Plate Carriers, Range Shorts, Back Panels, and Carrier Shoulder Pads from Velocity Systems, and with Black Friday discounts they will be selling at wholesale pricing! Enjoy the savings, our gift to those in harm's way for the holiday season…
Additional Black Friday Week Deals:
10% off site-wide starting at 12:01am EST Friday through Cyber Monday for in stock items as well as Clearance, Holiday Sale items, and Velocity Systems "SALE" items. Use coupon code BFCM10 for the discount. The coupon discount jumps to 12% off on Monday for those last minute savings! Some exclusions apply, see website for details starting Friday.
20% off all Arc'teryx LEAF gear now through 26 November.
25% off all Salomon Boots now through 3 December.
20% off Altra Footwear starting at 12:01am EST Friday through 30 November.
20% off Arisaka Defense weapons parts starting Thanksgiving Day through 27 November.
The best deals of the year are in stock here and available now.
TangoDown
The holiday season is upon us! Between November 22nd & November 29th, TangoDown customers can enjoy 10% off orders up to $149 and 15% off orders $150+. Our website runs on Pacific time, so make sure your orders are placed between 12:01am(PST) on the 22nd and no later than 11:59pm(PST) on the 29th. This promotion doesn't require an offer code, simply add to your cart & see the savings at check out!
In addition to this week-long promo, TangoDown will be offering additional promotions periodically during the week which can be found on our Facebook & Instagram. Don't miss out & find our social media here: www.facebook.com/tangodowninc & www.instagram.com/tangodowninc
Please note, orders placed after 10:30am(PST) on 11/22/17 will NOT be processed/shipped until after the holiday weekend.
Below are our holiday hours:
11/22/17: Offices close at Noon (local time in AZ & CA)
11/23/17 & 11/24/17: Offices Closed
11/27/17: Business as usual
Direct Link: www.TangoDown.com
Customer Inquiries: [email protected]
O P Tactical
Get Arc'teryx for 20% off and Salomon for 25% off now! No coupon code required, items already discounted. A ton of Dirty Bird and Salomon Boots are in stock and ready to ship. This is the last chance for these deals for the rest of the year, so get some now! See website for more details.
Kitanica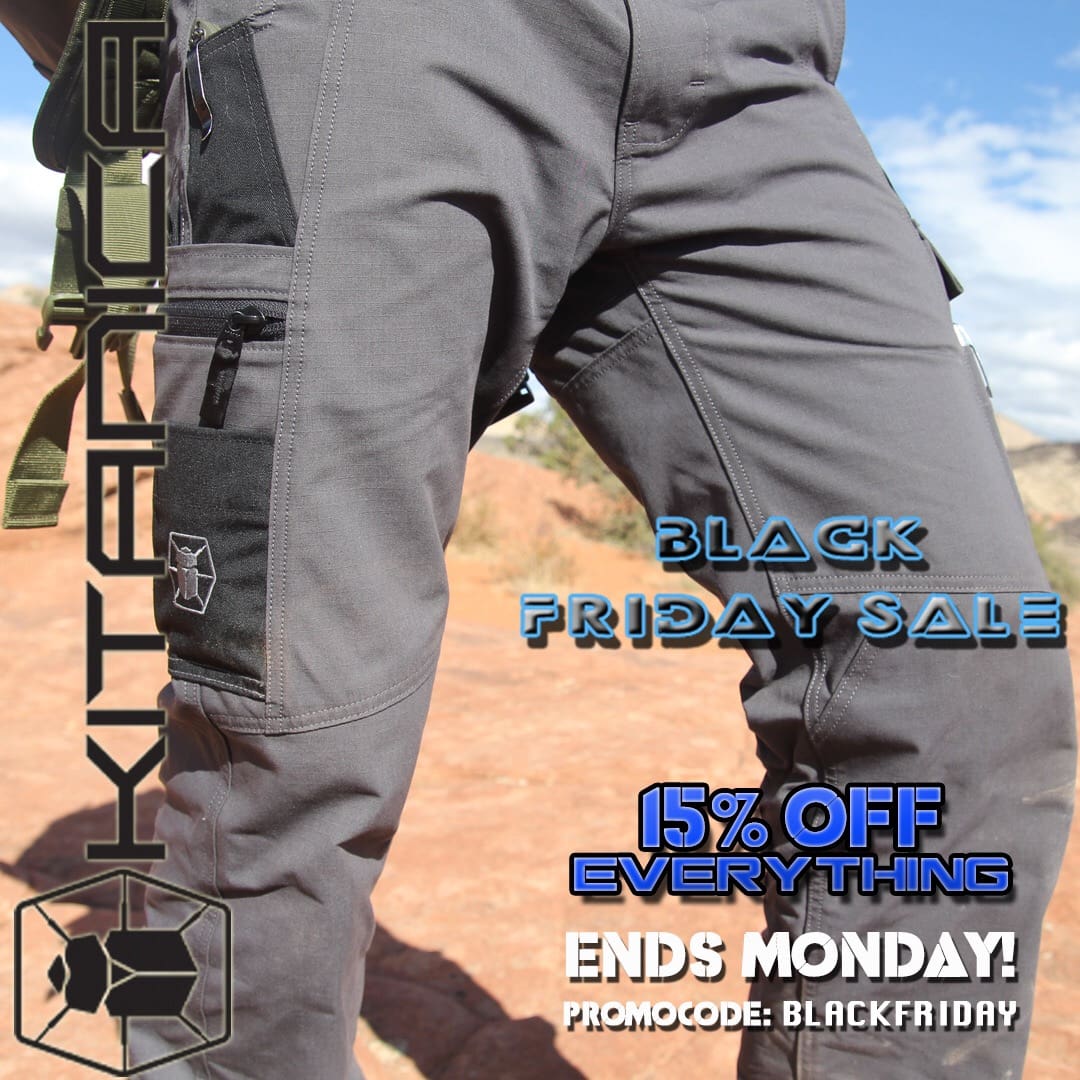 ZEV Technologies
www.zevtechnologies.com/promotions/all
Kinetic Research Group
215 Gear
TNVC
Beyond
beyondclothing.com/collections/holiday-sale
ITS Black Friday Sale Starts NOW!
Are you triggered by all the early Christmas decorations and celebration this year? Us too, it's not even Thanksgiving yet! As a way to stick it to the man (wait, is that us?) for this hopscotch over the holiday, our Black Friday Sale starts NOW! Through Monday, November 27th, you can save 20% in the ITS Store using the coupon code SNOWFLAKE and even snag yourself a participation trophy.
While supplies last, every order receives an ITS Murdered Out Morale Patch. Orders over $50 receive the patch, an ITS Rite in the Rain Memo Book and an ITS Deck of Cards! Spend $100 and we'll even throw in our choice of an ITS Waxed Canvas Cover, in addition to everything above.
SERT
We're blowing out our Gen 4 rifle cases to make way for the new Gen 5s! This would be a great time to get yourself the best rifle case in the industry for a steal!
Outland Equipment
Provengo
Provengo is offering their lowest prices for Black Friday through cyber Monday.
Please note the free shipping offer will NOT be in effect until after 12:00PM Tomorrow 11/22. This is valid through Friday 11/22 and will become valid again on cyber Monday.
Bastion
Everything discounted a whopping 35%
Buyers selected at random Today and Monday
to receive a FREE Tactical Stocking!
Agilite Black Friday Mega Sale-Up to 50% Off
Agilite are having a Black Friday-Cyber Monday Mega Sale with huge offers up to 50% off as well as Free Shipping on all orders over $100. Offers end Monday at midnight so hurry!
Warrior Culture Gear
Code is MEGA30
10 New Designs and New Products Including our New Bold Coffee
The First 50 Orders Will Get THIS Along With Their Order!
-A 2017 Warrior Culture Gear Christmas Design Shirt in Their Size!
-A One Size Fit's All Warrior Cap Of Our Choosing, But Still Badass!
-A Brand New Custom WCG Coffee Mug!
The NEXT 50 Orders Will Get THIS Along With Their Order!
-A 2017 Warrior Culture Gear Christmas Design Shirt in Their Size!
-Free Large Decal and Patch
Everyone Else Will Be getting Surprises in every package that goes out, from Challenge Coins to Patches and Stickers and More!
ALSO, Free Shipping On ALL Orders Over $75, No Code Needed!
All of this kicks off at 12am EST Friday.
American Defense Manufacturing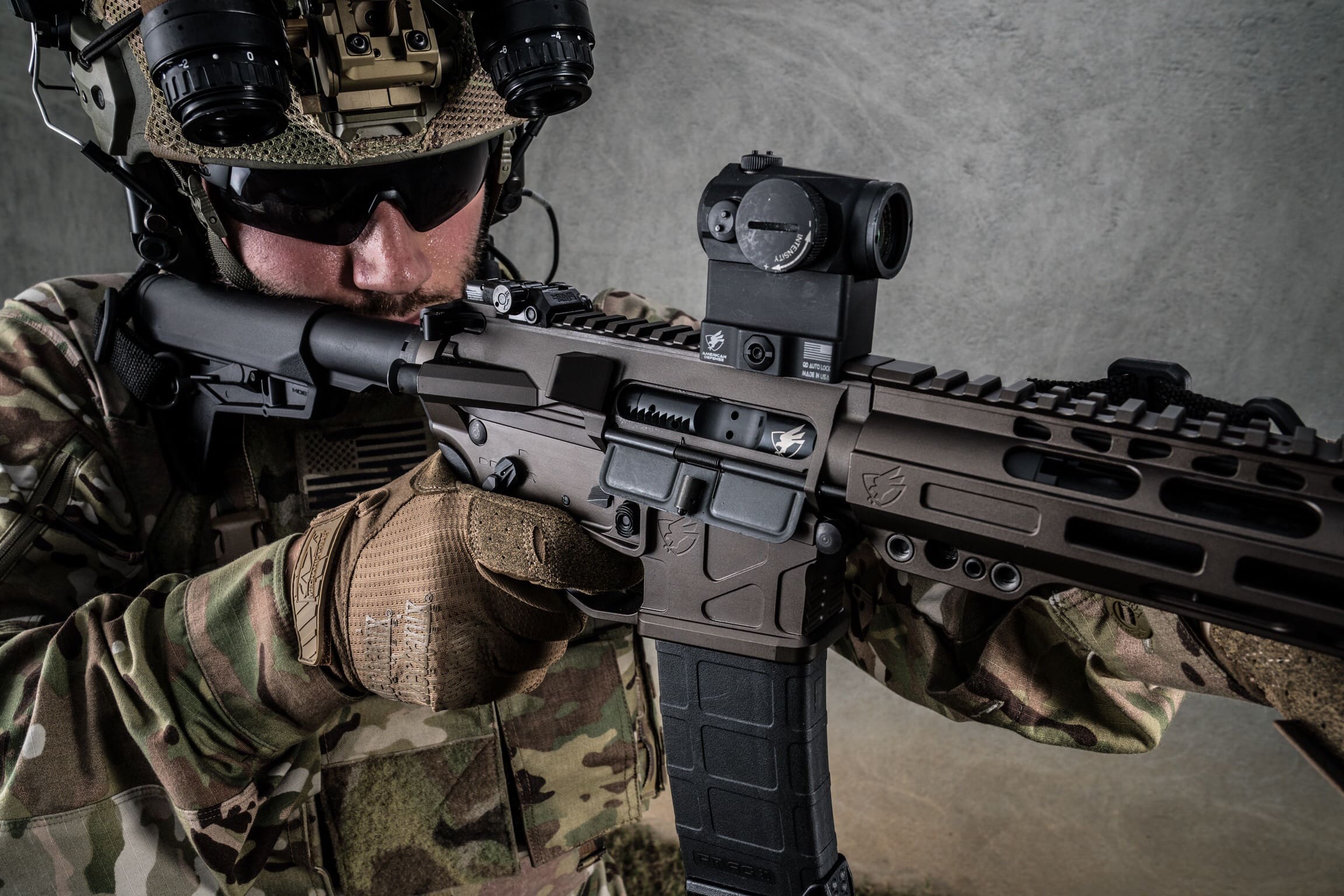 American Defense Mfg®? – Enter Code SUPERIOR for 20% Off Site-Wide for Cyber Monday through 30NOV. No Product Restrictions – Valid on all ambidextrous carbines, pistols, optical & illumination combos, as well as our proven QD mounts!
Rosco Manufacturing's "Cyber Weekend" sale
November 21st, 2017: Rosco Manufacturing, a proud American manufacturer of high quality gun barrels, is excited to announce their Cyber Weekend sale going from Thursday (11/23) to Monday (11/27). Customers will have the opportunity to save 20% sitewide on all Bloodline barrels and Rosco's newest Purebred barrels.
Make sure to use code: CYBERWEEKEND during checkout to save 20%. For more information on Rosco Manufacturing and their products go to www.RoscoManufacturing.com, and to see the Rosco barrels in action click here: Rosco videos.
SKD Tactical
It's that time! SKD's 2017 Gobble-Gobble Extravaganza starts with 13% OFF Sitewide on Black Friday and increases the discount daily, ending with 16% on Cyber Monday. Discounts are limited to inventory on hand, so don't miss out on that new kit you need!
*Discount automatically applied at checkout. Excludes Oakley, & Multitasker. Same day & next day shipping guarantees suspended. Each sale day starts @12:00AM CST & ends @ 11:59PM CST.
Tyrant Design CNC
For vendors
This year's Black Friday is right around the corner. Just like in years past, we will offer you a consolidated list of the savings to be had for Black Friday as well as Cyber Monday.
We ask that companies start to send their listings to us at [email protected].
Tags: Sales, Tactical Distributors