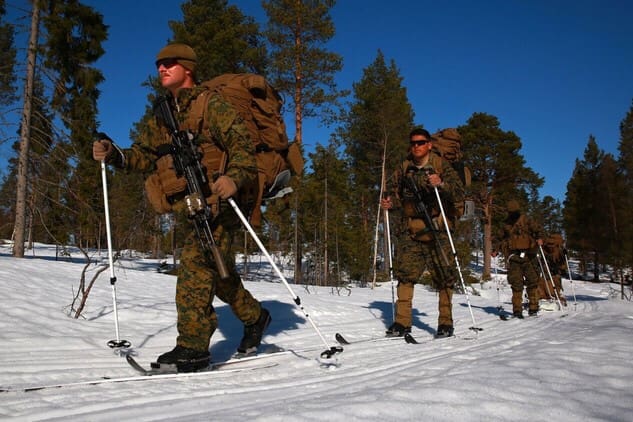 Marines and Sailors with Marine Rotational Force-Europe 18.1 ski toward their next objective during a winter warfare training exercise at Haltdalen Training Center, Norway, April 12. The Marine Corps is searching for a new ski system with universal bindings. Marine Corps Systems Command will release a Request for Information to formally conduct market research and inform the contracting strategy. (U.S. Marine Corps photo by Gunnery Sgt. Clinton Firstbrook)
MARINE CORPS BASE QUANTICO, Va. —
The Marine Corps is searching for a new ski system that can withstand harsh conditions during training and cold weather missions.
The goal is to acquire a system with ski sets that are compatible with the Corps' Extreme Cold Weather Vapor Barrier Boots and the Intermediate Cold Weather Boots, eliminating the need to purchase new specific ski boots. The sets will include the skis, poles and universal bindings.
In order to deliver an over-the-snow capability before the end of fiscal year 2019, Marine Corps Systems Command will release a Request for Information to formally conduct market research and inform the contracting strategy. MCSC will then establish a 5-year Indefinite Delivery Indefinite Quantity contract with an initial order of 1,500 military ski systems with universal bindings.
Currently, the Army's Program Executive Office Soldier is also evaluating skis with universal bindings, and the Army's 10th Mountain Division has procured and used similar systems with favorable results.
"When we went to contract the NATO ski system last year, there were delays in procurement," said Christopher Woodburn, Capabilities Development director of the Deputy Maneuver Branch at Combat Development and Integration. "Because of the Army's exploration with cold weather equipment, we know there are other sources for a ski system that will satisfy the Marine Corps requirement and offer the capability more rapidly."
MCSC gathered feedback from Marines at the Mountain Warfare Training Center to ensure the future ski system chosen will meet mission requirements and improve existing cold weather equipment. Marines want a lighter, low-maintenance and easy-to-use system that is also easy to learn for new or intermediate skiers.
"We've been talking to Marines at MWTC to make sure the current equipment they have is still viable, and we also made a few updates to the Marine Corps Cold Weather Infantry Kit," said Capt. Ryan Moore, project officer in Infantry Combat Equipment at MCSC.
The Marine Corps Cold Weather Infantry Kit is comprised of multiple components, including avalanche probes, hatchets, shovels, snow saws, cook sets, thermoses, a tent and anything else Marines need to survive in a cold weather environment. Each kit serves four people and is pulled on a sled by Marines on skis.
The RFI will help MCSC assess possibilities and find a solution to field the ski system to scout snipers, reconnaissance Marines and select infantrymen.
"We are trying to do our due diligence with tax payers' money to make sure we get the best value, while also pushing out capabilities as quickly as we can to Marines," said Woodburn.
Infantry Combat Equipment is part of the Ground Combat Element Systems program at MCSC.
By Kaitlin Kelly, MCSC Office of Public Affairs and Communication | Marine Corps Systems Command