Designed for the Hydrapak Short Profile 3.1L-3.5L (expandable) Hydration Bladder, the ALL-NEW PIG 3L SP HYDRATION CARRIER (SHORT PROFILE) features the same wide mouth zipper opening and bilateral tube routing as the original PIG Hydration Carrier (2L). The proprietary 4″ elastic band adds compression to the bottom of the bladder which serves to counteract the "fat belly" effect as the bladder empties. The bottom of the back panel is made of mesh, to aid in drainage and evaporation of condensation.
As part of the new [SYSTEMA] family of product, this Hydration Carrier not only works with the PIG MK-1 Shoulder Straps, but integrates directly with the PIG BRIG CR (Chest Rig) via the PIG BRIG CR-LB (Load Bearing) Harness. Direct Molle interface is achieved via 4 Short Malice Clips, which are included.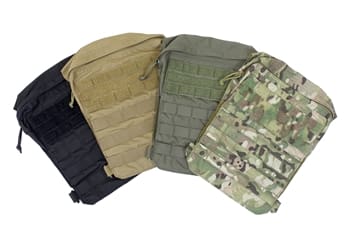 Hydrapak 3.1L-3.5L Short Profile Hydration Bladders are available separately.
Made in USA!
Tags: SKD Tactical