WASHINGTON — Combatant commanders are increasingly getting better support in the cyber domain thanks to a diverse group of problem solvers, said Lt. Col. Wayne A. Sanders.
Sanders, chief of the Cyber-Electromagnetic Activities Support to Corps and Below Program, U.S. Army Cyber Command, spoke Aug. 2 at the Association of the U.S. Army's Cyber Hot Topics panel.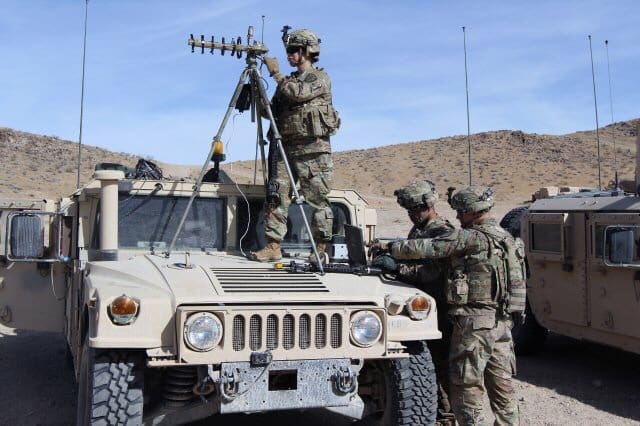 Sgt. Camille Coffey (on the antenna), Spc. Victorious Fuqua (on the computer), and Spc. Mark Osterholt, all cyber operations specialists from the Expeditionary Cyber Support Detachment, 782nd Military Intelligence Battalion (Cyber), from Fort Gordon, Ga., provided offensive cyber operations as part of the Cyber-Electromagnetic Activities (CEMA) Support to Corps and Below (CSCB) program during the 1st Stryker Brigade Combat Team, 4th Infantry Division, National Training Center Rotation 18-03, Jan. 18-24, 2018. (Photo Credit: U.S. Army photo by Steven Stover)
After each of the past 10 combat training center rotations and numerous deployments, these problem-solving cyber operators have been learning something new each time and are improving and integrating better with the staff of the maneuver commanders, he said.
As a result of learning from those 10 CTC rotations and lots of assessments from the Cyber Center of Excellence and other commands, a determination was made to double the size of cyber teams supporting brigade combat teams from five personnel to 10, he said.
Each of those teams will be led by a major who has a "17B Cyber Electromagnetic Activities Officer – Electronic Warfare" military occupational specialty, and a captain, with a "17A Cyber Operations Officer" MOS, he said. Teams will include offensive and defensive cyber, as well as electronic warfare and information operations Soldiers.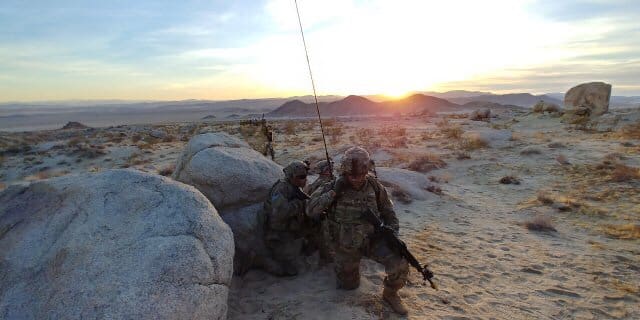 Soldiers from the Expeditionary Cyber Support Detachment, 782nd Military Intelligence Battalion (Cyber), provide offensive cyber operations in support of the 1st Stryker Brigade Combat Team, 4th Infantry Division during a seizure of a town at the National Training Center during Rotation 18-03 on January 18, 2018. (Photo Credit: U.S. Army photo by Capt. Adam Schinder)
The other big development is that the secretary of the Army authorized the creation of a cyber warfare support battalion, he said. Initial operational capability for that battalion will be in fiscal year 2019, which begins in October.
The battalion will go after gaps in cyber against peer threats, he said. Those personnel will find the software and hardware solutions that will make the cyber teams more innovative and expeditionary.
Sanders said that in every single operation that cyber teams are a part of, they learn something new during their forensic analysis of attacks. That information is then shared with cyber teams throughout the Army.
A lesson learned could be about a new tactic or technique used in a cyber or electronic warfare attack, he said. Or, it could be about something totally unrelated.
He provided an example. During a recent deployment, the cyber team assigned to the maneuver commander found out after hitting the ground that transportation was not readily available. "We weren't a known entity to anyone," one of the Soldiers said. The lesson learned was to integrate early into the operations planning process and attend home-station training prior to going to the combat training center.
Soldiers of the 780th Military Intelligence Brigade embedded with the 3rd Brigade Combat Team, 1st Armored Division, establish a location to conduct cyberspace operations during Decisive Action Rotation 18-08 at the National Training Center at Fort Irwin, Calif., June 6, 2018. (Photo Credit: U.S. Army photo by Sgt. Jeff Storrier)
Brig. Gen. William Hartman, deputy commander, Joint Force Headquarters, U.S. Army Cyber Command, looked back on the brief history of cyber. Just a few years ago a cyber team of four Soldiers was invited to their first combat training center rotation. There wasn't Internet set up, so it was impossible to conduct realistic training.
On the next rotation, 35 cyber operators were able to surveil enemy targets at 900 meters, he said. On subsequent rotations, that improved to 5 kilometers, giving the maneuver commander the ability to see cyber activity around him from inside the tactical operations center.
Hartman noted that besides being really good at what they do, cyber operators need to know how to communicate to the maneuver commander and his staff in language they can understand.
Col. Paul T. Stanton, commander, Cyber Protection Brigade, oversees 20 cyber protection teams.
"We understand the ones and zeroes and the complexity of the systems we're defending," he said. "We develop interesting and novel algorithms, sometimes on the fly in order to analyze the data in a meaningful way to defend the network."
Having said that, there are limitations to defending the network at the tactical edge, he noted. There are just 2 megabits of bandwidth per second available at the tactical edge, compared to many times that available at home station.
That means there's limited bandwidth for those systems at the tactical edge, but the upside to that is there's a smaller footprint, meaning it's harder for the enemy to find and target the cyber team's activities.
Frank Pietryka, director of Information Operations, Electronic Warfare Systems, Raytheon, said that 2 megabits of bandwidth might be okay today, but as artificial intelligence and machine learning take hold, operators at the forward edge of the battle area are going to need "more horsepower."
By David Vergun, Army News Service