Richmond, Virginia – Friday, 28 September 2018
Operational Medicine Consultants officially announced today the appointment of Ellen Pucciarelli to the role of vice president, effective 1 October 2018. Ms. Pucciarelli advances to this position after serving as the company's operations manager since January, 2018.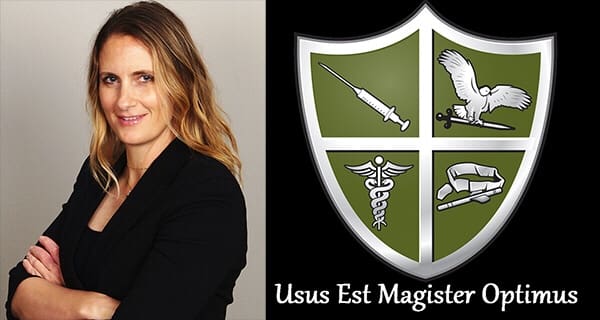 Ellen joined OMC from Graham Combat Training Company of Stanwood, WA, where she filled a similar role from 2013 through the end of 2017. Prior to that, she spent a decade as a managing partner in a company that supplied equipment to martial arts studios across the eastern United States. Her experience in supporting the mission of U.S. government and military organizations goes back to the beginning of her professional career in 1996, when she began working for DISA (Defense Information Systems Agency).
"Ellen's skillful management of the complex administrative and logistical requirements of our organization was a key factor in the significant growth we experienced over the last several months," said Dr. Jason Welch, M.D., founder and president of OMC. "We are confident that, in her new role as vice president, she will bring the same focus and expertise to bear on meeting our company's strategic goals that she did on our day-to- day operational needs."
While many of the responsibilities that come with this promotion are not entirely new to Ms. Pucciarelli, she is looking forward to taking a greater role in shaping the culture and course of the company.
"I was excited to join the team at Operational Medicine Consultants because I felt strongly about their mission," said Pucciarelli. "While this advancement comes with a lot
of new responsibilities and challenges, I am excited to now be in a position to help drive the overall direction of the company as we pursue even greater opportunities. It is especially gratifying to work with a team that puts such trust in me and my vision."
Operational Medicine Consultants, LLC is a Richmond, VA based, veteran-owned small business that provides tactical medicine training, medical control and direction, and other specialized, medical-related educational services to military and government organizations of the U.S. and friendly foreign nations. The OMC training cadre is largely comprised of former special operations medics with extensive experience in patient care in austere and high-risk environments around the globe.
Since 2011, OMC has discreetly provided expert medical guidance for numerous military and government clients domestically and abroad. OMC offers Paramedic and EMT recertification, ACLS, PHTLS, PALS, CPR and TCCC certifications and has a host of operational medicine online CME and CEU courses at www.opmedconsultants.com/adept.
They can be reached through their website at www.opmedconsultants.com.