(Wilsonville, OR) — Crimson Trace®, recognized as America's Top Brand of laser sights and tactical lights in a shooting sports industry survey, today announced that its innovative Lasersaddle™ LS-250 red laser sight (and LS-250G green laser sight) for the Mossberg® Shockwave™ firearm is now available. This laser sight is precision engineered for a custom fit onto the Mossberg firearm and matches the firearm's features and profiles. The simple-to-install Lasersaddle LS-250/G laser sight secures onto the Shockwave's receiver side and upper area, and operates with three distinct activation points, including one that can be accessed by left-handed users. The batteries for operation can also be easily replaced with a rapid-change battery cap on the sight's exterior and without removing the laser sight from the firearm.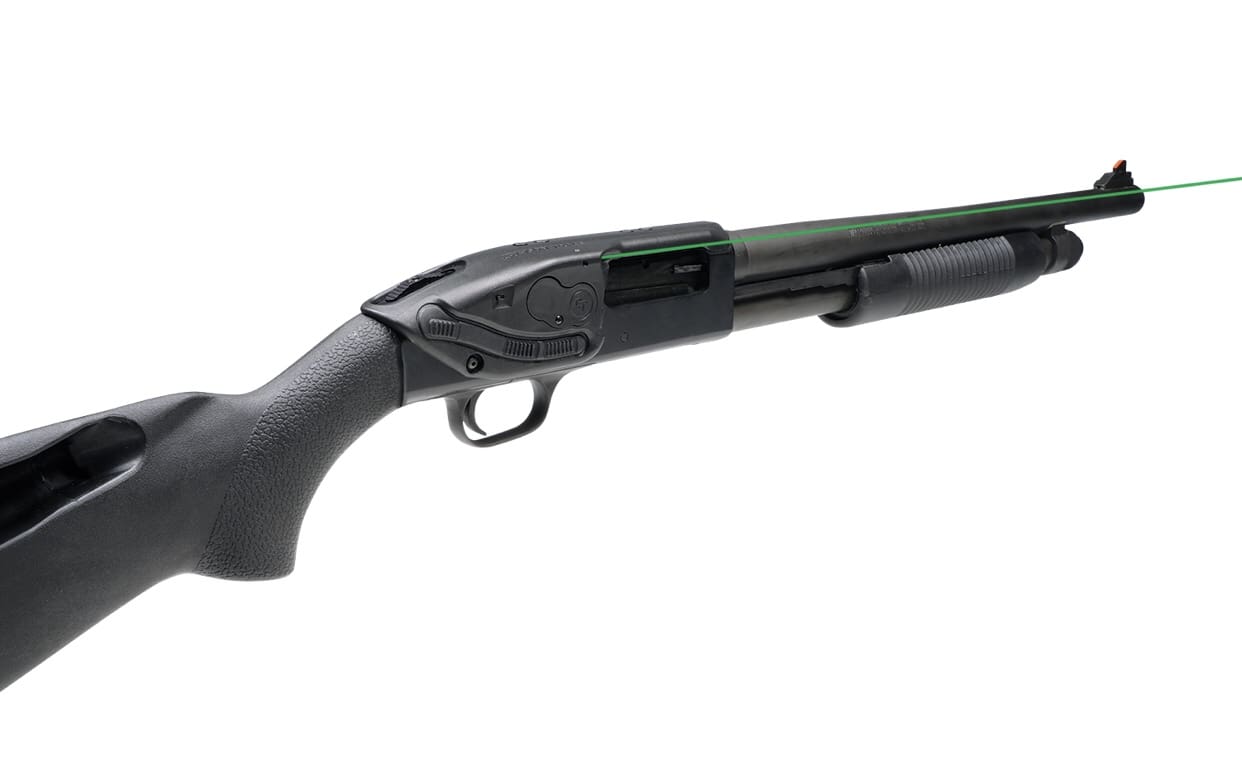 The Crimson Trace Lasersaddle LS-250/G laser sight permits installation of an accessory rail on top of the Mossberg firearm after the laser sight is installed, has a master on-off switch, and incorporates integrated battery management technology for enhanced battery life protection. The Lasersaddle LS-250 (red) and LS-250G (green) laser sight will also fit onto most 12-gauge Mossberg 590 and 500 shotguns. Whether red or green, the LS-250 laser sight is covered under Crimson Trace's Free Batteries for Life program and the company's 3-year limited warranty. The Manufacturer Suggested Retail Price is $169 for the red Lasersaddle LS-250 and $219 for the green Lasersaddle LS-250G laser sight.
Crimson Trace continues to expand the laser sight and tactical light options for America's firearms owners. The company offers laser sights for use on numerous long guns, including the Rail Master® Pro™ laser sight and lights, LiNQ® wireless laser sight and light for MSR rifles, and the workhorse MVF-515™ laser sight and light for most rail equipped long guns. These innovative products are all easy to install and operate.
Crimson Trace strives to make laser sights standard equipment on concealed-carry and personal-defense firearms. The Oregon-based company equips America's firearms owners, law enforcement officers, and military units around the globe with the largest selection of award-winning laser sights, tactical lights and electro optics products, and riflescopes. Full details are at www.crimsontrace.com or are available by calling 800-442-2406.