Recently, some questions arose regarding durability of the S&S Precision Gear Retention Track. Whether it's improved design, materials, manufacturing techniques or how they come together to offer a better product, S&S Precision is constantly at work and the GRT is no exception. But before we discuss this latest version, it's best to tell you about the history of the GRT product line.
Circa 2004
One of the founders of S&S Precision created his own solution for a rigid belt mounted magazine holster by cutting up and thermoforming an old Safariland holster that was used in multiple deployments.
2009
WeaponLink was created but did not have a S&S Precision proprietary system to mount to so BlackHawk!'s Speed Clips and belt mount were used.
A Grenade Launcher Holster for the HK M320 was created, but also lacked a mounting system so BlackHawk! 's S.T.R.I.K.E. platform mount was used.
2010
The Kangaroo Insert was created due to the lack of positive magazine retention in kangaroo pouches found on LBT 6094 plate carrier
2011
The Holster Extender was created for Secret Service and was designed to be used exclusively with Safariland holsters. Safarliand's Mid Ride UBL mount was used to mount the holster extender.
2012
S&S Precision began redesigning the kangaroo insert due to the labor-intensive process of the original product. Quickly, they realized that instead of just redesigning the kangaroo insert that if the method of magazine retention could be modular and transition from a plate carrier to a belt or webbing mount then it would provide end users with more load configuration options.
S&S Precision's intent at the time was to provide a modular magazine holster. Once they developed the SMR's (Skeletonized Magazine Retention) belt and webbing mount, S&S Precision realized that a proprietary mounting system had just been created that previous products could utilize. The resulting SMR belt mount was reminiscent of the original, repurposed Safariland holster created in 2004.
Belt and Webbing mounts were intentionally designed to breakaway under load (approximately 85lbs) so as to not pose as a snag hazard. (Slings, parachute lines, etc.)
2013-14
The SMR belt and webbing mount system was then renamed to Gear Retention Track (GRT) once the WeaponLink, Holster Extender, and Grenade Launcher Holster were updated to mount via GRT. It was decided that a superior variant of the system needed to be developed in order to accommodate its newfound role of being a platform in which weapon retention products would mount to and no longer required a breakaway load. The GRT Reinforced rail features a machined and type 2 hard coat anodized 7075 Aluminum rail and an Anti-Rattle Spring (ARS). The ARS applies constant tension to a GRT accessory's track to eliminate any rattle that may result from the interface of aluminum components.
The GRT Reinforced belt adapter maintains the ability to be mounted on 1.50", 1.75", and 2.00" wide belts. Thick leather duty belts, commonly used by law enforcement, will weave through the GRT Reinforced belt adapter much easier than compared to its predecessor.
The GRT Reinforced webbing adapter mounts on a 2 row by 2 column field of MOLLE. It features a new locking mechanism, which captures the second row of MOLLE and acts very much like a dual side release buckle. Since the locking mechanism mirrors a dual side release buckle- both snap levers on the male webbing adapter must be manipulated in order for the female webbing adapter to release.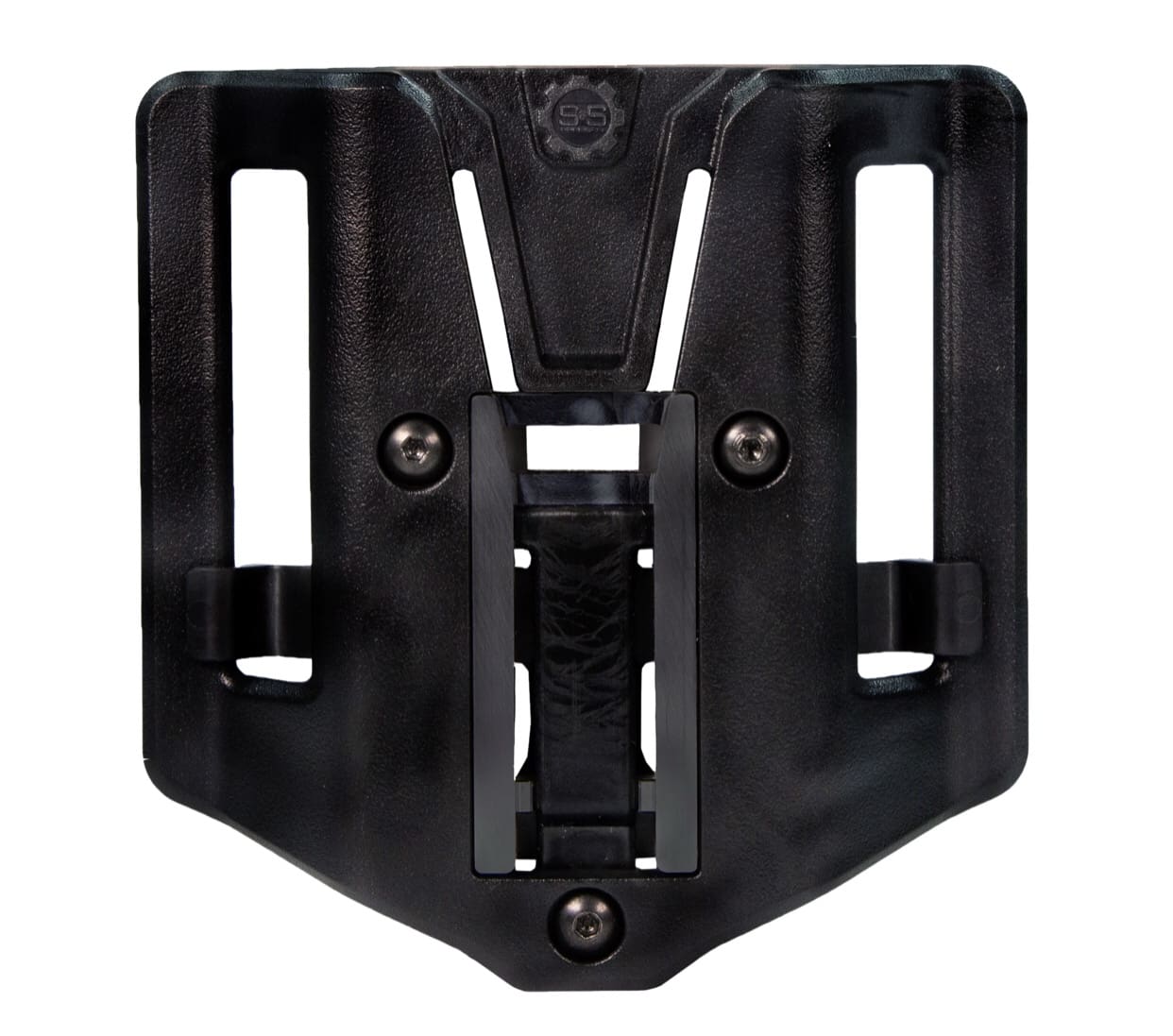 To learn more, visit www.sspgear.com/reinforced-grt.