Direct Action® is ready to Go Loud! this year with their new products to be shown exclusively at the largest exhibitions in Europe – IWA Outdoor Classics 2019 and Enforce Tac 2019 in Nuremberg, Germany.
Within the whole range of presented gear and garments the most noticeable will surely be their newest Direct Action® SPITFIRE® MKII Plate Carrier and a complete combat uniform – VANGUARD®, composed of VANGUARD® Combat Shirt and VANGUARD® Combat Trousers each with Cordura 500D reinforcements.
Direct Action SPITFIRE® MKII Plate Carrier
When it comes to modern tactical equipment, those not going forward are actually going backwards. We, at Direct Action ®, are focused on constant evolution of our products. Thanks to the feedback from users around the world, we were able to create the new, improved version of one of our top products – the SPITFIRE ® Plate Carrier. The MK II version may look simpler, but in fact it is much more scalable and mission configurable. We've decided to strip down the carrier of unnecessary PALS slots under the flap and on the back as well as enlarge the loop panel on the front for large LE patches. Even more – we've made it lighter than the standard version. Thanks to numerous new flaps, back panels and cummerbunds you are able to make the carrier the way you actually need it.
Specs:
• Made of Cordura® 500D fabric and proprietary laminate
• Optional accessory cutaway system, compatible also with SPITFIRE® Plate Carrier
• No flap included; various accessory flaps available
• Slick back compatible with SPITFIRE back panels; various accessory back panels available
• Minimalistic cummerbund included; various accessory cummerbunds
• Back zippers compatible with Crye Precision AVS standard
• Front buckles for attaching flaps or chest rigs; buckles compatible with Mayflower ®/Velocity Systems standard
• PTT mounting points
• Cables/hydration tube stabilizers
• Zippered chest pocket on front
• Optional comfort pads, compatible with the standard SPITFIRE ® Plate Carrier comfort pads
Weight: 430g – size M / 0,95 lbs
Sizes: M/L/XL
Colors: MCM, AGR, CBR, BLK, SGR, UGR, PGZ, PBL
Direct Action VANGUARD® Combat Shirt
A combat uniform is one of the most important layers you have on you during any operations. It protects against abrasions from environment, but also should provide proper freedom of movement. Our VANGUARD® combat shirt is made of top-quality fabrics. The torso is made of Polartec® PowerDry FR fabric that is not only pleasant to touch, but also stretchable, as well as transfers the moisture away from the body. The sleeves are made of NYCO fabric that is durable, yet breathable. Reinforcements on the elbows, that work as pockets for protective pads, are made of Cordura® 500D fabric. There are additional zippered pockets on shoulders with soft loop panels for personalization.
Specs:
• Made of Polartec® PowerDry FR and NYCO fabric
• Zippered pockets on shoulders
• Hook&loop closed cuffs
• Loop panels on shoulders for personalization
• YKK® zippers
• Cordura® 500D reinforcements on elbows
• Pockets for protection inserts on elbows
Weight: 460 g – size M / 1,01 lbs
Direct Action VANGUARD® Combat Trousers
Comfortable uniform is one of the most important things on battlefield. Therefore, our VANGUARD ®combat trousers were made specially to provide as much freedom of movement as possible without compromising the durability. Made of NYCO fabric with Cordura® 500D reinforcements on the knees, these pants will serve you well on any mission. Numerous pockets, including classic hip pockets, zippered front pockets and hook&loop closed pockets on thighs will fit all your necessities. The hook&loop pockets can be used as improvised dump pouches. Hook&loop flaps on leg cuffs and knees allows you to adjust the pants to your needs. Additionally, to provide even more freedom of movement, the pants feature numerous gussets made of 4-way elastic softshell fabric.
Specs:
• Made of NYCO fabric, YKK® zippers
• 4 way elastic gussets to enhance freedom of movements
• Cordura® 500D reinforcements on knees that work as additional pockets for knee pad inserts
• Classic hip pockets with reinforced edges
• Zippered front pockets
• Hook&loop closed pockets on tights; can be used as improvised dump pouch
• Adjustment on knee area, Adjustment on leg cuffs, Hook&loop closed front, Zippered fly
Weight: 602 g – size M / 1,33 lbs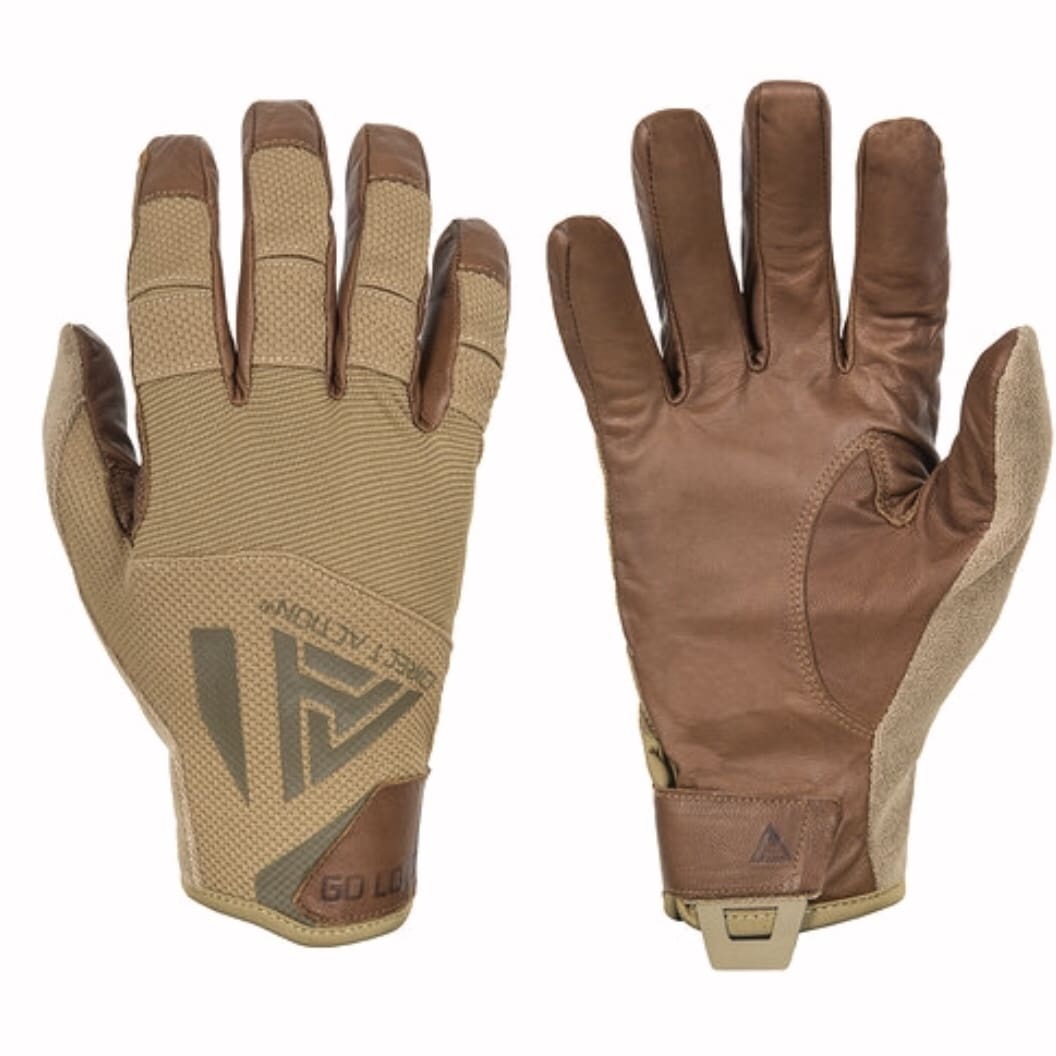 Direct Action® also decided to upgrade both of it's gloves models (DA HARD and LIGHT gloves) with genuine leather instead of synthetic.
DIRECT ACTION ® – Experience Based Gear