Blackhawk has just launched the first holster in their new T-series. Their holster team in Bozeman, Montana, started with a clean slate. This new line offers a new release mechanism and features dual shot molding techniques.
Right off the bat I'm going to tell you, this isn't Serpa. I'd say it's the opposite of Serpa. While Serpa uses the trigger finger to actuate the release from the holster, the T-series relies upon a downward press of the thumb, which then curls around the grip in presentation, their master grip principle. The holster features a channel which guides the thumb right down to the button.
In addition to the new release mechanism, Blackhawk has also introduced an industry first for holsters. The T-Series features dual-shot molding technology utilizing a supple liner for smooth, quiet draws and a glass-fiber reinforced exoskeleton for strength. Additionally, the liner keeps down wear on the firearm.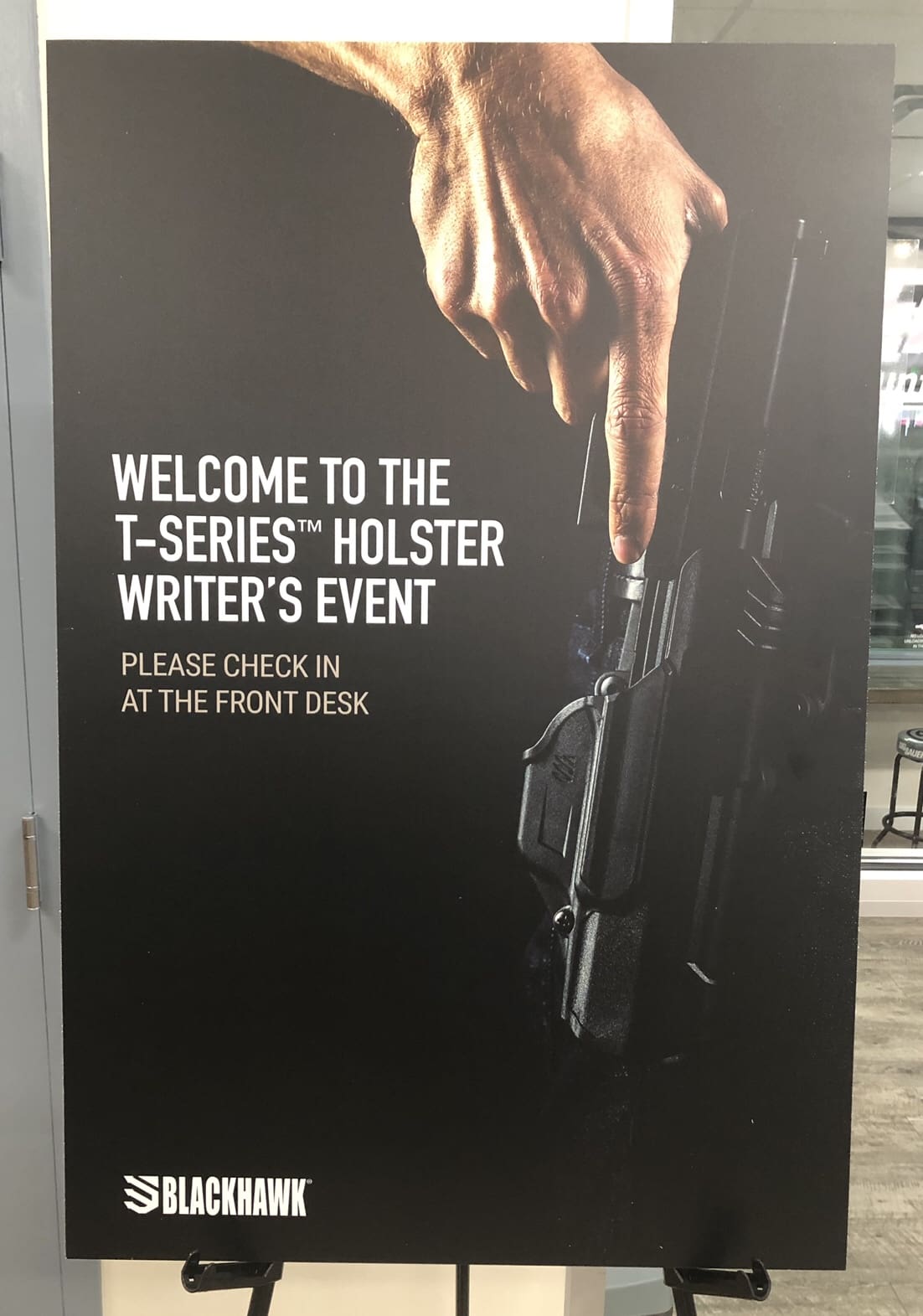 I recently had the opportunity to try out the T-series holster on the range. I fired 300 rounds through a Glock during the range session. While that doesn't sound like a lot, the range master specified drills which required multiple draws and reholstering which offered some good experience.
Initially, I found myself reaching with my thumb for a lever at the top of the holster to release the pistol. I slowed down and my thumb followed the channel down depress to the button and the draw was very natural. Later, during timed shoots, I caught myself a few more times, feeling for that lever at the top, but my thumb easily found its way down to the button.
It's different than other holsters out there, so when you get one, make sure you spend some time on the range as well as reinforcement with dry holster and presentation drills to reprogram your muscle memory.
Although the configuration I used during the range session was intended for duty wear with body armor, I like the holster. The thumb activated retention release is intuitive. Unfortunately, the indoor range setting wasn't the best place to evaluate if it was indeed a quieter holster, so I'll leave it up to their customers to make that determination.
I asked Blackhawk representatives if this meant they were discontinuing the Serpa series. Although the T-series is a new direction for Blackhawk, the Serpa remains immensely popular, particularly overseas. It is not going anywhere.
Naturally, the first T-series Holster is for the Glock 17, the most popular handgun in America. However, Blackhawk has a very brisk schedule through the end of the year, regularly introducing new models and accessories. This includes alternative mounting options along with compact, light bearing, and RMR compatible models.
Due to the initial focus of the T-series as an LE Duty Holster, it's currently only available in Black.
Get yours at blackhawk.com/products/holsters-accessories.
Tags: Blackhawk