There's not much I love more than visiting factories, but it's a rare occasion to be invited to a grand opening of a brand new factory, particularly in the textile industry.
Considering the long history of garment sewing in Southern California, I fully expected to see a refurbished factory. Instead, I was greeted with a brand new building, filled with completely new machines. Just nine months ago, OR's patent company, Youngone, started their quest to open a new factory here in the States. After surveying several locations across the country, they initially settled on a different location. Unfortunately, inspection of the local area revealed it was unsuitable and they quickly selected El Monte, California, as their newest location. In just three months, the 32,000-square-foot factory was outfitted and the work force hired and trained.
Once inside, visitors are immediately greeted by a show room, outfitted with the full breadth of OR's tactical offerings.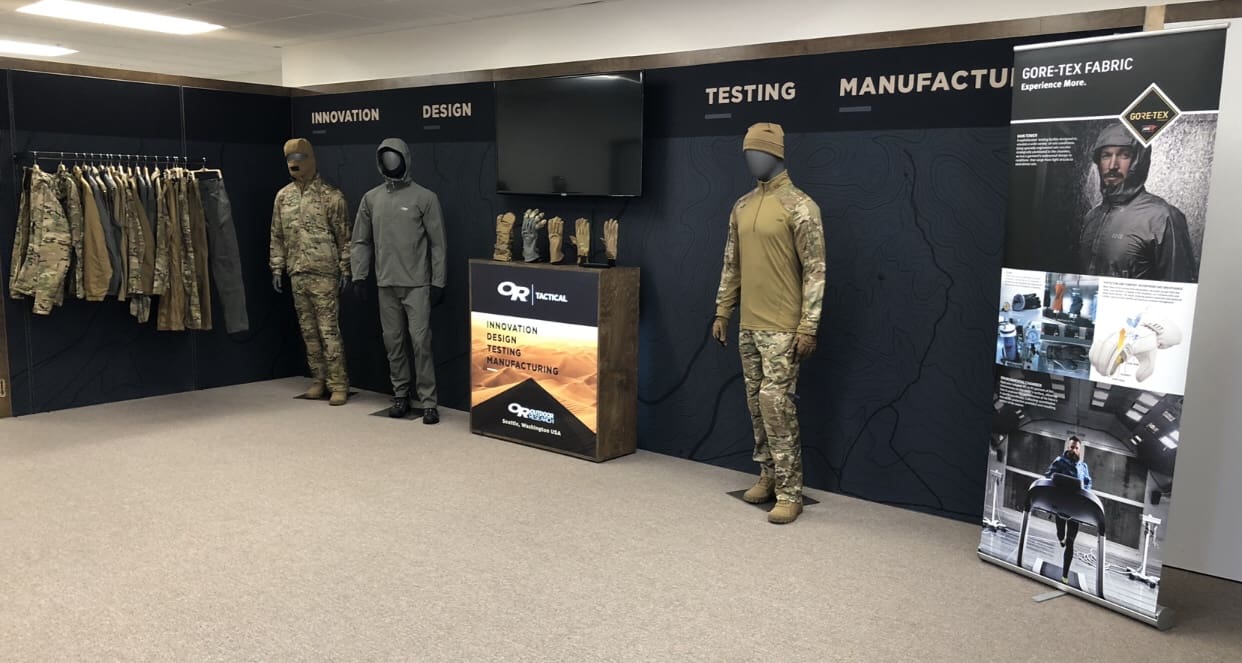 Just beyond, the production floor is laid out in multiple lines with new equipment and room for expansion. Supervisors and the factory director are situated at the front of the floor.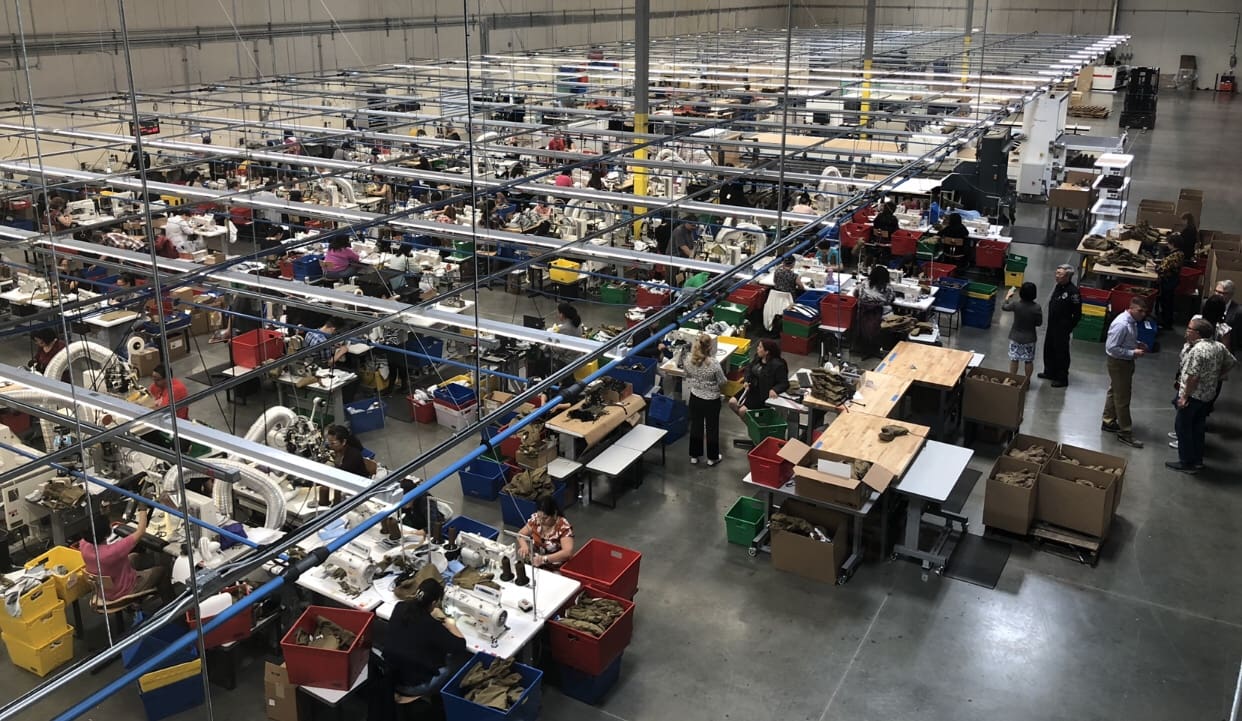 When OR's latest employees came onboard, they were already quite adept at the cut and sew business, but there was still a learning curve. They all had to learn how to manufacture handwear with the Gore-Tex membrane. In particular, a great deal of investment was placed in training those who apply seam tape to the gear. Below, you can see a positive pressure test device which detects holes in the Gore-Tex membrane or seam tape. Any pinholes are immediately patched and put back through Quality Control inspection.
There are about 1000 displaced textile workers in El Monte due to factory after factory moving overseas in recent years. In particular, the jeans industry is almost entirely offshore. Outdoor Research was able to leverage that work force and put 115 of these skilled workers back to work.
The city of El Monte is very proud of this new factory and I can see why. The building is new construction, built to the latest code, and the work is vital to our nation's defense. These textiles worlers are family members who will bring home a living wage and generous benefits package.
The celebration of the opening spanned two days, due to pressing schedules. First, Rep. Grace F. Napolitano (CA-32) toured the new facility, along with Michelle Wardian, President of Outdoor Research as well as El Monte Mayor Andre Quintero; Jason Duncan, VP of Tactical, Innovation, CSR – Outdoor Research; and TJ Laynor, Tactical Sales Director, Outdoor Research. They conducted a brief ribbon-cutting ceremony at the end of the tour.
The next day's grand opening ceremony was quite an event. El Monte is 65.2% Hispanic and 30% Asian. The work force closely mirrors its community and the gathering was addressed in English, Spanish and Cantonese. Presiding were representatives from the the El Monte city council and city departments as well as LA County. These dignitaries also wished the factory well.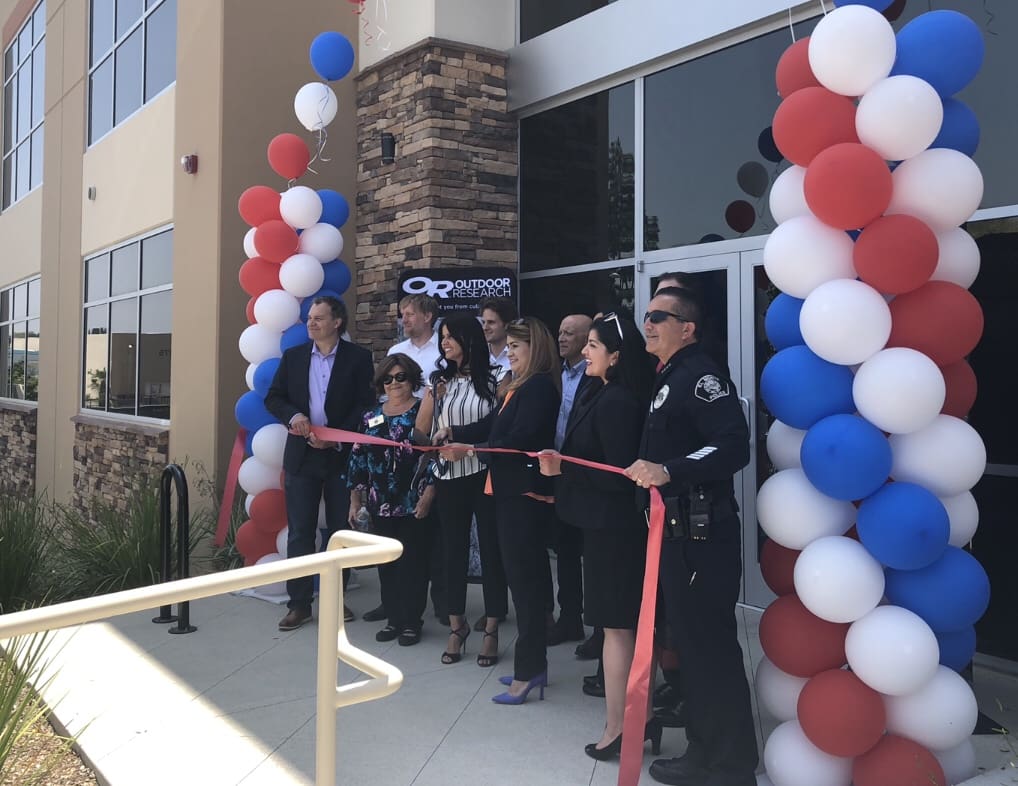 The economic impact of this new factory will be felt all throughout El Monte and it's neighboring communities in the San Gabriel Valley, as some workers commute from as far away as Pasadena.
What's more, Outdoor Research boasts a new, state of the art factory which specializes in manufacturing protective clothing for the US military. Already, it's hard at work producing equipment for our men and women in uniform.