FORT BRAGG, N.C. — Soldiers who believe they have what it takes to join one of the six Security Force Assistance Brigades (SFABs) must first pass the 3-day Security Force Assistance Command Assessment and Selection Course that's designed to ensure they meet the standards of a SFAB Advisor.
Assessment and Selection Course candidates undergo a process designed to test their mental, physical and teamwork skills to ensure they possess the attributes that the SFAB teams are looking for in an Advisor.
Some of these attributes include discipline, sound judgment, moral conduct, and the ability to remain calm and collected while seizing the initiative during mission uncertainty.
"What we are looking for is someone who is physically fit, works well in a team, who is intelligent, and comfortable making decisions while operating with a certain level of ambiguity," said Sgt. Maj. Robert George, SFAC Assessment and Selection Sergeant Major.
The assessment process is something new candidates are curious about once they decide to join the SFABs.
"I heard about the SFABs while I was deployed in Afghanistan and when I came back some senior NCOs I worked with had joined and let us know more about them," said Sgt. Skyler Lewis, SFAC Assessment Candidate and Signal Support Systems Specialist from 1st Battalion, 41st Infantry Regiment, 2nd Infantry Brigade Combat Team, 4th Infantry Division. "I looked more into it and then decided that, yes, this is for me."
The assessment process starts with in-processing on day zero and then moves onto day one. Day one starts the non-stop process that lasts through day two. It begins with the candidates conducting an APFT, team events, a leader reaction course, a warrior skills test, MOS proficiency and ethical dilemma tests, peer evaluations, a subject matter expert interview, and culminates with a challenging foot march.
"They briefed us on what it was going to be like when we got here and it was a little different than I thought it would be and a lot harder – but it was worth it – I thought it was a good process and I had to stay focused and push hard through some of the events," said Lewis.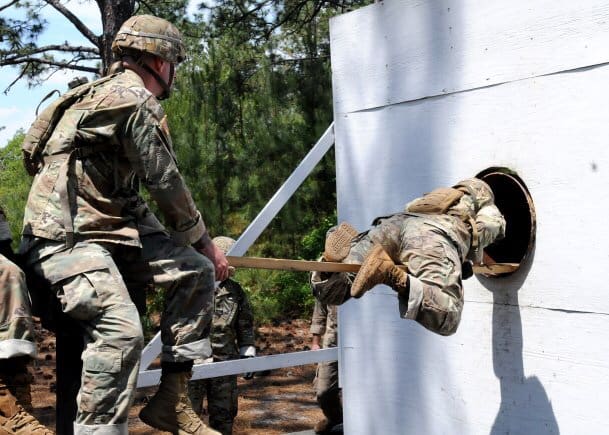 The final portion of the assessment process is the selection board on day three, after which, the candidates find out how they did and if they were selected. If selected, they receive information about the reporting process and continue their SFAB Advisor training there.
The opportunity to continue to training, mentoring and advising others is one of the reasons Fort Benning Drill Sergeant Joshua Tobin felt he needed to go through the assessment course and become a SFAB Advisor.
"I have been training and mentoring Soldiers for the past 12 years and really getting more into it with the new privates at Fort Benning for the last 33 months. I feel that this opportunity is the same, but bigger, you are still training, mentoring, and advising, but this time it's with our partners," said Staff Sgt. Joshua Tobin, SFAC Assessment Candidate with 2nd Squadron, 15th Cavalry Regiment, 194th Armored Brigade.
The assessment and selection process is still relatively new and constantly adapts to the current needs of the SFABs and will continue to change and facilitate any of their future needs.
"How we assess the Soldiers has changed since I got here almost a year ago. We have changed and added events that better identify the attributes that make a good Military Advisor," said George. "We will continue to change things to better identify candidates who will make the best military Advisors."
The SFAB Recruiting and Retention Team continues to look for Soldiers who are interested in becoming SFAB Advisors in one of the five active-duty and one Army National Guard SFABs. For more information and details about joining, visit the SFAB Recruiting and Retention Team website at www.goarmy.com/sfab or contact them at one of the following: Officers (910) 570-5159 and Enlisted (910) 570-9975/5131 or email them at [email protected].
By SFC Mark Albright, Security Force Assistance Command