MARINE CORPS BASE QUANTICO, Va. —
Less than 11 months after seeking industry proposals for a new helmet-mounted night vision system, Marine Corps Systems Command has awarded a contract to provide an updated system to Marines.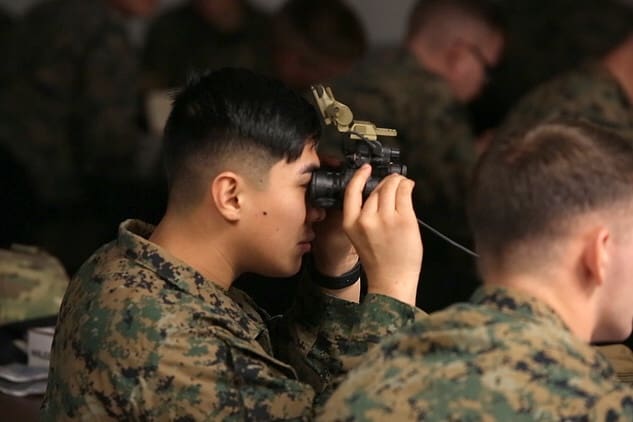 Harris Corporation of Roanoke, Virginia, was awarded a maximum $249,000,000 firm-fixed-price, indefinite-delivery/indefinite-quantity contract Sept. 6, for the purchase of the Squad Binocular Night Vision Goggle system. Approximately 14,000 systems will be delivered, and the work will be completed by September 2024.
The SBNVG combines two systems: a binocular night vision device and enhanced clip-on thermal imager. It is lighter than the current Army/Navy Portable Visual Search devices, or AN/PVS-15. The SBNVG also has improved depth perception, and the ability to detect and recognize targets in extreme low light, in inclement weather and in the presence of obscurants.
"Additionally, the use of white phosphor provides a greater capability to see at night with more clarity, giving Marines enhanced situational awareness," said Lt. Col. Tim Hough, program manager for Infantry Weapons at MCSC.
The Corps previously used an existing Defense Logistics Agency contract to procure 1,300 systems to see how an interim solution could best meet the capability requirement.
"We made the investment to procure the 1,300 systems and fielded them to two infantry battalion, so we already had a good, robust understanding of the technology we were chasing," said Roberto Gonzalez, team lead for Combat Optics at MCSC. "That allowed us to quickly get through the source selection process [for this contract]."
Using full and open competition, MCSC also realized approximately $70 million in savings across the Future Years Defense Program.
Marine infantry units will be the first to receive the new night vision goggles when fielding begins in the spring of 2020.
"Awarding this SBNVG contract and fielding these systems to the warfighter is one more step toward increasing the command and control, lethality and ability of the infantry squad to overwhelm our adversaries," said Hough.
Story by Monique Randolph, MCSC Office of Public Affairs and Communication | Marine Corps Systems Command
U.S. Marine Corps photos by Joseph Neigh