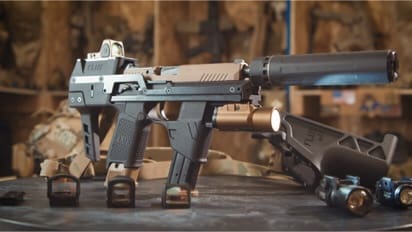 Shoots like a primary, holsters like a pistol. Simply drop the M17/M18 fire control unit into the MP17. It also works with the Sig P320™ series of pistols. Costing a fraction of the price of most PDWs, it utilizes a weapon soldiers across the military will be using. Perfect for: Pilots, CQB, Low Profile work, Close Protection, Law enforcement.
Features:
Hold 43 rounds – including the spare mag.
Revolutionary suppressor compatible holster works with a variety pistol flashlights and IR devices. Surefire, Streamlight, Inforce and many more.
Optic Mount works with RMR™, Delta Point Pro™, Aimpoint – T1/T2 with pic rail and many more red dots.
QD sling mount
One handed, spring-loaded deployment. Faster deployment than side folders.
Works with Safariland QLS system. Mount the holster to belts, molle, or hard mount inside vehicles or aircraft.
Military and Law Enforcement pricing available.
Contact: [email protected]