Terry Baldwin sent me a link the other day with this note:
I admit, this particular item of kit has really captured my interest. It seems from the pictures that the "final" version of the rucksack is even more of a large ALICE-clone than the prototypes suggested. The rigging geometry, likewise, would be very familiar to you or me. It also appears, from a separate slide briefing that it is being considered not only for Airborne units but also as a possible Service-wide replacement for the Molle Large. Note, the standard Molle waistpad / belt used with the prototypes has been replaced by what looks like an OCP version of the pad /belt on the Marine's FILBE pack. The shoulder straps also have a new 4-point connection arrangement above the envelope pad. Interesting stuff.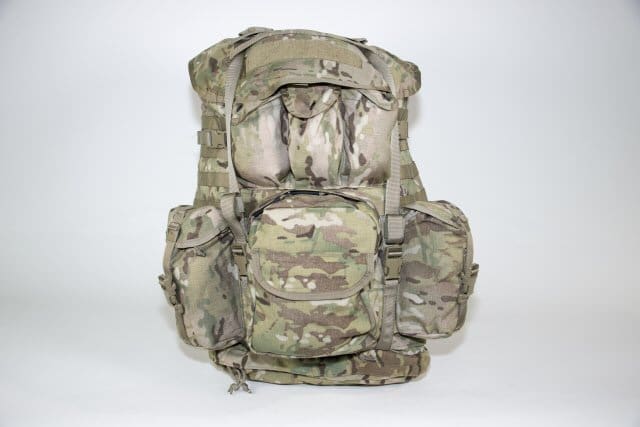 He had run across a sources sought notice from earlier this year. The Army is looking to build more of its new MOLLE 4000 Airborne Rucksacks. What is interesting is the description. Up to now, it has only been intended for airborne troops.
Considering the numbers of 130,000 packs and the Army's concentration on modernizing it's Close Combat Forces, this looks like a possible fielding for the BCTs.
Here's the info on the MOLLE 4000 Ruck:
"The new MOLLE Rucksack for Airborne and General Purpose Forces [ emphasis added] is a Government-owned design. It has an approximately 4000 cubic inch capacity and made of 1000 Denier nylon coated fabric, has an external frame, adjustable shoulder straps and an adjustable waist belt. The exterior of the rucksack has multiple storage pockets and pouches of varying dimensions. The interior of the main compartment of the rucksack has a pouch for carrying a radio / hydration bladder or other similarly sized equipment. The interior of the main compartment of the rucksack has a center zippered flap that divides the main compartment into two approximately equal upper and lower halves. The bottom of the rucksack has a separate [Air Items] storage compartment and above that a zippered access into the lower part of the main compartment."
LTC Terry Baldwin (USA, Ret) contributed to this report.