Named after the indigenous Mobile Guerrilla Force advised by US Army Special Forces during the Vietnam War, the Blackjack line of packs from Mystery Ranch is based on the USSOCOM issued Special Operations Forces Personal Equipment Advanced Requirements (SPEAR) packs.
Commercially available in both Coyote and MultiCam 500D Cordura, BLACKJACK packs are intended for those who want the features of the SPEAR packs, but are not part of the program of record. The model designations correspond to the capacity size in liters.
Like the SPEAR issue packs, The BLACKJACK packs were designed as a complete military-based system with no design modifications to accommodate civilian use. However, there are slight differences between the two lines.
-SPEAR packs have ¾" buckles; BLACKJACK packs have 1".
-SPEAR packs have a rainfly pocket on the bottom of the pack; BLACKJACK packs do not.
-SPEAR Assault has 3 compression straps on each side, Blackjack 50 only has two.
Mystery Ranch is also the first company to incorporate IR-compliant zippers into their packs.
All three packs use the same full carbon Mystery Ranch frame featuring lightweight bolsters and Dyneema-CORDURA laminate. This Military Light Frame (MLF) is a rigid, yet dynamic system, that moves with you. The frame consists of four vertical and three horizontal carbon fiber stays.
The MLF weighs 2 lbs lighter than its predecessor, the NICE Frame, by using different materials and construction methods and reducing the profile of the wing and belt.
It also features a Futura Yoke which easily micro adjusts to the torso length allowing the proper amount of stand-off between the back and frame. What's more, the removable BVS (Bolstered Ventilation and Stability) system allows for a stable, secure fit over body armor.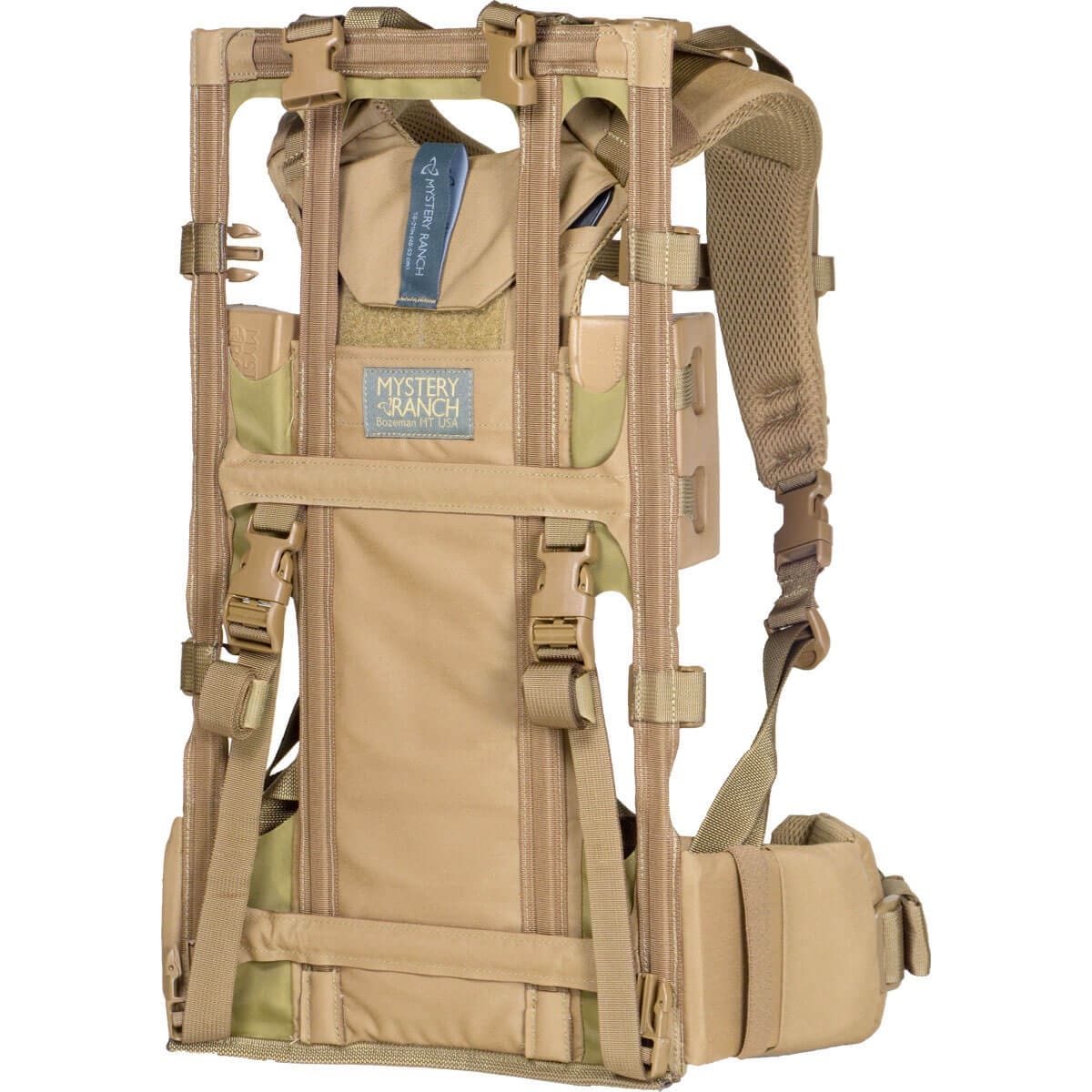 The BLACKJACK 100 is a 100 L pack including a 23 L sleeping bag compartment at the bottom. It features four external pockets with top-open zippers. The top lid is removable with straps that allow it to be used as a bolt/E&E pack. To help support the taller pack, the BLACKJACK 100 uses a unique frame extension to stabilize larger loads.
The BLACKJACK 80 is an 80 L pack with four external pockets featuring top zips. It has full-length zippers on each side for fast access to the main compartment.
The BLACKJACK 50 is a 50 L, top-loading pack with two external pockets that each have internal, mesh pockets. The pack has full-length zippers on each side for fast access to the main compartment.