Late last month I had the opportunity to participate in an extraordinary event near Bozeman, Montana.
With the help of Arc'teryx LEAF, Special Operations Care Fund gathered together veterans from each of the US military's special operations components for a weekend of ice climbing.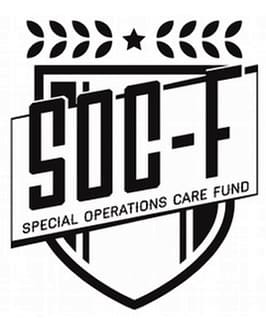 Before we go any further, I've got give a plug for SOC-F and the wonderful work they do day-in and day-out for our warriors and their families. This non-profit is fighting way above its weight. They do so much…Medical/TBI (Magnetic Electro Resonance Therapy- MeRT) and Other Cutting-Edge Medical Treatments, Intensive Marriage Counseling, Gold Star Kids Camp and so much more. Not a one of the founders is a military veteran, but they have recently added a Veteran to their board to help round out the team. They're just great Americans who saw a need and banded together to fill it.
The LEAF division of Arc'teryx is well known for making gear built for the most demanding Mil / LE endusers operating and training, in the harshest of environments. Inspired by the incredible work accomplished by SOC-F, Arc'teryx has seen the support they bring to the selfless individuals who need it, but often don't ask for it.
SOC-F and Arc'teryx LEAF had been discussing ways to provide some outdoor therapy and The Station Foundation came up which provides specialized services to current and former SOF members as well as their families. Programs include:
-Family Foundation
-Spouse Performance
-Restore
-Transition Azimuth Check (TrAC)
The Station's works with SOC-F to provide the summer program for Gold Star children, those young people who've lost a loved one in combat, to find themselves and flourish in the face of life's challenges. A most worthy pursuit.
These connections led to the creation of the SOC-F Ice Climbing Experience.
We all arrived Friday afternoon courtesy of Arc'teryx and their able planner, Rebecca Faherty who also organizes the annual SOF Select pavilion at Special Operations Forces Industry Conference. While many of us came from across the country, it was amazing how many SOF veterans have settled in Montana.
Accommodations, local transportation, meals and activity planning were provided by The Station Foundation.
The meals were fantastic with hot breakfast and dinner each day at The Inn on the Gallitin. Home cooking and lots of it. I was always stuffed.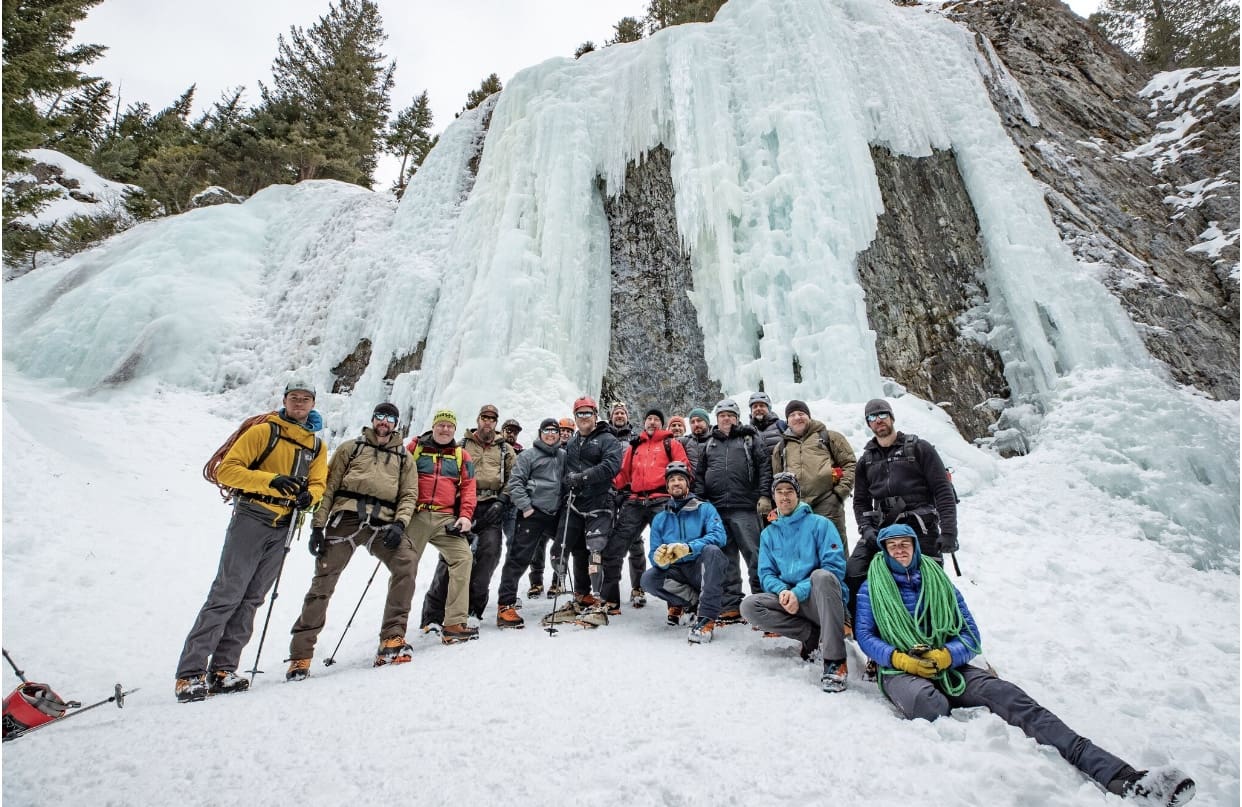 Between veterans and members of industry, there were 17 of us on the expedition. Some of us knew each other, but we were provided ample time to get to know one another during meals, free time in the evenings, and out on the ice. Turns out, we all had a lot of common friends and experiences. Naturally, we were also all Arc'teryx customers. In fact, they have each of us a LEAF Cold CW LT Jacket to use during the event. Magpul also provided us with their new eyewear to protect our site while climbing.
Some of the climbing equipment such as helmets and ice tools was provided by Petzl, while other items were supplied by the very capable guide service for this event, Montana Alpine Guides like boots and crampons. The MAG team was friendly, knowledgeable and provided training at both the basic and advanced level. Everyone came out of there a better climber.
The crew brought a mixture of experience from first time ice climbers to very experienced climbers who brought a lifetime of alpine know-how. We had a blast.
The most amazing thing I witnessed all weekend was the indomitable spirit of a Marine Veteran I'll refer to as CT. He served as an inspiration to all of us.
A bear of a man who lost both legs last year during a battle in the Middle East, CT had never ice climbed before in his life. No matter, he was going to give it a go. But first, he had to get to the ice ,which was located a kilometer or so from the parking area. As you can imagine, it was icy. He strapped crampons to his shoes and off he went, supported as many of us were, with trekking poles to help negotiate deep pockets of snow encountered occasionally along the trail.
He made it about three quarters of the way, but one of the things CT realized was that the cold and his particular prosthetics weren't well suited for hiking up snowy trails.
A plan was quickly set into motion to fetch a sled to bring him the rest of the way to the climbing site. The crew immediately built a fire to keep him warm while we waited for the sled. Others headed the rest of the way to the site to begin climbing. About an hour later, CT and the team who helped him up that last bit of trail, linked up with the rest of us.
We spent the day climbing a couple of different faces and then made our way back down the trail, CT at the lead atop his sled, accompanied by his new teammates.
We repeated the event the next day with even more ice faces to negotiate. Once again, CT assaulted the ice and came out on top.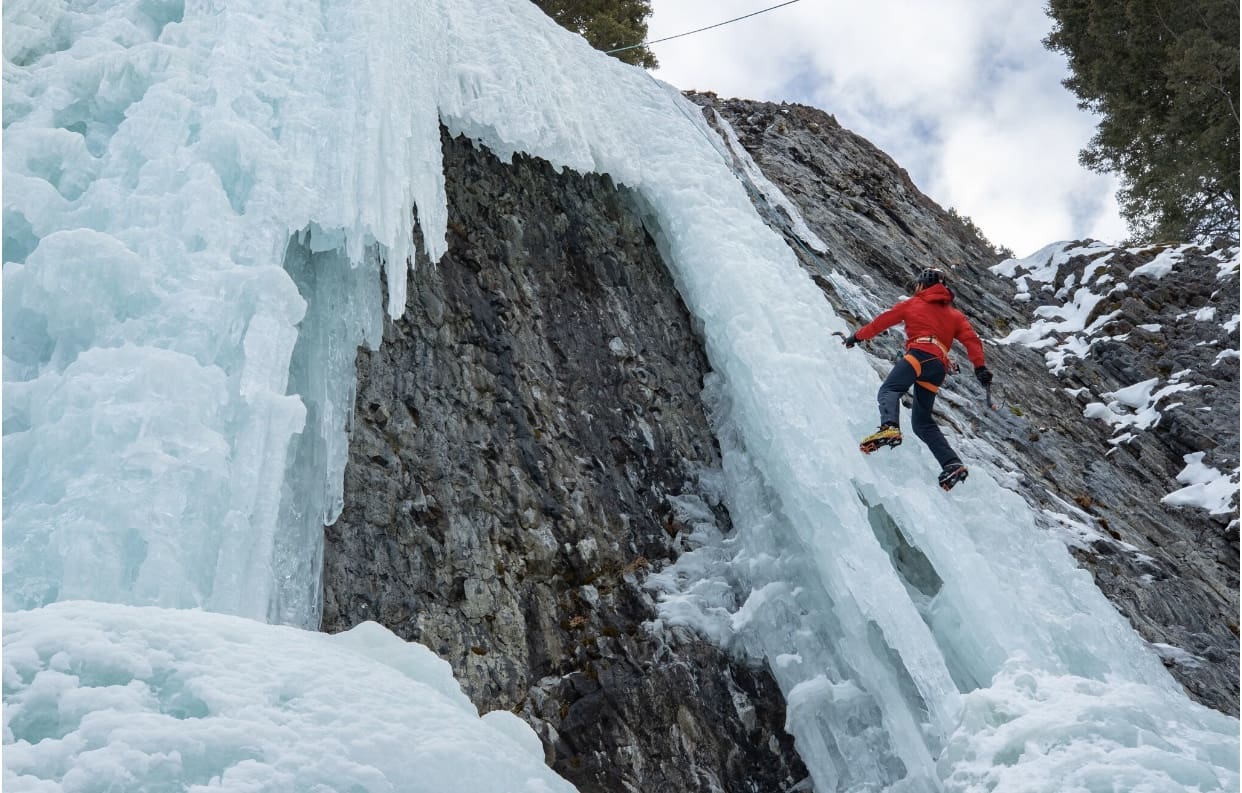 There were several guys out there with various wounds, but seeing CT go at it with everything he had, working through the pain he obviously felt, no one was going to complain. He was an inspiration to us all.
I had a great time chatting with him. Aside from some great was stories, he is very in tune with the latest in prosthetic technology and is working to bring newer designs out of the lab and unto those who need them. CT tells me he is going to keep ice climbing and already has some ideas about how to build a better prosthetic for climbing. I can't wait to see what he comes up with.
On Monday morning we returned to the airport to make our way home, but all of us left with some new friends and some great memories.
Once again, this event wouldn't have been possible without SOC-F and Arc'teryx LEAF. While this was the first event of its kind for Arc'teryx, they plan to hold more of these outdoor-oriented events around the world for other allied veterans.