"Sleek" "Strong" "User Friendly"
Griffin Armament® M-LOK compatible Low-Pro RIGID rails have been re-engineered to offer a user friendly installation while continuing to provide a slim, low profile, ultralight, yet rigid handguard that past users have loved.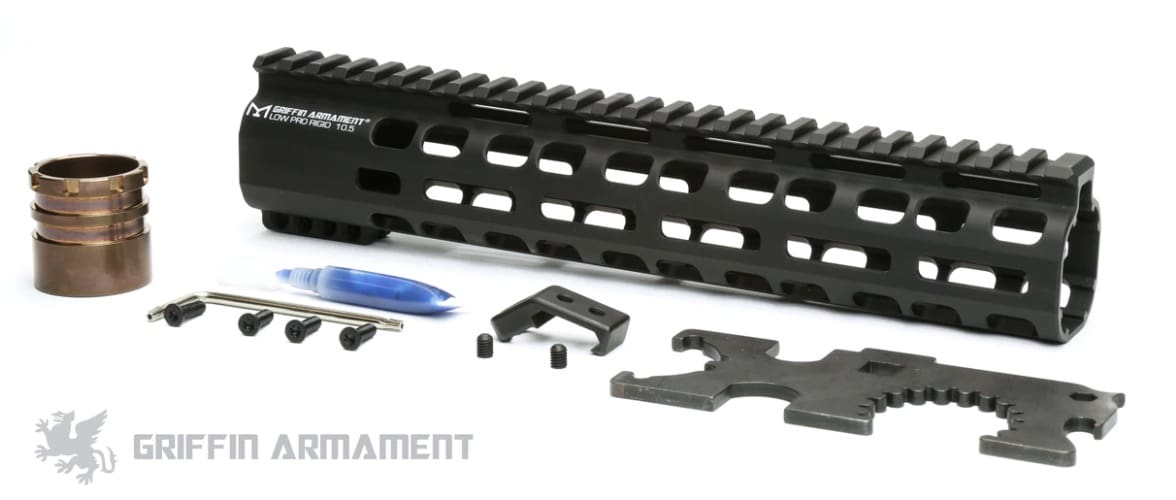 Design objectives of this rail were to provide a slim, ultralight rail, with increased rigidity and durability over similar weight and profile current market options. A custom extrusion provides significant internal reinforcement to reduce flex when gripping the carbine firmly in the shoulder pocket. (show glide of rail extrusions on the shop floor) Understanding the importance of low light targeting, these reinforcements provide rigid mounting for IR laser aimers ensuring minimal POI shift when torque is applied to fore-grip type accessories, or when loads are applied to the rail such as practical shooting off barricades or when loading bipods for rapid follow up shots. Internal practical testing showed 70% less POI shift with laser aimers versus competing "slim rails". Carefully positioned geometry in the rail allow for rapid cooling when shooting rapidly.
The Low-Pro RIGID rail features a close tolerance, heavy-duty, 17-4 stainless steel H900 heat treated barrel nut, which can be easily installed to the specified 55 ft/lbs with the included Griffin GI Armorers Wrench. The slip fit clamp design is extremely user friendly and doesn't requiring any shims or special timing methods. The clamp boss in the rear section of the rail is low profile and ergonomically pleasing even for long durations of extended carry at static security positions. Flat head T15 torx screws should be tightened to 25/in pounds. The included 45 degree Picatinny QD Swivel Mount is installed on the top picatinny rail to the desired position of the end user.
M-LOK slots at the 3, 6, and 9 o'clock positions allow for mounting of your favorite M-LOK accessories.
If you are looking for a high quality, feature rich, American made rail system for your AR15 type firearm look no further than Griffin Armament® Low Pro Rigid Rails.
www.griffinarmament.com/ar15-firearms-parts/ar15-rail-systems