Yesterday, FN Herstal unveiled their new ultralight belt-fed machine gun, the EVOLYS. Here's some additional information on the EVOLYS we thought you might be interested in.
Right up front it is important to note that the machine gun shown during FN Herstal's unveiling is not exactly the same as the one that will be offered in the United States, which we'll explain later on.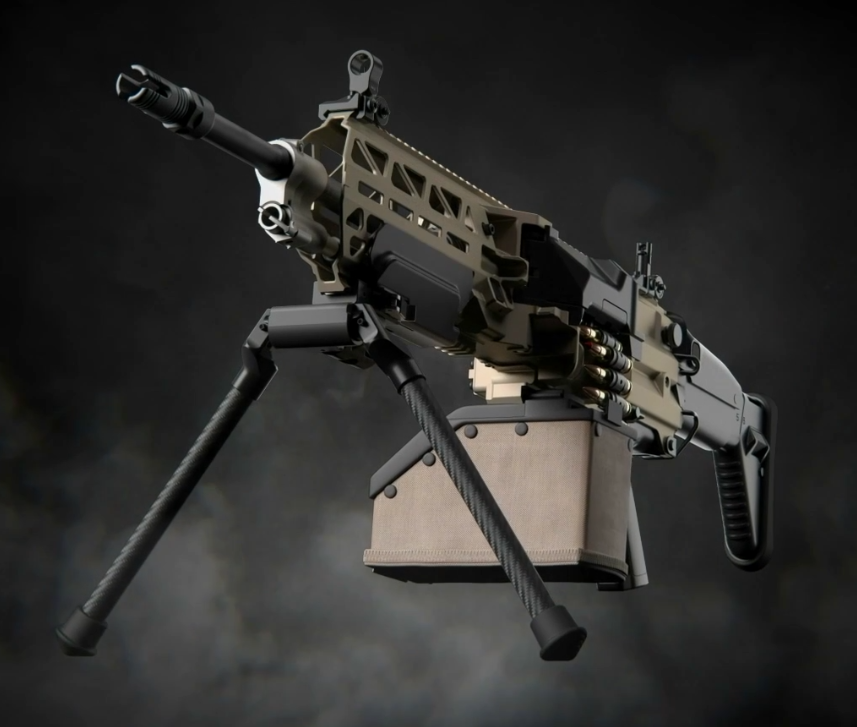 Having said that, it is being offered in two basic variants, the Ultra Lightweight Machine Gun in 5.56mm NATO and the Lightweight Machine Gun, a multi-caliber gun, currently in 7.62mm NATO, which can also be chambered for 6.5 CM as well as a conventional cased Next Generation 6.8 x 51mm round. Additionally, we are told the EVOLYS LMG can be adapted to other calibers.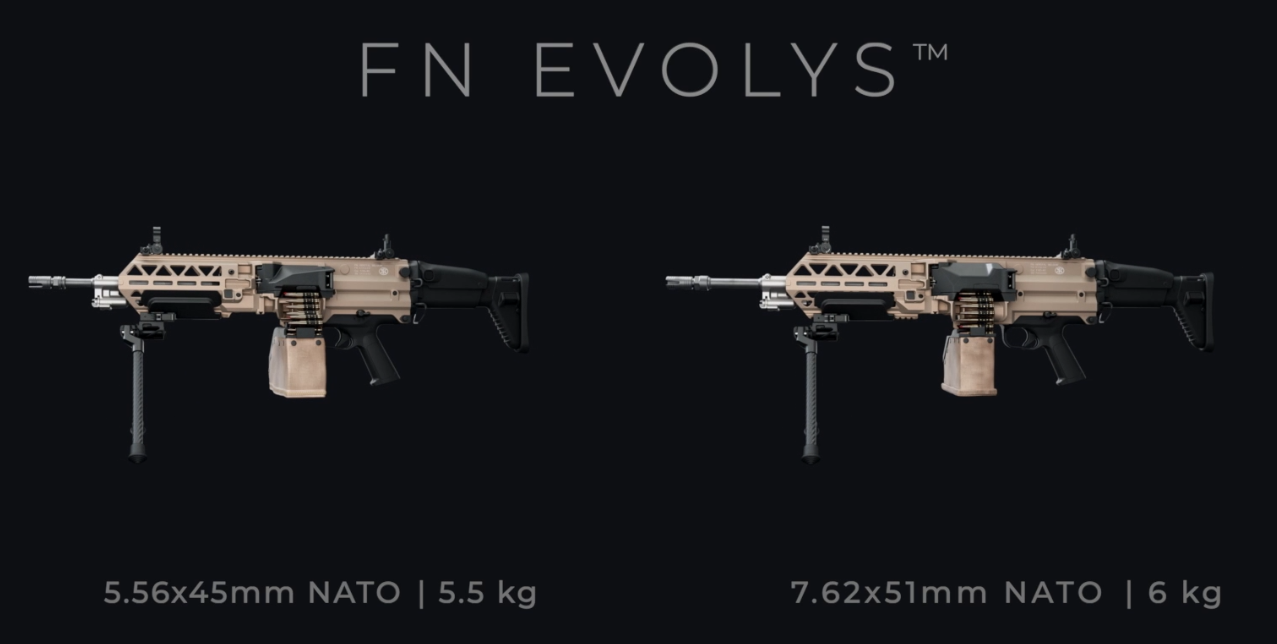 Apparently, EVOLYS has been under development for several years. However, this current iteration is a refinement of a design submitted for the US Army's Next Generation Squad Automatic Rifle (NGSAR) solicitation meaning that much of the engineering was already accomplished by that point for a similar machine gun. Consequently, the technology is more mature than it appears to those seeing it for the first time. What sets EVOLYS apart form that earlier effort is that there has been a significant amount of user feedback from SOF used in the current configuration. FN America assured us that EVOLYS was not created to satisfy any new government solicitations, but rather is the next step in FN's line of machine guns, integrating multiple new features.
Conversely, FN has no intention of halting production of their existing designs (M249, M240, MK46/48). They will continue to support those designs throughout their lifespan while the company looks to address current and future needs. With one of every two machine guns on the planet coming from FN, they've got a lot of customers to continue to support.
The name hints at evolution and this new machine gun platform will be familiar to anyone who has had time behind FN's M240 (MAG) or M249 (Minimi). While it breaks down in much the same way, with a receiver, recoil spring and bolt carrier group, you'll note that EVOLYS features a monocoque construction receiver. Unlike the M240, it's one continuous piece which helps control weapon weight. In fact, you're looking at significant weight reduction with 5.5 kg ULMG & 6.2 kg LMG compared to a 7.5 kg M249 and 10.1 kg M240L.
Another interesting note is that there are no operator barrel changes with EVOLYS. They're so confident in the metallurgy of the barrel that you won't have to swap barrels during sustained fire. Barrel changes will require tools and about two to three minutes to accomplish.
Speaking of barrels, EVOLYS will be introduced with 14″ (para) and 16″ options, but other lengths may be added in the future.
It uses a tappet short stroke piston operating system with a gas regulator and, like other FN belt-feds, EVOLYS only fires from the open bolt. Controllability and reliability is enhanced by use of a hydraulic buffer.
FN Herstal has stated that EVOLYS was developed from the outset for use with a suppressor and we understand that the developmental team used at least the SureFire suppressors adopted by USSOCOM. Additionally, video shown by FN Herstal during the EVOLYS launch depict B&T suppressors which makes sense as they provide suppressors to FN.
Interestingly, FN also claims that their operating system prevents the gas associated with the use of a suppressor from being blown back into the face of the firer, even a left handed shooter.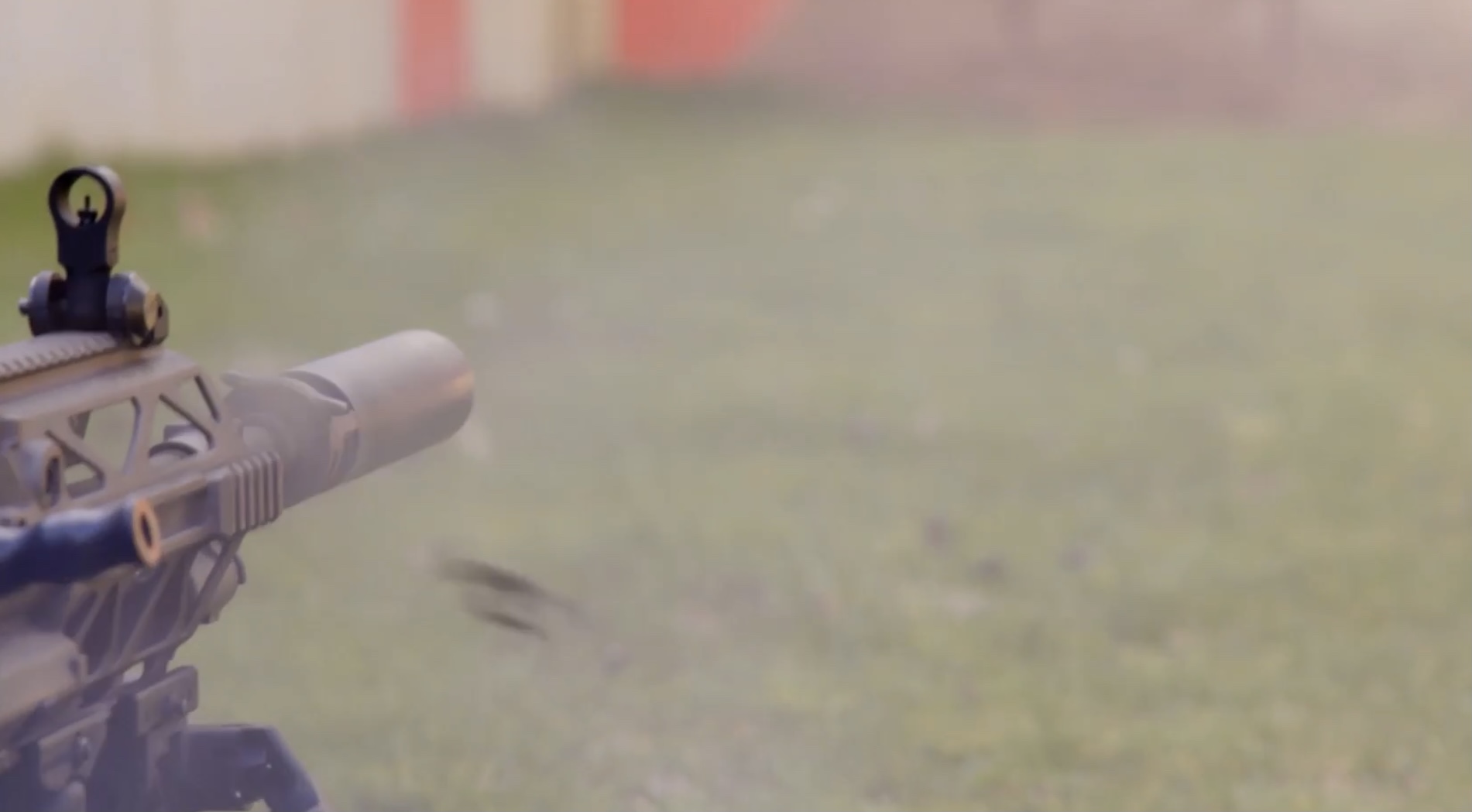 Earlier we mentioned that the US and Rest of World version of EVOLYS would differ slightly. For instance, the version Herstal revealed is equipped with a SCAR stock while the US version has a backplate which also facilitates use of an M4-style collapsible stock. Further development of the stock is underway with concepts being evaluated to offer different comb heights without weight increases.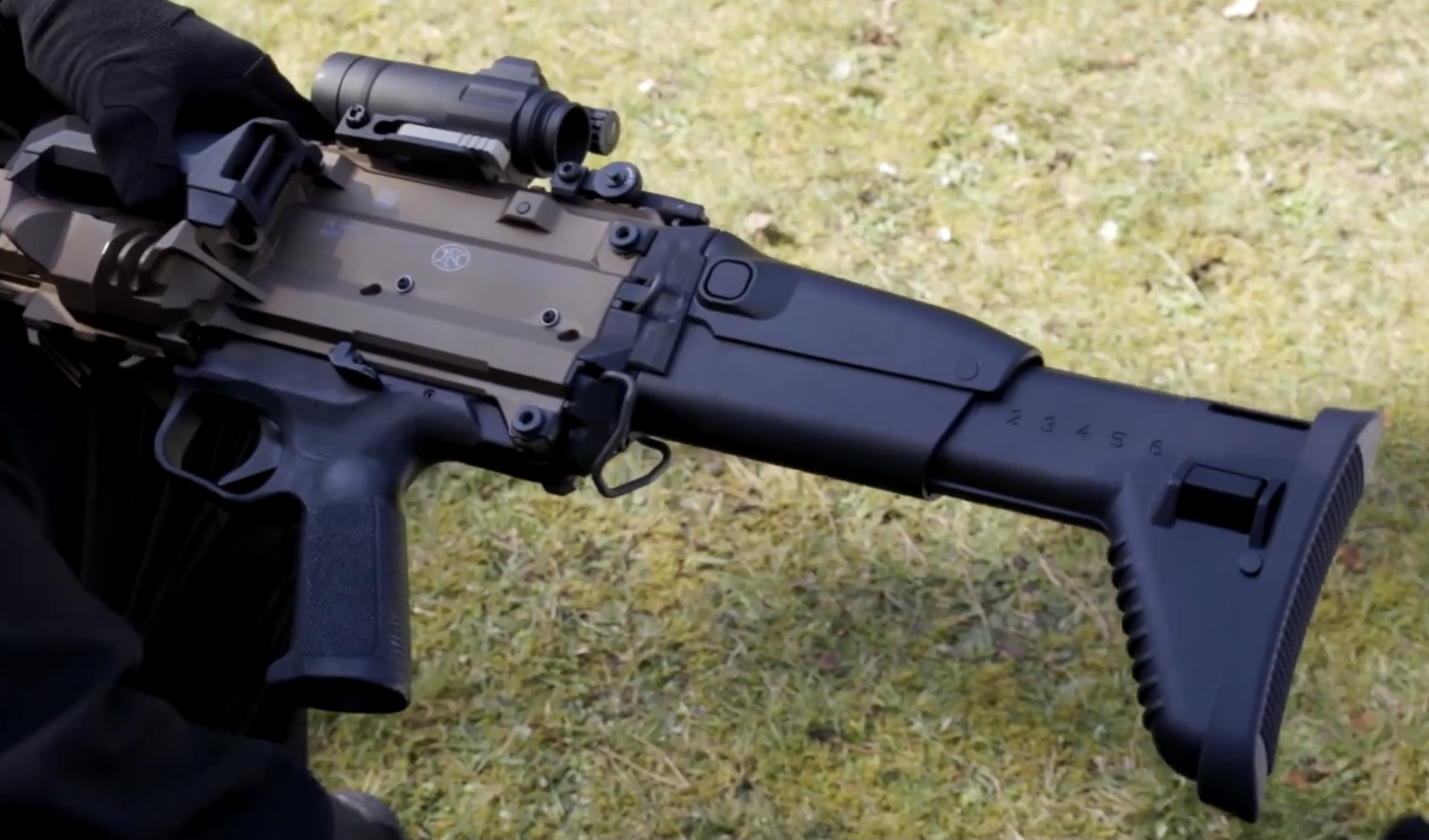 As one FN America executive related, "one hundred years in the waiting, we finally have a side loading, continuous rail machine gun."
The real magic in the EVOLYS design is the patented lateral feed mechanism which still incorporates a feedtray cover and feedtray, but how they are accessed is completely different than other machine guns.
Instead, the separate feedtray cover and feedtray open to the left, swinging outward toward the business end of the gun. Of note, it can only be configured as left-hand feed.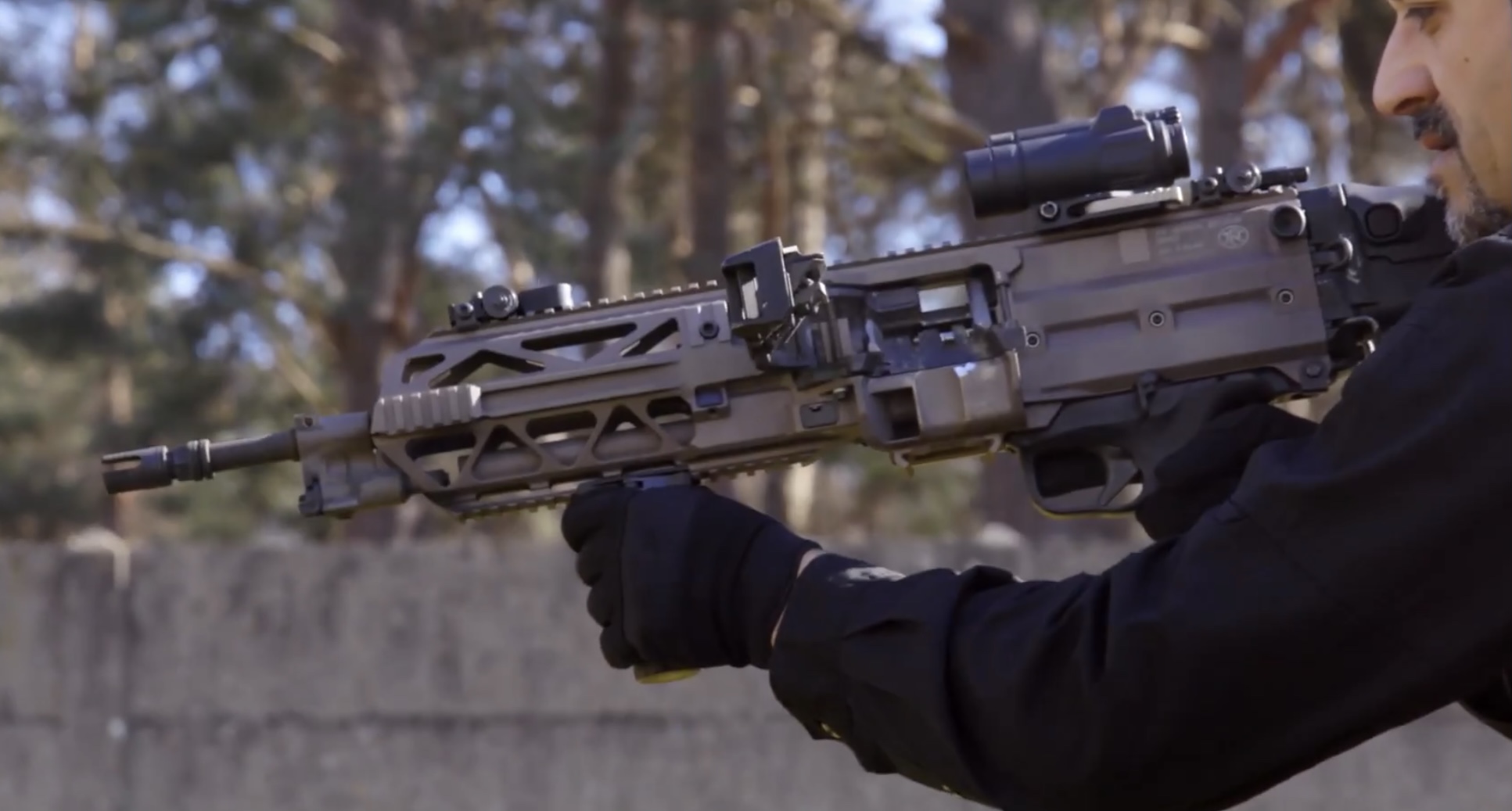 This design facilitates one-handed loading and has similar round alignment pawls to the Mk46 and Mk48. You can seat the cartridge into the feed tray and the system will guide the cartridge into proper placement.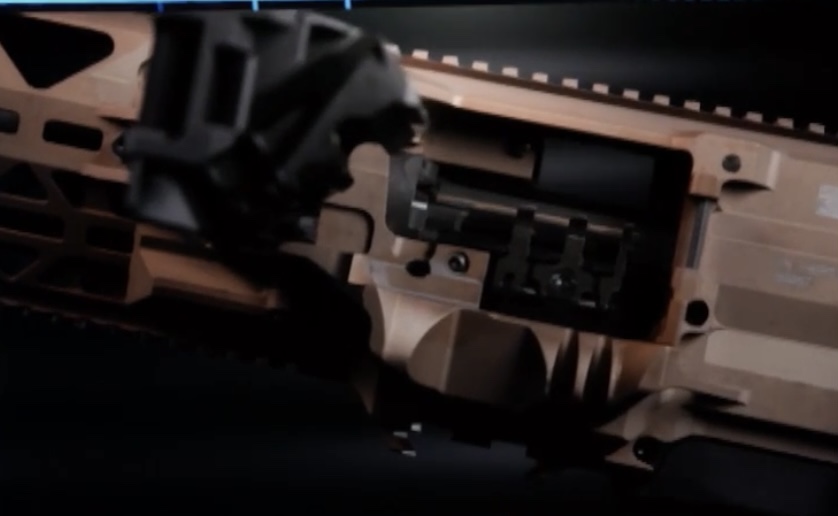 While belts can still be broken in the event of a runaway gun, FN informs us they have integrated a anti-runaway mechanism into the design. Additionally, the last link is automatically ejected at the end of firing so no need to clear the feedtray.
With the lateral feed mechanism, the top Picatinny rail is a single piece, running all the way from the front of the handguard to the rear of the receiver. This means optics and other enables can be mounted anywhere along the rail without having to worry about a front folding or side tilting feedtray cover. You can mount your optic where you need it and keep it there.
EVOLYS offers single (semi-auto) as well as sustained (full-auto) fire options, selectable at the ambidextrous thumb safety above the pistol grip.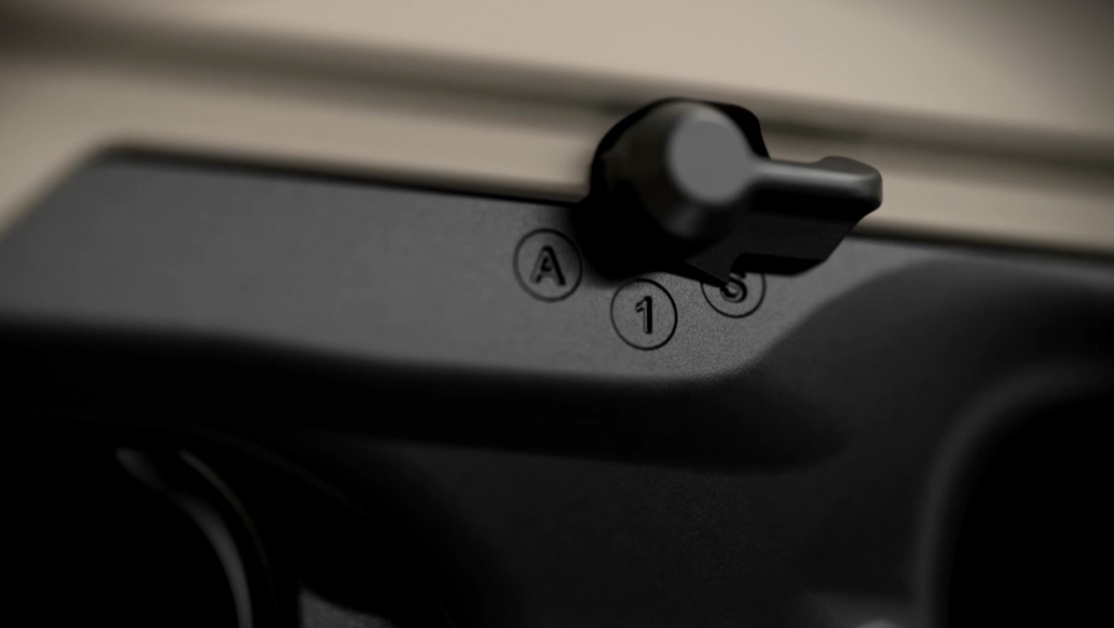 Expect better accuracy than an M4 carbine. FN has regularly demonstrated 1.5 – 2.5 MOA accuracy, depending on the gun's temperature.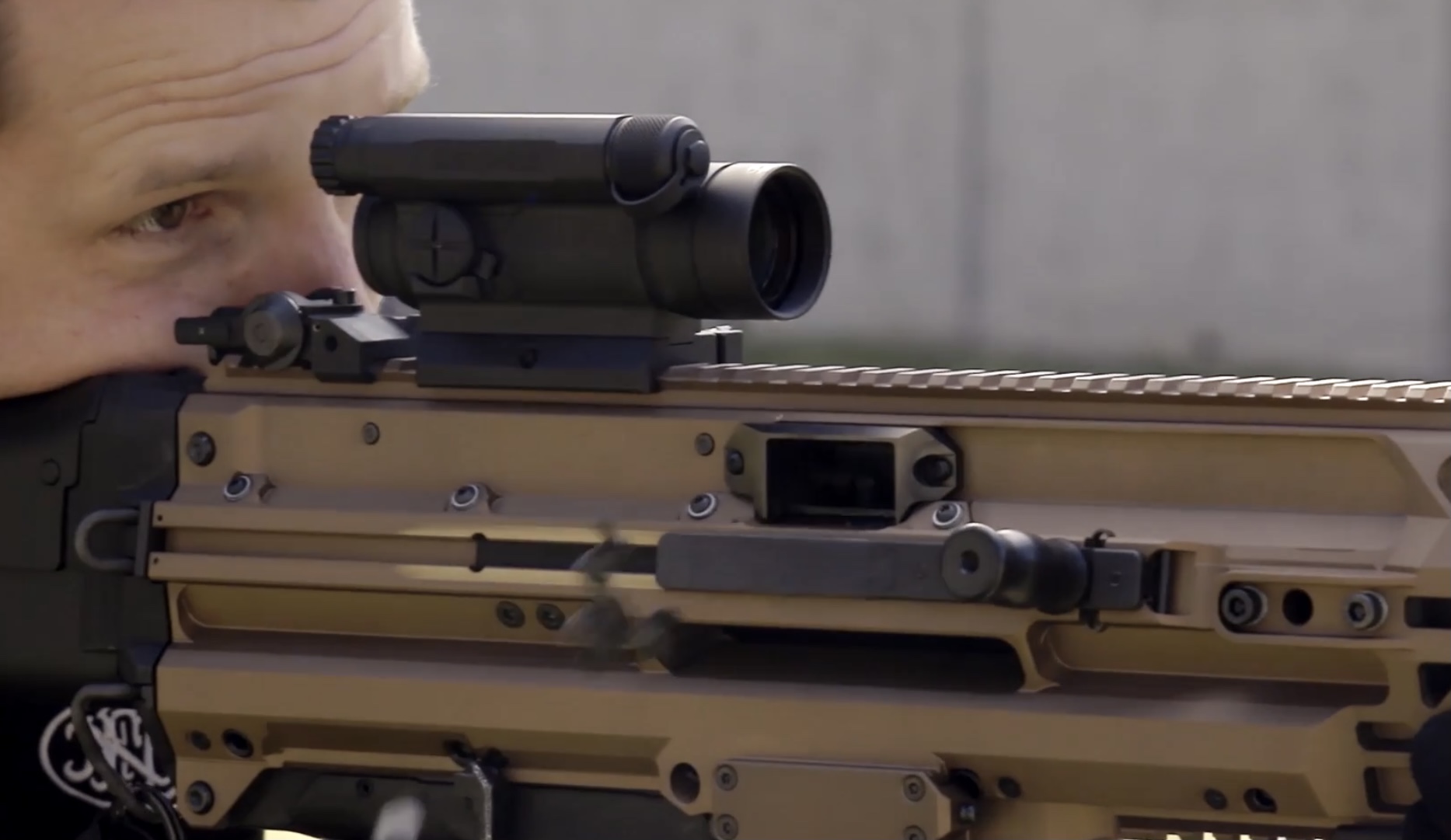 Initially, EVOLYS will be built in Herstal and the company will evaluate US-based manufacturing.
FN Herstal plans to exhibit EVOLYS at DSEI in London in September, but it's possible you may run into it at a range day before then as interest begins to pick up.